Click the Book Covers Below to Buy the Books

Current Moon Phase




Waxing Gibbous Moon




The moon is 11 days old


Distance: 56 earth radii
Ecliptic latitude: -4 degrees
Ecliptic longitude: 321 degrees


Recommendations

Good Information

Wind Weather & Tides

Meta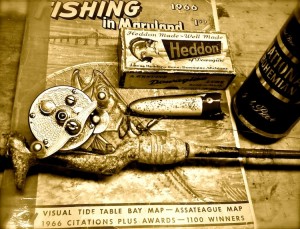 To look backward for a while is to refresh the eye, to restore it, and to render it more fit for its prime function of looking forward. ~ Margaret Fairless Barber
Sometimes I think that all I know about life comes from fishing. Other interests have waxed and waned, but the one constant, the fundemental source from which I draw strength and inspiration is the time I spend in pursuit of the perfect cast. It's taught me a lot about life, the laws of nature, and basic principles of human interaction. I can't recall my first boat ride, my first cast, or the first fish I caught because I can't remember a time when any of those things were absent. Lately, as part of my Chesapeake Light Tackle mini book tour of Chesapeake Bay regional fishing clubs, bait shops, etc., I've been talking a lot about how science is gradually confirming what fishermen have known for generations.  It almost seems like the more we learn by scientific observation, the more we confirm what fishermen have always accepted as fact. For example, most of the more than two-thousand anglers I've had the privilege to talk to recently were probably amused to learn that striped bass have a 50Hz visual flicker fusion frequency that is slightly slower than that of humans, but I haven't encountered very many fishermen who are surprised when they hear that, as a result, the colors the fish see best in good light are chartreuse and white.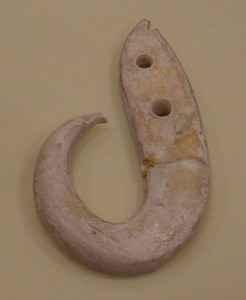 I'm a big fan of the combined knowledge that is possessed by the overall body of fishermen. If we took the collective expertise that is contained in the minds of just one room full of accomplished anglers it would surely fill a book high enough to reach from the floor to the ceiling.  I guess that's true of any subject, but the trick for sharing knowledge is getting all the great minds together, then documenting what they know. That's never easy. In the world of scientific research, we do it  through a process called peer review.  We put our theories, observations, and evidence down on paper, then throw it out there for our colleagues to pick apart. Fishing isn't all that different. At the very basic level, the scientific process is simply to observe and report. That's what we fishermen do, and for every opinion one angler might have about the best way to catch a fish, there is surely someone else who comes along with substantial evidence to support a different idea.  Our sport continues to evolve, and so do the fish.
I've been lucky because I've had the opportunity to talk to a lot of good fishermen lately.  I've walked away from every book-signing, club meeting, and tackle show wishing there  was a way to document all the knowledge I've encountered. The best I can hope to do is remember, and hope my mind stays sharp enough to use a few of the many ideas I've heard. So all this has me wondering, what have we forgotten?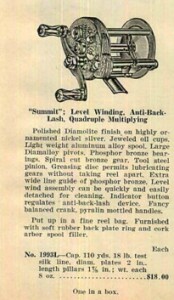 I imagine humans have been fishing since the dawn of mankind.  There's no doubt we've forgotten more than we've learned. The ancient Egyptians completed sophisticated engineering projects like great pyramids that were expertly designed and perfectly aligned with the stars using little more than their hands.  I wonder what they could do with perch in the River Nile?  When I was growing up in the mountains, I encountered numerous V-shaped rock formations in the rivers that were once used by the native Americans to trap fish.  I've even found fishhooks – circle hooks in fact – carved out of shell or shiny flint. The Indians used circle hooks two-thousand years ago, yet we still can't convince some twenty-first century Chesapeake Bay fishermen to use them!  There's no limit to the knowledge that has been lost.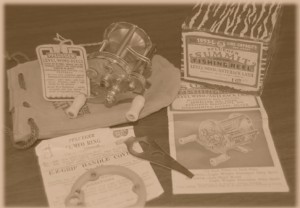 Fortunately the recent advances in sport fishing have been documented, at least the stuff we've learned in the past couple hundred years. So, I've been wondering if it wouldn't be helpful to look more closely at the methods and equipment of the past.  Since summer fishing in the Chesapeake Bay can sometimes be boring, this is a good season to experiment.  Early this week I went rummaging through some old boxes of fishing equipment and found a beautiful old reel that came out of my father's fishing workshop.  It might have originally belonged to my grandfather, Floyd C. Kimbro. Like my father, he was also one heck of a fisherman.  It's a 1940s era Pflueger Summit Model 1993L.  Don't let the 1993 model number fool you, the reel is over 70 years old. This was one of the iconic reels of the 20th century, so iconic in fact that, when I called my friend John Page Williams and described it, he told me everything about it, right down to the year it was introduced, how they produced the intricate scroll work on the side, and ho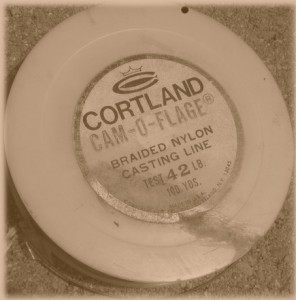 w much it cost when he was a kid. (Ten bucks.)
I never saw this old reel in use.  It was always sitting in a cabinet in my dad's shop.  By the time I came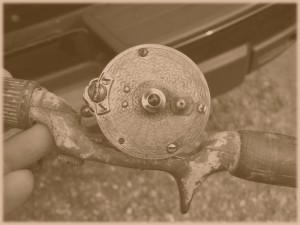 along he had long since graduated to the more advanced Swiss made ABU/Garcia baitcasters. The old Pflueger is still spooled with a multi-colored braided line that I know hasn't been changed since way before I was born. When I described the calico line to John Page he identified it immediately as Cortland Cam-O-Flage braided nylon introduced in 1939. The idea was to tie the line onto the lure using the color that most closely matched the water in which you were fishing. I tested the line and it still felt strong, so I saw no reason to change it.
Since I also saved several old rods from dad's collection, I looked around and picked out an old split-
bamboo casting rod with a recessed metal handle.  I also have some old metal rods, but I really liked the look of that bamboo outfit. It's five-and-a-half feet long with zinc guides that are tied on with a course silk thread.  I can't find any identifying manufacturer's marks, so it could be custom made or even homemade.  More likely it's a mass produced model by South Bend or Granger. In its hay-day between World War I and World War II, the mass market for high quality bamboo baitcasters was dominated by Heddon, South Bend  or Goodwin Granger. Granger's fly rods from Colorado are legendary, but apparently his bait casting rod was equally respected by lure fishers in its time. The ree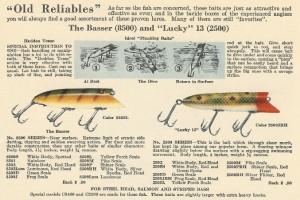 l fits the rod perfectly.
Because it wouldn't seem right to use a modern lure on a classic old outfit, I burrowed through my collection of antique fishing plugs and selected one of my favorites, a Heddon Lucky 13 2500 series, yet another mid-twentieth century fishing-world icon. This lure was first introduced by James Heddon in 1920 and quickly became one of his most popular.  More than ten-million have been sold over the years.
Designed to be popped or "plunked" along steadily on the surface, most fishermen will tell you it still catches fish just like it did 80 years ago.   I
opened the colorful old cardboard box and smiled when I noticed that one of the three sets of treble hooks had been removed from the lure.  I'm sure my dad did that.  He recognized a long time ago that  reducing the number of hooks on a plug is good for both the fish and the fisherman.  I tied the lure on to a greenish blue section of the nylon line, and I was ready to fish.
My fishing buddy Rich showed up yesterday about 4:30 PM.  We launched Thunder Road at Shipping Creek on the southern end of Kent Island and headed straight across to the Claiborne Boat Ramp on Maryland's Eastern Shore to pick up our friend Jamie.  By 5:30 PM, we had found the fish.  Since Rich knew I'd brought the old outfit, he advised that I get it out early since we had popped in on a surface blitz of respectable sized stripers.  It took me awhile to get the hang of casting.  At first, I was just dropping the plug off the stern of the boat and letting the wind and current take out enough line to get some distance from the boat, but I eventually gained confidence and started slinging the lure.  Twelve knot winds didn't help, but it soon became apparent that I couldn't depend on any inertia in the rod.  A snap cast like we usually use for throwing plugs with a modern baitcaster wouldn't work.  It took a long sweeping round-house loop using the weight of the plug to get the handle on the reel spinning backwards. It took a while, but before long I felt like I got pretty good at casting that old wooden lure into the wind.
I got very excited when the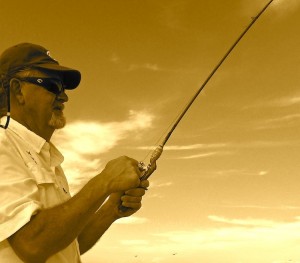 first striper rose to my plug.  One swipe, two, three, and finally the fish came tight. The rod is not nearly as sensitive as today's modern baitcasters, but it isn't bad. The thin bamboo came alive once I had a fish on.  I didn't trust the drag on the reel, so I let the handle spin free and used my thumb to slow the fish when it ran.  I fought the mid-20-inch rockfish to the side of the boat and lipped it while still in the water, not trusting the line to hold up the weight of the fish. Ah, success.  Another cast and I had another fish on.  Then another. I'd accomplished what I set out to do, caught fish efficiently using vintage old equipment.  My mission was complete. I didn't see any sense in risking the rod breaking or losing my classic old plug.
Lessons learned?  During the time I was getting acquainted with the old outfit and learning to cast it, Rich and Jamie landed about a dozen fish with their modern equipment.  Rich even pulled in two twenty-something fish at once on his big plastic chugger. From that I see that it's usually more efficient to stick with what you know best, but once I gained a level of comfort in casting the old outfit, my productivity improved so that I was getting just as many strikes as they were.
Obviously there are skills to be learned no matter what kind of equipment you're using.  That applies to every level of fishing. We all know  fishermen with hundreds of thousands of dollars worth of equipment who still can't catch a fish in a bucket. Whether it's learning to locate the fish, figuring out how to read the current, determining how to position the boat, or identifying the best types of lure to use, skill is more important than equipment.  I don't know a single good fisherman who thinks he has everything figured out, but I know plenty of bad ones who know it all. Henry Ford once said it this way, "Anyone who stops learning is old, whether at twenty or eighty. Anyone who keeps learning stays young. The greatest thing in life is to keep your mind young." 
Someone else said it like this, "Stay thirsty my friends."
It's refreshing to take a step back once in a while and consider how things were done in the past.  It's equally important to stay on top of the latest technology and utilize the best modern practices. I think the best lesson I'll take away from my fun afternoon using 80-year-old fishing equipment is that there is always something new to be learned, and with fishing, as in life, the more things change, the more they stay the same.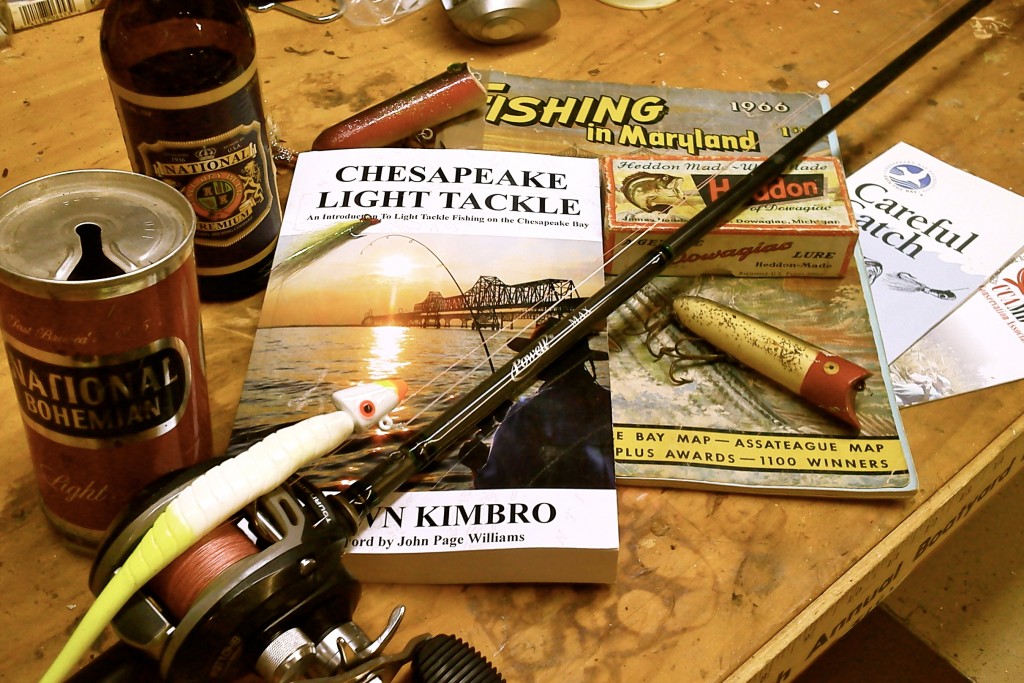 Responses to "Looking Back"