Click the Book Covers Below to Buy the Books

Current Moon Phase




Waxing Gibbous Moon




The moon is 12 days old


Distance: 56 earth radii
Ecliptic latitude: -3 degrees
Ecliptic longitude: 336 degrees


Recommendations

Good Information

Wind Weather & Tides

Meta
If there is ever a season when it's necessary to pull out all the stops in order to catch nice striped bass in the Chesapeake Bay, it's late summer.  There are plenty of small fish to be caught, but getting the bigger ones takes a lot more effort. In my presentations this year, I've advised fishermen to take what they know about the five reasons why striped bass bite – hunger, reaction, competition, territory, and curiosity – then consider the five senses fish employ when feeding – sight, smell, sound, feel and taste – and fashion their fishing techniques to maximize their chances. In other words, 5 X 5 = success.
When fish are hungry and feeding aggressively, they're easy to catch. Fishermen who are lucky enough to find a school of hunger feeding fish blitzing beneath screaming birds are certain to be successful, no matter what kind of lures they use. Unfortunately, it's not easy to find bigger fish feeding on the surface this time of year. I'm very envious of the few fishermen I know who have the time and money to chase blitzing rockfish all up and down the East Coast. Since most of us have to go fishing close to home in the limited time we have available, we have to look diligently for the few good stripers that might be around.  When we're lucky enough to find them, we usually have to work hard to convince them to take our lures. Sometimes, they just don't want to bite.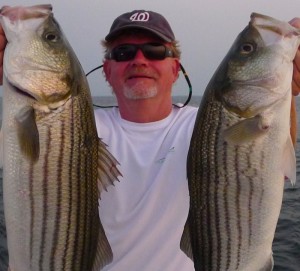 The skeptics will tell you that the methods I recommend such as alternating colored lures, scented soft plastics, and good noise discipline don't matter. On good days, they're right. But when the fishing gets tough, it's the little extra steps that can turn your luck around and help you catch more and bigger fish. Since I prefer to let results do most of the talking, I'll share some things about a couple of successful trips I made last week when the strike triggers concepts were especially important.
Last week we had a blue moon – the second full moon in August. Full moons mean strong tides, and usually good light tackle fishing. Thursday evening Rich and I got out a couple of hours before dark. We launched Thunder Road at Kent Narrows and nosed out into the Chester River to look around.  Just like usual, I cruised along the ledges and over the oyster bars looking for birds.  Unfortunately, there were none to be found. Our window of daylight was closing and things were looking dim. Finally, just before dark, I brought the boat off plane to check the sonar over a seldom-fished oyster bar. A glance at the fish finder showed just a few small marks holding tight to the bottom.  They weren't obvious, just a fish or two here and there. Good enough.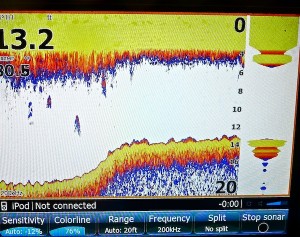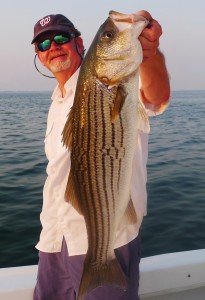 I took out a 6″ white BKD and dipped the tail in bright orange garlic dye. I threaded it on to a homemade three-quarter ounce chartreus and white jig head and pitched it out in the direction of the incoming current.  First cast, nothing.  Second cast, nothing.  Third cast, still nothing.  I dipped the lure again in the scented dye and readjusted the angle of my cast so that my lure was still moving with the current, but this time slightly at an angle to the flow. When fish are holding tight to the oysters, the lure has to pop the bottom (barely) as it sinks back down after every quick snap of the rod tip. Just throwing it out and jigging it back in won't work.  It has to touch down every time. Snap, drop, pop the bottom – snap, drop, pop – snap, drop, BOOM!  Fish on!  I fought a healthy 28-inch striper to the side of the boat and released it while it was still in the water.
I repositioned the boat over the spot where I caught the fish. This time it was Rich's rod slashing through the air as he set the hook into another nice striper.  The fish were holding in a very tight area relating to nothing more than a small hump that rose about 24 inches off the bottom. I started the engine again and moved the boat back up and slightly past the hump.  This time, we both hooked up and I held up both fish as Rich shot a quick picture.  By this time, the August Blue moon was well above the Eastern Shore horizon. We caught a few more fish but they stopped biting after it got dark. I think we could've given them another hour or so and they would've started biting again under the full moon, but we had accomplished our mission and turned what could have been a very bad evening into a successful fishing expedition.
Rich had plans the next night, but Jamie and Mark joined me on Thunder Road. I headed right back out to the same area where we'd found the fish the night before.  The sonar pattern was the same.  You could very easily miss those fish on the fish finder if you didn't know what to look for.  The only thing apparent was a slight color change tight on the bottom. Like Rich the night before, Jamie and Mark are experienced light tackle fishermen and very good at figuring out the best direction for the cast. These fish simply would not hit a lure moving against the current. Since we had a slight breeze that pushed my boat along a little faster than the speed of the tide, I cut the motor hard right so we would drift a little slower and sideways with the current.
Jamie and Mark were casting Mann's Hard Head lures.  These soft plastic baits are scented and salted in the bag. I stayed with BKD hot-rodded with chartreuse.  After a half-dozen casts, Jamie set the hook into something solid.  The fish lit out for deeper water so he pointed his rod tip toward the fish and let the drag on his baitcaster do the work.  The fish eventually turned and Jamie fought it to the side of the boat.  We pulled it onboard for a quick measurement – 33 inches – not bad.
On the next drift, both Mark and Jamie hooked up with mid-20 inchers.  I hadn't had a strike so I was getting worried. I considered changing over to a Mann's lure, but decided just to reapply more color then bear down and concentrate as hard as I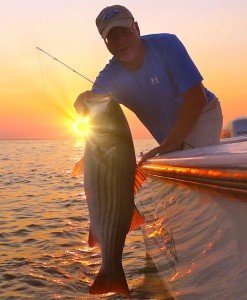 could on my jig:  tune in – th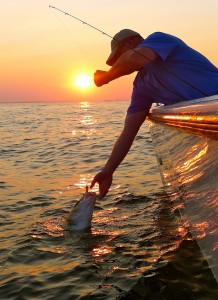 ink down the line – snap, drop, pop the bottom. I could feel the jig head every time it touched the shells on the oyster bar. Get ready – stay alert – anticipate the strike – snap, drop, WHACK!  Set the hook – tight line – good head shakes. I popped a nice one. In the world of rockfish, a 30-inch fish isn't all that big, but in August on the Chesapeake Bay, I'll certainly take them.   Especially since I know from experience that the same technique will produce 40- and 45-inch fish later in the fall.
Just like before, the fish were holding very tight to a small area of underwater structure.  It wasn't the same hump as last night, but it was in the same area. The full moon current was stronger than the night before, and the wind had picked up so we were over the fish for less than two minutes per drift.  That didn't give us much time to get the lure into the strike zone. Every detail mattered.  Strikes didn't come easy. On some drifts, most in fact, we didn't hook up at all.
Right at sunset, I moved a little farther south and turned the boat hard into the current.  The blue moon was just coming up when Mark tied into a nice fish. I shot a picture of his rod bent with the moon in the background, then heard Jamie set the hook behind me, another drag screamer. With the setting sun over his left shoulder, I got as many pictures as I could of the action.  Jamie brought the fish to the stern and lipped it over the side.  This one went 35-inches.  I'll take a fish like that anytime of year, but it's especially sweet to see them in August.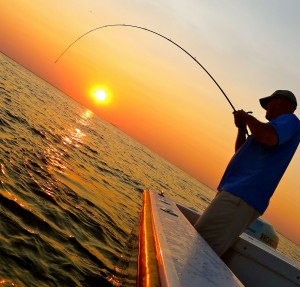 I have high hopes for a very good fall rockfish bite this year. Unless we get tropical storms or a hurricane like we did last year, conditions should continue to improve. As soon as we get a few cool nights, I'll start working the grass beds and shoreline structure with topwater plugs. I also think we'll see good light-tackle fishing in Eastern Bay and in the main Chesapeake channel near humps and ledges that are close to the mouths of major rivers. Water clarity is still very good, even in the Upper Bay.
So, polish up your strike triggers, sharpen your hooks and mash your barbs, then hang on for what could be one of the best fall seasons we've seen in a while.  Hopefully, there will be a lot of hungry fish around, but I'm sure there will also be days when fish are hard to catch. When the going gets tough, take those extra steps. You might be surprised at how you can turn around the bad days and make the already good days great.
Responses to "Blue Moon Strike Triggers"