catch and release
Currently browsing articles with a topic of "catch and release".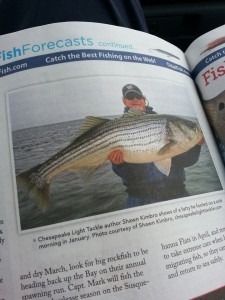 As much for my benefit as anyone's, I'm listing my speaking schedule for the next few months. I'll have books to sign at each event. At some, I'll be presenting a new Power Point slide show called "The Right Stuff – Gear, Accessories, & Attitudes for Successful Light Tackle Fishing." Good luck fishing this spring!
Feb 23rd – Annapolis Saltwater Fishing Expo – The SALTWATER FISHING EXPO will be held on Saturday Feb. 23rd from 8 AM to 3 PM at the Annapolis Elks Lodge. This event has grown into one of the most popular winter fishing shows in this area featuring expert seminar speakers, top quality tackle dealers and local charter captains and guides.  I won't be speaking this year, but I'll have a table with books and hopefully plenty of opportunities to talk and answer questions.
March 2 – CCA Northern Virginia Banquet & Auction – Thirteenth Annual Dinner and Auction taking place on Saturday, March 2nd, 2013 at 6:00 pm.  This year's event will be at The Shriner's Kena Temple in Fairfax, VA.  The Northern Virginia guys have been working very hard with their donors and supporters in gathering a wide array of Auction items that are sure to impress – They have over $20,000.00 in live and silent auction items.  This is a little different event for me in that I'll have a microphone and my guitar and I'll be accompanied by my buddy Joe Evans while performing some original songs about fishing and living in our region. Read More!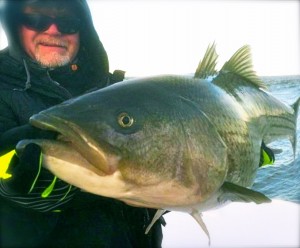 Every angler I know has lost the biggest fish they ever hooked. Well, at least we think we have. A fish that breaks a line or pulls a hook immediately grows twenty pounds in my mind. It's in every fisherman's nature to believe he or she had a shot at a new world record, but it got away. Nothing makes a fish bigger than almost getting caught. I had just that experience a few days ago – you know, a big fish, an epic battle, and a broken line – so I thought it might be interesting to take another look at some of the things we do wrong to make sure we never catch that fish of a lifetime.
It's big fish season on the Chesapeake Bay. The coldest months of the year are the absolute best times to catch & release striped bass. Stripers are hardier in the winter. They're more muscular, carry more fat, and are almost guaranteed to survive when properly handled and released. Additionally, winter is a great time to fish the Bay because it's almost free of boat traffic. Wildlife sightings are more common. Bald eagles are frequent. Sea ducks are everywhere. On cold, clear, calm days colors are more vivid, the water reflects more spectacularly, and we can see things farther away. Some days you can see for miles across the glass where unobstructed views of the horizon make it nearly impossible to tell where the water ends and the blue sky begins. It's a fantastic time to enjoy the Chesapeake in all it's winter splendor. It's beautiful. So, c'mon, you wouldn't want to spoil all that serenity with the biggest fish of your lifetime, would you?  Here are some sure-fire things you can do to make sure you lose that bad boy!  Read More!
In the fifty years or so I've had to observe the behavior of fishermen, I've noticed a few trends. While collecting thoughts for my next book, I'm forming a list of traits that I think good fishermen have in common. In the book, I'll concentrate primarily on gear and tackle but I also want to spend some time examining habits and attitudes that successful anglers share. You know, the right stuff. One penchant stands out above all the rest – good fishermen like to release fish. Not only do they like to let them go, but they look for ways to insure they survive once they swim away. Accomplished anglers find satisfaction in returning a fish to the water and they enjoy the thought that other fishermen will also have the opportunity to experience the thrill of a trophy catch.
I love to eat fish. I just returned from a week-long fishing trip to the Abacos Islands where my sons and I ate the fish we caught every day. I don't begrudge anyone the opportunity to eat their catch, but every angler has to release fish from time to time. Better anglers can't possibly eat all the fish they catch, nor do they want to. I've written about this in the past, so instead of going into a step-by-step breakdown of best-practices, I thought I'd try to make it a little more fun by turning it into a quiz. Think you have a good handle on how to take care of the fish you plan to release? Check it out: Read More!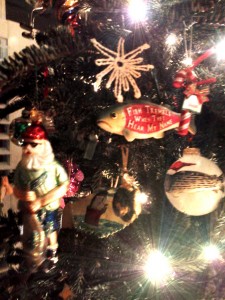 December brings my favorite day of the year. A day I look forward to so much that I can't sleep. When that joyful morning arrives, I'm usually up before dawn, caught up in the magic of this time of year. If you're like me, I know you're looking forward to it too, and you've probably guessed that I'm not speaking of the joy of Christmas morning. The most wonderful time of the year for me and most of my light tackle friends is the opening of catch & release season. It started last week in the Maryland waters of the Chesapeake Bay.
Gone are the fair-weather boaters with their blaring boom boxes. No more trollers claiming quarter-mile planer board right-of-ways, or obnoxious VHF broadcasters insulting everyone within 50 miles.  Catch & release season is the time of year when the one-man-one-rod concept reigns supreme.  It's when you can run on-plane for miles in the wide-open Bay and never see another fishing boat.  A time when there's very little competition for prime fishing spots, and a small but tight fraternity of hard-core fishermen brave the elements to jig the cold-weather hotspots.  Now that I think about it, it's better than Christmas!
Thanks to everyone who made it to the re-creation of the Annapolis chapter of the Coastal Conservation Association (CCA) at the Boatyard Bar & Grill last night. There was a big turnout and we had a lot of fun. As I was driving to the meeting, I considered the concept of re-creating something as significant as a major chapter in a national conservation group.  It's obviously an important event, so I decided to collect my thoughts on the concept of re-creating.  I looked up the word recreation and found that it simply means to create something anew.  I suppose almost everyone who reads this website considers themselves recreational fishermen.  The time we spend on and around the water helps us wind down and relax. So by fishing, we're essentially restoring ourselves to a state-of-mind that makes it easier to face the daily challenges life throws our way. Read More!