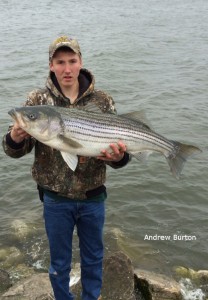 Long time no blog! Most of my recent Internet activity has been via social networks, especially Facebook (@Shawn.Kimbro), Twitter (@ShawnKimbro) and Instagram (@Shawn_Kimbro). It's very easy to get a message out via these outlets and I can very quickly post fishing pictures and short reports. If you haven't already, please look me up. I also have some new Chesapeake Bay How-To fishing videos coming out soon on YouTube, so be sure and follow me there as well. This weekend marks the opening of the striped bass kill season in Maryland. On April 18th it becomes legal to catch and keep a striped bass. So far in 2015, we've been releasing all the fish we catch. The regulations are different this year than they've been in years past. Between April 18 and May 15, anglers can keep one rockfish per day if it measures (a) between 28 and 36 inches in length or (b) over 40 inches. After May 15, you can keep two fish, but there is a minimum size of 20 inches and only one of those fish can be over 28 inches. Hopefully, Maryland anglers have heard of these new regulations by now, but it never hurts to spread the word!  Let's also spread the word that it's a good idea to release those 40-inch-plus fish too, even though it's legal to keep them. Almost all the fish caught in the next couple of weeks will be pre-spawn. If we want strong rockfish populations in the future, we have to let the big spawners go.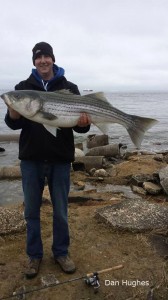 Most of the light-tackle fishermen I know don't pay much attention to the opening of kill season. We've already had some of the most exciting fishing of the year. Kill season just means more boats on the water and more big fish taken before they have a chance to spawn.
The spring rockfish migration is well underway now and fish are moving up the Maryland portion of the Chesapeake Bay in waves. So far fishing has been pretty good. My assessment of the 2015 warm-water-discharge season up to now is good but not great. Oh, we've released plenty of big fish – some well over fifty pounds – but I've seen a lot better cold-weather fishing.
#FishFromShore
Some of the most exciting fishing in April and May takes place right along the bank. Lately, shore fishing is so good that some of my fishing buddies are leaving their boats at home and hiking down to the piers and points to cast. They're catching trophies too. My friend Andrew Burton of Annapolis is catching and releasing big fish on quick outings before and after school. He's had a few evenings when he's landed three or more stripers that were over forty-inches long! Andrew isn't alone. I'm hearing about big fish caught all along the western shore from Sandy Point State Park clear down to Point Lookout. On the opposite side of the Bay, my neighbor Dan Hughes has been wearing them out from the shorelines on Kent Island. The picture on the right is of a beautiful fish he released last week. There is also some nice fish being caught at the Matapeake Pier. Unfortunately, there's also been some poaching at Matapeake. Maryland Natural Resource Police busted three fishermen earlier this week for keeping big rockfish they caught from the pier. Let's hope these bad guys get the maximum sentence possible.
In my younger days, almost all my striper fishing was from shore. The first rockfish I ever caught was with a topwater plug casting from the bank. Here are some things I've learned along with a few tips from Andrew, Dan, and other anglers who are successfully catching big stripers from shore. Read More!