Click the Book Covers Below to Buy the Books

Current Moon Phase




Third Quarter Moon




The moon is 20 days old


Distance: 63 earth radii
Ecliptic latitude: 4 degrees
Ecliptic longitude: 141 degrees


Recommendations

Good Information

Wind Weather & Tides

Meta
Boatyard Bar & Grill
Currently browsing articles with a topic of "Boatyard Bar & Grill".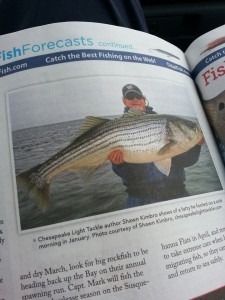 As much for my benefit as anyone's, I'm listing my speaking schedule for the next few months. I'll have books to sign at each event. At some, I'll be presenting a new Power Point slide show called "The Right Stuff – Gear, Accessories, & Attitudes for Successful Light Tackle Fishing." Good luck fishing this spring!
Feb 23rd – Annapolis Saltwater Fishing Expo – The SALTWATER FISHING EXPO will be held on Saturday Feb. 23rd from 8 AM to 3 PM at the Annapolis Elks Lodge. This event has grown into one of the most popular winter fishing shows in this area featuring expert seminar speakers, top quality tackle dealers and local charter captains and guides.  I won't be speaking this year, but I'll have a table with books and hopefully plenty of opportunities to talk and answer questions.
March 2 – CCA Northern Virginia Banquet & Auction – Thirteenth Annual Dinner and Auction taking place on Saturday, March 2nd, 2013 at 6:00 pm.  This year's event will be at The Shriner's Kena Temple in Fairfax, VA.  The Northern Virginia guys have been working very hard with their donors and supporters in gathering a wide array of Auction items that are sure to impress – They have over $20,000.00 in live and silent auction items.  This is a little different event for me in that I'll have a microphone and my guitar and I'll be accompanied by my buddy Joe Evans while performing some original songs about fishing and living in our region. Read More!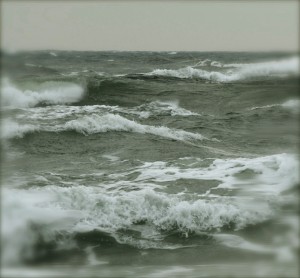 At least they must have been precious in his sight last weekend when an epic spring storm kept many fishermen off the Bay on the opening day of Maryland's striped bass catch-and-kill season.  Water temperatures are lower than usual this April, so there are lots of pre-spawn fish still moving up the Bay.  I'd guess at least a couple of thousand more roe-laden cows made it to the spawning grounds this weekend that otherwise wouldn't have, but for the storms.  Let's hope that translates into millions of additional baby rockfish.  Even though I usually root for the fish, I still get excited about opening weekend because the recreational rockfish season in Maryland is definitely worth celebrating.  With all the commercial poaching we saw this winter, it's amazing to me that there are any fish left to catch.  Since there are still a few around, let's thank the Lord for that too!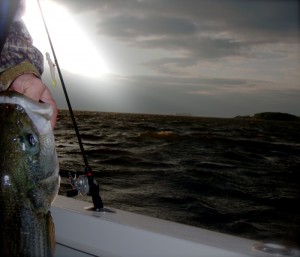 I admit it, I dread the opening day of rockfish kill season like a vampire dreads a tossed salad.  In my book, it's the beginning of the end of good fishing on the Chesapeake Bay.  With one stroke of the clock our tranquil miles of open-Bay solitude are overrun by frantic hoards of  frenzied fishermen.   The meat fleet is out in force on boats bristling with rods the size of rake handles and dozens of lines spread out hundreds of feet using planer board rigs.  Lost somewhere in the melee is the concept of one-man-one-rod sportsmanship. To make matters worse, the Department of Natural Resources sets the opening of the kill season while there are still pre-spawn fish in the Bay.  Big cows are routinely killed before they have a chance to spread the millions of eggs they are carrying. Maryland, we are sucking the life-blood out of the sport we love by killing our spawning fish. Read More!