Click the Book Covers Below to Buy the Books

Current Moon Phase




Third Quarter Moon




The moon is 20 days old


Distance: 63 earth radii
Ecliptic latitude: 4 degrees
Ecliptic longitude: 141 degrees


Recommendations

Good Information

Wind Weather & Tides

Meta
chain pickerel
Currently browsing articles with a topic of "chain pickerel".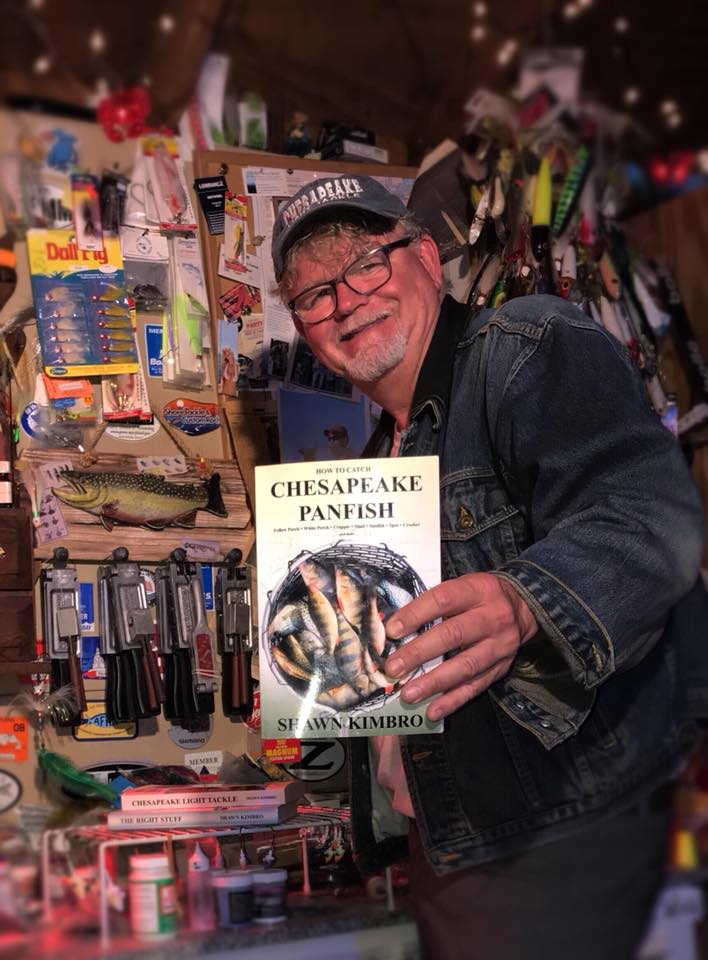 UPDATE 10/7/2018: Books have arrived and we are now shipping!
Good news! My new book is now available for pre-order. You can select either a limited edition hard cover or a first edition soft cover by clicking on the book pictures on the right side of this page. We expect books to arrive anytime and we will begin shipping as soon as we get them. All pre-ordered books are guaranteed to arrive before the official release date of October 15, 2018. After October 15, books will also be available in tackle shops in both Maryland and Virginia, at Amazon.com, and at other online outlets such as JigTheBay.com. Both the hard cover and soft cover contains 340 pages of which 43 are printed in color. There are over 100 photos and illustrations. Soft covers are $24.95 + shipping and hard covers are $39.95.
From the back cover:
Whether you fish from a boat, kayak, or the bank, there is nothing more fun than catching panfish in the Chesapeake Bay. Digging deep into his bag of panfishing tricks, lifelong angler Shawn Kimbro lays out the best year-round strategies for catching perch, crappie, bluegill, shad, and other species in the tidal waters of the Chesapeake Bay. Featuring the locations of prime fishing spots in Maryland and Virginia along with the history of some of the region's most popular lures, you'll find details about the best baits, rigs, lines, rods, reels, and other tackle. Enhanced with entertaining fish tales and illustrated by Eva Nichols' artful sketches, this book is perfect for both beginning anglers and seasoned panfish pros.
I'm super excited about this new release and very happy to have the opportunity to share my knowledge and research with you my friends and fellow anglers. I hope you enjoy reading it as much as I loved writing it. I look forward to seeing you on the creeks and rivers this fall and winter!
–Shawn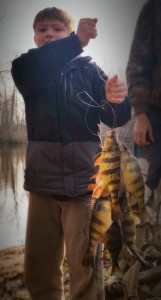 Spring is nature's way of saying, "Let's Party!" That's how the late Robin Williams described it. March may have roared in like a lion, but she's now lying like a lamb with weeks of warmer weather in the forecast. While the calendar might still say winter, spring, glorious spring has made her eloquent arrival to the snow-weary Mid-Atlantic. The peepers are peeping, the red buds are budding, and yesterday, through the morning fog, I caught a glimpse of an osprey soaring high above Kent Island. There are a lot of reasons why fishermen look forward to the arrival of spring. A big one is the beginning of Daylight Saving Time on March 13 when clocks spring forward to give us one more treasured after-work fishing hour. Another reason is that there are lots of fish around that are relatively easy to catch. Fishing and spring go together like, well like fish and fries.
Have you noticed how all the fast food restaurants put their fish sandwiches on sale this time of year? I believe humans are hard-wired to crave fish in the spring. It's been right there in our DNA since the first hunter-gatherers wandered away from their warm winter hearths to find springtime streams teeming with spawning fish. For many fishermen, the urge is so strong it's nearly impossible to stay away from the water in March and April. This is the time of year when fish are easiest to catch, and the time when we most want to eat them.
I'm not one to turn down the bounty of fresh fish. While I release many of the fish I catch, I can't resist bringing home an occasional stringer for the table. I'm a big fan of eating locally produced fruits, meats, and vegetables. We get our honey from local hives, our beef from a nearby herd, and many of our vegetables from our garden. Since we live on an island in the Chesapeake Bay, it just comes naturally to eat fish from the waters around us. Unfortunately, those waters are very polluted, so there are strict consumption advisories about fish caught in this area. In fact, officials in Washington DC recently advised no consumption of rockfish caught in the District. I will no longer serve my family striped bass over 30 inches long from anywhere in the Bay because of the build up of toxins. It's a personal decision, but one that I'm serious about. My children and grandchildren aren't old enough to make choices for themselves about what is healthy. They're too young for me to take a chance on poisoning them.  Read More!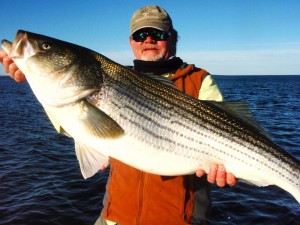 If the next 51 weeks of 2012 go as well as the first one, this promises to be a very good year for light tackle fishing on the Chesapeake Bay. I've fished four times and caught a Diamond Jim qualifying citation fish on each trip including three rockfish in the mid 40-inch range. I'm chalking it up to a little experience, some insider information, and a lot of luck.  My son, "Big Fish Cory" has been visiting. Although he didn't catch any trophies this time around, he still brought along his lucky horseshoe.  Chesapeake striped bass fishermen have two basic winter options.  One is to fish deep holes – either in the main stem of the Bay or up in the outside bends of the rivers – and the other is to work the warm water discharges. Since we've had a very mild winter so far, the warm water discharges have been inconsistent.  I decided to split the difference and fish the last four days close to home off Kent Island.
One of the best places I know of to jig up deep water rockfish is the Bay Bridge.  Two- and three-year-old-stripers and white perch survive the cold winter by stacking up around the Bay Bridge rock piles. They'll stay there until the spring freshet washes out their warm water comfort zones. Even though they are readily apparent on a fish finder, they aren't always easy to catch. To coax a strike out of deep-water stripers you just have to aggravate them until they bite.  You can jig for hours and not get a single strike, then, snap – the fish will turn on and you're catching every cast. Read More!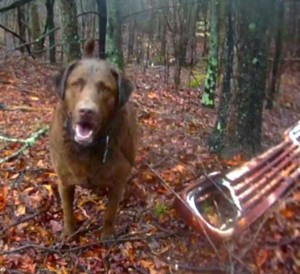 This is the time of year I like to walk along Tuckahoe Creek near Queen Anne, Maryland casting for perch and chain pickerel.  For the past couple of years I've only caught white perch on the Tuckahoe.  I've missed the earlier yellow perch spawn because it frequently coincides with the first wave of pre-spawn rockfish. I thought I might miss it again this year, but today's rainy windy weather kept me off the Bay.  My four-year-old Chesapeake Bay Retriever Crockett and I left Kent Island about noon and took the long way around before parking the truck and hiking in to my favorite perch holes.  The rain poured and the fish bit.  It wasn't hot and heavy like I've been hearing about in the Western Shore creeks, but I finished up with six keepers out of a couple dozen  perch, and released a nice pickerel.  My lure was a chartreuse one-thirty-second ounce feather fly tied by my Severn River Rod & Keg Club brother Woody of Maryland Tackle.  I jigged it under a tiny green top float.  A feather fly coupled with a buoyant, lively float is a combination my dad taught me.  My brother Creig has been wearing out the crappie in the TVA lakes using it.  It's a very specific technique because any old float won't work. I think I'll keep the brand name to myself for now, but you might be able to figure it out from the video.  It was great to get out and stream fish for a while.  I'll visit the Tuckahoe again once the white perch run begins.  As you can tell, Crockett is in his element in the rainy woods.  Read More!