Click the Book Covers Below to Buy the Books

Current Moon Phase




Waning Gibbous Moon




The moon is 17 days old


Distance: 61 earth radii
Ecliptic latitude: 4 degrees
Ecliptic longitude: 104 degrees


Recommendations

Good Information

Wind Weather & Tides

Meta
eastern shore
Currently browsing articles with a topic of "eastern shore".
If you do a keyword search for "invasive species" on any Chesapeake Bay-centered social media platform, you'll most likely see more than you want to know about northern snakeheads. But, there are lesser-known invasives in the Chesapeake watershed, some that aren't considered harmful and that are even stocked by our state natural resource agencies. I'll leave it up to the experts to decide when it's alright to promote a new species or when it's better to eradicate one, but I can tell you for certain that I'm tickled pink about the rise of the redear sunfish.

Redear sunfish (Lepomis microlophus), also known as shellcrackers, are one of my all-time favorite fish. Some of my fondest fishing memories are of catching burlap sacks full of shellcrackers with my brothers and our father. Originally considered a strictly southern species, they've been helped along by selective stocking while naturally expanding their range north. In 1938, they were reported to be no farther north than Georgia but by 2011, they had made their way up to the Potomac River tributaries. In the past five years, I've caught them in many Eastern Shore tidal streams and in every DNR-managed lake that I've fished. Shellcrackers do great in this area because of their high tolerance for salinity and their taste for small snails and other mollusks. Today, the shellcracker populations in our tidal streams and millponds are booming.
Read More!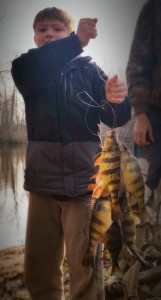 Spring is nature's way of saying, "Let's Party!" That's how the late Robin Williams described it. March may have roared in like a lion, but she's now lying like a lamb with weeks of warmer weather in the forecast. While the calendar might still say winter, spring, glorious spring has made her eloquent arrival to the snow-weary Mid-Atlantic. The peepers are peeping, the red buds are budding, and yesterday, through the morning fog, I caught a glimpse of an osprey soaring high above Kent Island. There are a lot of reasons why fishermen look forward to the arrival of spring. A big one is the beginning of Daylight Saving Time on March 13 when clocks spring forward to give us one more treasured after-work fishing hour. Another reason is that there are lots of fish around that are relatively easy to catch. Fishing and spring go together like, well like fish and fries.
Have you noticed how all the fast food restaurants put their fish sandwiches on sale this time of year? I believe humans are hard-wired to crave fish in the spring. It's been right there in our DNA since the first hunter-gatherers wandered away from their warm winter hearths to find springtime streams teeming with spawning fish. For many fishermen, the urge is so strong it's nearly impossible to stay away from the water in March and April. This is the time of year when fish are easiest to catch, and the time when we most want to eat them.
I'm not one to turn down the bounty of fresh fish. While I release many of the fish I catch, I can't resist bringing home an occasional stringer for the table. I'm a big fan of eating locally produced fruits, meats, and vegetables. We get our honey from local hives, our beef from a nearby herd, and many of our vegetables from our garden. Since we live on an island in the Chesapeake Bay, it just comes naturally to eat fish from the waters around us. Unfortunately, those waters are very polluted, so there are strict consumption advisories about fish caught in this area. In fact, officials in Washington DC recently advised no consumption of rockfish caught in the District. I will no longer serve my family striped bass over 30 inches long from anywhere in the Bay because of the build up of toxins. It's a personal decision, but one that I'm serious about. My children and grandchildren aren't old enough to make choices for themselves about what is healthy. They're too young for me to take a chance on poisoning them.  Read More!
The main channel of the Chesapeake is currently closed to most fishing due to dense, muddy water. Debris fields containing trees, logs, railroad ties, even 55-gallon drums and partially-submerged refrigerators make it nearly impossible to navigate anywhere near the Bay Bridge.  The Susquehanna River remains near flood stage, so there is more bad water and trash to come. What's a light tackle fisherman to do?  Go east, young man – go east and go shallow.  If you aren't fishing the shoreline right now, you're missing some of the most spectacular top-water action of the year.  September is almost always a great month for top-water fishing, and it's even better now since fish have been pushed out of the muddy waters of the channel toward the shorelines.  Better yet, the high water makes it even easier to get our boats in tight and fish the current swept banks. Read More!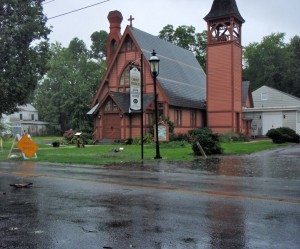 As Hurricane Irene gets closer our biggest issue remains heavy rain.  It comes in waves, sometimes pouring so hard it completely restricts visibility.  At other times it almost looks like the sun could pop out.  The wind continues to build steadily. I've heard of 50-miles per hour gusts in Annapolis.  Thomas Point Lighthouse has reported gusts up to 42 knots.
The strongest wind recorded so far has been atop the Bay Bridge.  They recorded a gust of 53 miles-per-hour at 4:11 P.M. and announced Phase III restrictions.  That means no light trucks or hitched trailers.  They will close the bridge when wind speeds reach 55-miles-per-hour.  I think they expect that soon because I noticed emergency vehicles staging to close the road at any time.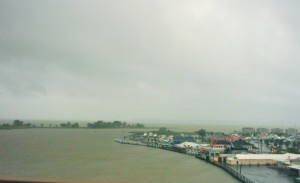 We've had a few limbs come down, but nothing serious.  Just after 2:00 P.M. the hurricane seemed to be taking a more northerly track that would have put it coming right up the Bay toward us, but she's wobbled back east now.  Either way, it's appearing that we might get more of a storm surge than was initially predicted.  Our house sits about 4 feet above sea level on a 2-foot foundation, so we won't be worried unless the surge approaches 6 feet.  On the other hand, there are lots of waterfront homes and business that are much lower.  Some weather sites are predicting a 4- to 8-foot surge.
I looked around a little and the water in the Bay is coming up, but it's nothing more than a high tide right now.  This is also the predicted high tide period for today, so there's still nothing unusual on the water.  It's a new moon, so wider fluctuations are normal. There are some pretty steep waves out there though with reports of some over 4-feet in the Mid-Bay.  That's nothing by ocean standards, but a little rough for the Bay.  We are no where near the full impact of the storm yet, so we'll see what happens.
For now, our major concern is flash flooding.  Most of the storm drains are overwhelmed and there is standing water on all the roads.  We have a long way to go before this one is over.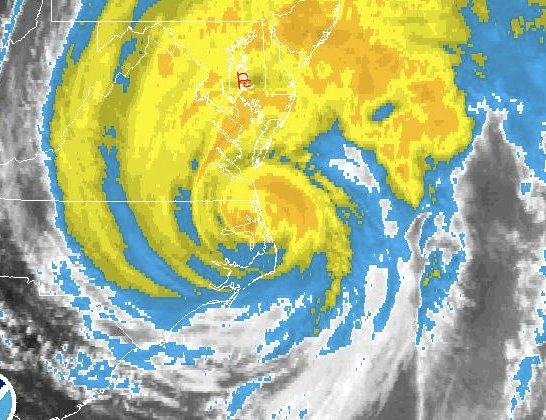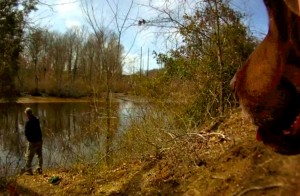 Bark bark bark, bark bark, bark bark bark.
.