Click the Book Covers Below to Buy the Books

Current Moon Phase




Third Quarter Moon




The moon is 20 days old


Distance: 63 earth radii
Ecliptic latitude: 4 degrees
Ecliptic longitude: 141 degrees


Recommendations

Good Information

Wind Weather & Tides

Meta
shallow
Currently browsing articles with a topic of "shallow".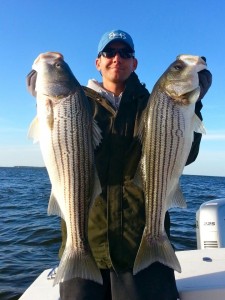 I've been lying low over the past couple of weeks waiting out the craziness. Most of my fishing has been in out-of-the-way places far from the madding crowds. Radios blaring, airplanes buzzing, stereos thumping, outboards droning, helicopters whirring, sirens wailing – Wow! Boat shows, trolling tournaments, and sailing regattas make the main stem of the Chesapeake very noisy. The Bay is fully awake from her winter slumber and the crowds are back in force. While we each enjoy the water in our preferred ways, to my thinking fishing should include elements of solitude and stealth. I've mentioned before that I'd rather pick up aluminum cans at rush hour along I-95 than try to pick off rockfish in the main channel on a busy trolling weekend. I prefer to look off the beaten path for places where I can tune-in to something a little more pleasing than the clamorous dissonance of the masses.
Since the striped bass spawn is winding down on the Chesapeake Bay, I thought it might be interesting to take a look at some post-spawn patterns.  When stripers come off the spawning grounds, they're usually hungry. If you can find them, they're pretty easy to catch.  Ah, but finding them, there's the rub.  Where should you look?  Read More!