Click the Book Covers Below to Buy the Books

Current Moon Phase




Third Quarter Moon




The moon is 20 days old


Distance: 63 earth radii
Ecliptic latitude: 4 degrees
Ecliptic longitude: 141 degrees


Recommendations

Good Information

Wind Weather & Tides

Meta
trophy
Currently browsing articles with a topic of "trophy".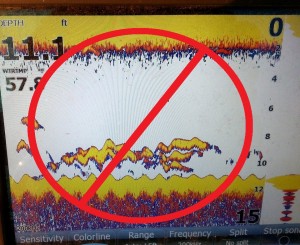 Have you ever belly-crawled through the tall grass beside a mountain stream hoping to sneak up on your favorite fishing spot? Most freshwater anglers understand how important it is to be quiet and sneaky but I've noticed that some Chesapeake Bay fishermen don't fully appreciate the concept of stealth. It won't be long until the weather breaks and fishermen who are looking to overcome cabin-fever will pack into some of the better-known fishing spots like the warm water discharges, the Susquehanna Flats, and the mouths of Upper Bay rivers. When fish are thick and hungry, you can stomp beer cans in the bottom of your boat and still catch them, but when they're finicky, stealth becomes a lot more important.
Spring on the Chesapeake Bay is the best time of year to catch the fish of a lifetime, but don't forget that big fish get that way by being smart. While you might luck into a forty-inch-plus fish once in a while no matter what, your chances increase dramatically when you improve your noise discipline. Here are some tips and tactics that are guaranteed to increase your odds of catching trophy stripers on light tackle: Read More!