Click the Book Covers Below to Buy the Books

Current Moon Phase




Full Moon




The moon is 15 days old


Distance: 57 earth radii
Ecliptic latitude: 0 degrees
Ecliptic longitude: 20 degrees


Recommendations

Good Information

Wind Weather & Tides

Meta
annapolis
Currently browsing articles with a topic of "annapolis".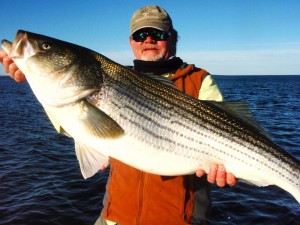 If the next 51 weeks of 2012 go as well as the first one, this promises to be a very good year for light tackle fishing on the Chesapeake Bay. I've fished four times and caught a Diamond Jim qualifying citation fish on each trip including three rockfish in the mid 40-inch range. I'm chalking it up to a little experience, some insider information, and a lot of luck.  My son, "Big Fish Cory" has been visiting. Although he didn't catch any trophies this time around, he still brought along his lucky horseshoe.  Chesapeake striped bass fishermen have two basic winter options.  One is to fish deep holes – either in the main stem of the Bay or up in the outside bends of the rivers – and the other is to work the warm water discharges. Since we've had a very mild winter so far, the warm water discharges have been inconsistent.  I decided to split the difference and fish the last four days close to home off Kent Island.
One of the best places I know of to jig up deep water rockfish is the Bay Bridge.  Two- and three-year-old-stripers and white perch survive the cold winter by stacking up around the Bay Bridge rock piles. They'll stay there until the spring freshet washes out their warm water comfort zones. Even though they are readily apparent on a fish finder, they aren't always easy to catch. To coax a strike out of deep-water stripers you just have to aggravate them until they bite.  You can jig for hours and not get a single strike, then, snap – the fish will turn on and you're catching every cast. Read More!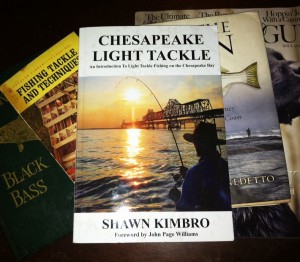 On December 6, I will unofficially release my book, Chesapeake Light Tackle – A Introduction to Light Tackle Fishing on the Chesapeake Bay.  I'm very excited.  The challenge, of course, will be selling it. Since many brick and mortar bookstores are closing, and big national chains like Borders are going under, you may be wondering why in the world anyone would want to put words down on real paper pages.  I've been asking myself that question, especially since it's a whole lot easier to relay my fishing stories and technique tips via this website.  When you think about it, the medium doesn't really matter too much as long as the information is up-to-date and reliable.  So, why a book?
There's just something about a printed paper book that I like.  Even after the invention of electronic books, I still buy the paper kind, especially for non-fiction.  I can make notes, underline, highlight, mark my place, and carry a paper book with me anywhere I go.  I'm also a collector.  I think most fishermen are.  We like to gather fishing lures, rods, reels, electronic equipment, magazines, and especially books.  I don't know of a single serious fisherman who doesn't have a few fishing books and magazines around the house. I like paper books. Read More!
Okay, so this entry might be a little heavy on the fireworks and light on the rockfish.  That's because I'm not too good at fishing in crowds, so I spent most of last weekend doing chores around the house.  That's not to say I didn't get some time in on the water.  In fact, I don't think I missed a day, but most of my time on Thunder Road was spent cruising to fireworks shows around Kent Island.  Since this is a fishing website, I'll start with a catching report.  I met Rich at Sandy Point State Park Friday afternoon for a few minutes of piling picking onboard his 19′ Sea Hunt center console.  There was very little wind but plenty of boat wakes, so we took our time getting to the our fishing spots. We had a ripping outgoing current so we rigged up soft plastic lures on three-quarter ounce jig heads.  I was throwing a hotrodded white 6″ BKD and Rich had on some kind of chartreuse lure I didn't recognize. I think we caught keeper size stripers on our first four casts, so we could have had a 5-minute limit.  We stayed with it for two and a half hours and released 27 keepers with plenty of shorts.  We caught on both the east and west sides of the bridge, even sneaking in downstream of some bored-looking live-liners who didn't seem to share our amusement when we pulled nice fish right out from under the pilings where they were anchored.  Read More!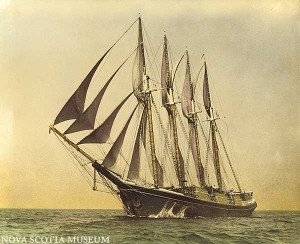 At 7:00 PM on the evening of March 15th, 1912, the four-masted schooner Herbert D. Maxwell left her anchorage near the mouth of the Magothy River and sailed southeast across the Chesapeake Bay toward Kent Island. Built in Maine and designed to haul lumber, the 186 foot cargo ship carried 1150 tons of fertilizer from Baltimore bound for Wilmington, North Carolina.  At her helm was her captain and master, William Quillan accompanied by his brother Elay and first mate J.C. Scott. She carried an additional crew of six deck hands. Since winds were mostly calm, it had been slow going down the Chesapeake.  After a drowsy sail to just south of Sandy Point, the wind completely died causing Captain Quillan to drop anchor once again.  The crew slept until roused by a building northeast breeze at 3:00 AM.  Quillan gave the order to the mate to get underway. After pulling anchor and setting sail, The Maxwell ran under clear skies before a 15-knot wind for about 40 minutes when her lookout made an ominous call, "Lights of a steamer, dead-on ahead!"  Three minutes later, at 4:44 AM on March 16th, the wooden schooner was ripped apart by the 3200-ton northbound steamship S.S. Gloucester.  She sank quickly carrying the first mate and three other crew members to their deaths.  Read More!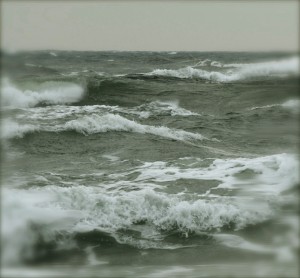 At least they must have been precious in his sight last weekend when an epic spring storm kept many fishermen off the Bay on the opening day of Maryland's striped bass catch-and-kill season.  Water temperatures are lower than usual this April, so there are lots of pre-spawn fish still moving up the Bay.  I'd guess at least a couple of thousand more roe-laden cows made it to the spawning grounds this weekend that otherwise wouldn't have, but for the storms.  Let's hope that translates into millions of additional baby rockfish.  Even though I usually root for the fish, I still get excited about opening weekend because the recreational rockfish season in Maryland is definitely worth celebrating.  With all the commercial poaching we saw this winter, it's amazing to me that there are any fish left to catch.  Since there are still a few around, let's thank the Lord for that too!