Click the Book Covers Below to Buy the Books

Current Moon Phase




New Moon




The moon is 0 days old


Distance: 63 earth radii
Ecliptic latitude: -1 degrees
Ecliptic longitude: 59 degrees


Recommendations

Good Information

Wind Weather & Tides

Meta
catch & release
Currently browsing articles with a topic of "catch & release".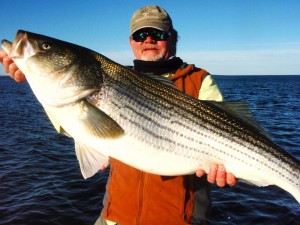 If the next 51 weeks of 2012 go as well as the first one, this promises to be a very good year for light tackle fishing on the Chesapeake Bay. I've fished four times and caught a Diamond Jim qualifying citation fish on each trip including three rockfish in the mid 40-inch range. I'm chalking it up to a little experience, some insider information, and a lot of luck.  My son, "Big Fish Cory" has been visiting. Although he didn't catch any trophies this time around, he still brought along his lucky horseshoe.  Chesapeake striped bass fishermen have two basic winter options.  One is to fish deep holes – either in the main stem of the Bay or up in the outside bends of the rivers – and the other is to work the warm water discharges. Since we've had a very mild winter so far, the warm water discharges have been inconsistent.  I decided to split the difference and fish the last four days close to home off Kent Island.
One of the best places I know of to jig up deep water rockfish is the Bay Bridge.  Two- and three-year-old-stripers and white perch survive the cold winter by stacking up around the Bay Bridge rock piles. They'll stay there until the spring freshet washes out their warm water comfort zones. Even though they are readily apparent on a fish finder, they aren't always easy to catch. To coax a strike out of deep-water stripers you just have to aggravate them until they bite.  You can jig for hours and not get a single strike, then, snap – the fish will turn on and you're catching every cast. Read More!
"One last drift," I called up. My son was casting from the bow while I piloted the boat. It was getting dark and we had New Year's Eve dinner plans in Annapolis, so we had to go. The better fish were holding in a warm water pyconocline; a spot no bigger than a pickup truck bed, 40-feet deep. I pointed the bow of my 27 Judge CC into the swift current and idled us into a position just downstream from the rocky corner.  Daniel compensated for the strong flow and launched his hotrodded chartreuse BKD toward an imaginary spot 20-yards upstream from where he wanted his lure to touch the bottom. In water this swift, he'd be lucky if his jig bumped the rocks three times before it drifted downstream out of the strike zone.  A successful cast either caught a fish, or brought up a clump of the brown bryzoan moss that covers the bottom. The only other option was to hang up. He brought his elbows together beneath the low-profile baitcaster and followed the arc of his line with his extra-fast rod tip as he anticipated the slight bump that would tell him his lure had touched the rocks.
Bump. There it was. A quick snap of the wrist picked the jig back up before it had time to snag on the bottom. Again, he followed the line with his rod tip and waited for the bump as the lure fell. Watching the drop. Anticipating. Any moment now. Slam!  Daniel set the hook and fought another 24-inch football-shaped striper to the side of the boat.  That made seventeen in 90 minutes – a fun evening of catch & release fishing very close to home. Read More!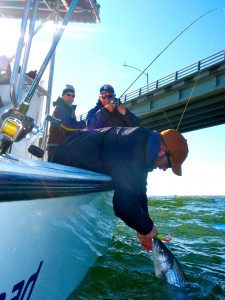 I've just spent an extra long, extra fun weekend at the Chesapeake Bay Bridge Tunnel (CBBT). Connecting the Delmarva Peninsula with Norfolk and Virginia Beach, the CBBT is 23 miles of high-current structure that is prime habitat for striped bass. Rich Jenkins and I trailered my Judge 27 center console Thunder Road down Rt 13 to Cape Charles late last Friday.  My son Daniel and my brother-in-law Mitch flew into Norfolk to meet us. We had a great time and found some fine fishing.
In Decembers past I've stayed at hotels in the Kiptopeke area but this time I decided to look into renting a vacation home for our four night stay.  After calling and emailing several places, I settled on a house in historic Cape Charles called "Southern Comfort on the Bay."  A recently remodeled Victorian with three bedrooms, two baths, a kitchen, game room, washer and dryer and a driveway large enough to park my boat in, it was the perfect base for our five days of fishing.  It's very nice to come off the water and have a roomy place to kick back, dry our clothes, watch football, play cards, and enjoy good food and drink. Better still was the price.  I've paid more for a single hotel room. Read More!
Thanks to everyone who made it to the re-creation of the Annapolis chapter of the Coastal Conservation Association (CCA) at the Boatyard Bar & Grill last night. There was a big turnout and we had a lot of fun. As I was driving to the meeting, I considered the concept of re-creating something as significant as a major chapter in a national conservation group.  It's obviously an important event, so I decided to collect my thoughts on the concept of re-creating.  I looked up the word recreation and found that it simply means to create something anew.  I suppose almost everyone who reads this website considers themselves recreational fishermen.  The time we spend on and around the water helps us wind down and relax. So by fishing, we're essentially restoring ourselves to a state-of-mind that makes it easier to face the daily challenges life throws our way. Read More!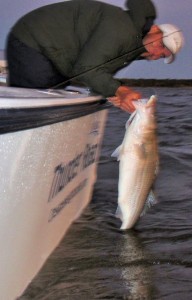 Since I've reported bigger fish on recent trips, I've been overwhelmed with questions from fishermen who want to know where the fish are. The big fish are moving around very quickly and they are rarely at the same place twice. Even on days when I find them right back where I left them, they've been very wary and hard to catch. It's been a challenging season, but if you look at my mid-October fishing reports from last year, you'll see that the pattern is nearly the same.  I think we sometimes put too much emphasis on locations, and not enough on patterns. Tell someone where to go to catch a fish and you may help them for a day, but teach them how to identify specific patterns in how fish behave, and you've helped them for a lifetime. Ask any accomplished fisherman the secret to repeated success and he'll tell you it's the ability to identify specific feeding patterns. I believe that you can drop a good fisherman into any body of water in the world and he'll catch fish as long as you give him enough time to recognize the prevailing pattern. It's especially important on the Chesapeake where circumstances change quickly and rapid drops in water temperature are not unusual in October. I think fishing conditions shift faster and more often here than anywhere I've fished before.  Fortunately, fish are creatures of habit and there are distinct patterns to their behavior.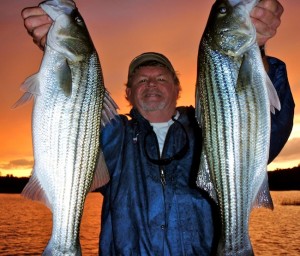 There is a harmony in autumn, and a luster in its sky, which through the summer is not heard or seen, as if it could not be, as if it had not been!  ~Percy Bysshe Shelley
Is there anything more dramatic than an October sky? If I had my way there would be an eternal high tide, a full moon every night, and the skies would always glow like they do in Autumn. There's a chill in the Chesapeake air tonight, signaling that fall is here and October fishing has begun. Just like they have the past three years in a row, bigger fish have arrived in the shallows of the mid and upper Bay. The pattern hasn't changed from last week:  topwater plugs in the shallows are still producing, but the exciting difference is that now there are significantly more 30-inch rockfish in the mix. Nothing beats big stripers exploding on surface plugs beneath the technicolor skies of October. Read More!