Click the Book Covers Below to Buy the Books

Current Moon Phase




Full Moon




The moon is 15 days old


Distance: 60 earth radii
Ecliptic latitude: 3 degrees
Ecliptic longitude: 79 degrees


Recommendations

Good Information

Wind Weather & Tides

Meta
chesapeake bay bridge tunnel
Currently browsing articles with a topic of "chesapeake bay bridge tunnel".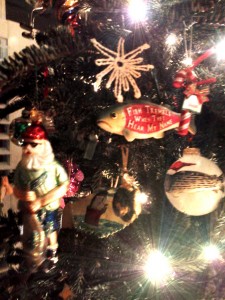 December brings my favorite day of the year. A day I look forward to so much that I can't sleep. When that joyful morning arrives, I'm usually up before dawn, caught up in the magic of this time of year. If you're like me, I know you're looking forward to it too, and you've probably guessed that I'm not speaking of the joy of Christmas morning. The most wonderful time of the year for me and most of my light tackle friends is the opening of catch & release season. It started last week in the Maryland waters of the Chesapeake Bay.
Gone are the fair-weather boaters with their blaring boom boxes. No more trollers claiming quarter-mile planer board right-of-ways, or obnoxious VHF broadcasters insulting everyone within 50 miles.  Catch & release season is the time of year when the one-man-one-rod concept reigns supreme.  It's when you can run on-plane for miles in the wide-open Bay and never see another fishing boat.  A time when there's very little competition for prime fishing spots, and a small but tight fraternity of hard-core fishermen brave the elements to jig the cold-weather hotspots.  Now that I think about it, it's better than Christmas!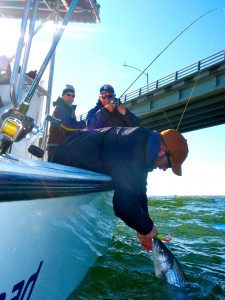 I've just spent an extra long, extra fun weekend at the Chesapeake Bay Bridge Tunnel (CBBT). Connecting the Delmarva Peninsula with Norfolk and Virginia Beach, the CBBT is 23 miles of high-current structure that is prime habitat for striped bass. Rich Jenkins and I trailered my Judge 27 center console Thunder Road down Rt 13 to Cape Charles late last Friday.  My son Daniel and my brother-in-law Mitch flew into Norfolk to meet us. We had a great time and found some fine fishing.
In Decembers past I've stayed at hotels in the Kiptopeke area but this time I decided to look into renting a vacation home for our four night stay.  After calling and emailing several places, I settled on a house in historic Cape Charles called "Southern Comfort on the Bay."  A recently remodeled Victorian with three bedrooms, two baths, a kitchen, game room, washer and dryer and a driveway large enough to park my boat in, it was the perfect base for our five days of fishing.  It's very nice to come off the water and have a roomy place to kick back, dry our clothes, watch football, play cards, and enjoy good food and drink. Better still was the price.  I've paid more for a single hotel room. Read More!