Click the Book Covers Below to Buy the Books

Current Moon Phase




Waning Crescent Moon




The moon is 26 days old


Distance: 61 earth radii
Ecliptic latitude: -1 degrees
Ecliptic longitude: 213 degrees


Recommendations

Good Information

Wind Weather & Tides

Meta
chesapeake light tackle book
Currently browsing articles with a topic of "chesapeake light tackle book".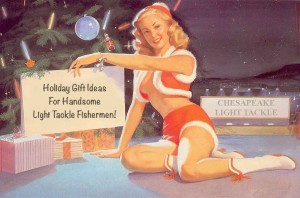 It's Black Friday, and fishing sucks.  We're still waiting for schools of big migratory stripers to enter our part of the Chesapeake Bay. If they come at all this year, don't be surprised if it's the week before Christmas. You'll want to fish then, so you might as well get your shopping over with now. Here are a few tips to insure you have a successful holiday gift-buying season:
Fishing Buddies – You buy gifts for fishing buddies?  Weird, but since you do, your first choice is obvious:  a copy of Chesapeake Light Tackle, An Introduction to Light Tackle Fishing on the Chesapeake Bay.  Just click the link and I'll sign it and ship the next day. Of course, your buddies probably already have it, so go with four or five packs of Bass Kandy Delights (BKDs).  You can get them at your local bait shop, or order them direct from the manufacturer. Make sure you throw in some 10" chartreuse ones, because it's that time of year.  If you're buying for a buddy who you fish with often, pitch in a dozen jig heads, that way you won't feel bad when you ask to borrow one. Extra points if you made them yourself.  Read More!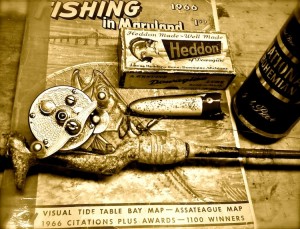 To look backward for a while is to refresh the eye, to restore it, and to render it more fit for its prime function of looking forward. ~ Margaret Fairless Barber
Sometimes I think that all I know about life comes from fishing. Other interests have waxed and waned, but the one constant, the fundemental source from which I draw strength and inspiration is the time I spend in pursuit of the perfect cast. It's taught me a lot about life, the laws of nature, and basic principles of human interaction. I can't recall my first boat ride, my first cast, or the first fish I caught because I can't remember a time when any of those things were absent. Lately, as part of my Chesapeake Light Tackle mini book tour of Chesapeake Bay regional fishing clubs, bait shops, etc., I've been talking a lot about how science is gradually confirming what fishermen have known for generations.  It almost seems like the more we learn by scientific observation, the more we confirm what fishermen have always accepted as fact. For example, most of the more than two-thousand anglers I've had the privilege to talk to recently were probably amused to learn that striped bass have a 50Hz visual flicker fusion frequency that is slightly slower than that of humans, but I haven't encountered very many fishermen who are surprised when they hear that, as a result, the colors the fish see best in good light are chartreuse and white. Read More!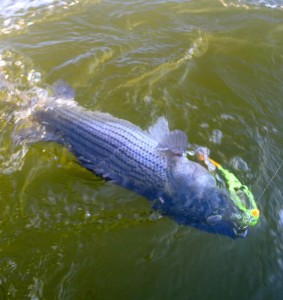 If it's possible to do a book tour and never travel farther than 60 miles from home, I guess I'm smack in the middle of one.   Keep an eye out for the Chesapeake Light Tackle bus.  Here's where we will be rolling to in the next week or so.  I hope to see you at one or more of these great events.
March 12 – Pasadena Sportfishing Group, Erleigh Heights Fire Hall, Severna Park, Maryland: The PSFG meets are usually the best attended of any club's in Maryland.  Over 100 anglers turned when I spoke there in 2010.  I can't wait to see all my friends at Erleigh Heights again.
March 13 – Northwest Chapter MSSA, Patapsco Council (No 1960) Knights of Columbus Hall at 1010 Frederick Road in Catonsville, MD 21228. Doors open (use side door) at 6:30 and meeting starts at 7:30. Admission to the meeting is free and visitors are welcome.  This is my first time speaking to the Catonsville Chapter and I'm really looking forward to the meeting.
March 14 – Kent Narrows Chapter CCA, Fisherman's Inn Restaurant, Grasonville, Maryland.  This is my home chapter.  I'll hit the high spots in the Strike Triggers presentation, then we'll discuss plans for our spring banquet.  Don't be afraid to invite the ladies to this meeting since we'll need their help in making this event successful.
March 19 – CCA Patuxent River Chapter, Stoney's Kingfisher Restaurant, Solomons Island, Maryland.  The meeting starts at 7:00 PM but I plan to get there early enough to have dinner with some of the great fishermen from one of my favorite parts of the Chesapeake.   Stoney's is a great place to hang out even when we aren't talking fishing, so come on out and join the fun!
April 5 – Carroll County MSSA Chapter, VFW Hall, 519 Poole Road, Westminster, Maryland.  It will be great to see my buddies way up north in Carroll County again.  This is one of my favorite groups and I'm looking forward to catching up with everyone again.  I'll get there early enough to share a few cold drinks at the bar so come on out and let's talk fishing!
The subject of these talks will be Strike Triggers, but I'll also have updated fishing reports.  Don't stay away if you've seen the presentation already because I am updating the information daily.  There's another event or two in the works and I'm hoping to make it to a few flea markets and fishing shows as well.  I'll have books available at all events. Here's to running into you at one of these events, or better yet, out on the water!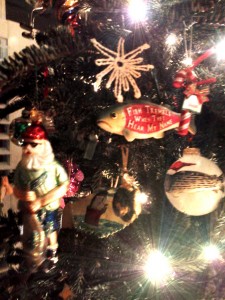 December brings my favorite day of the year. A day I look forward to so much that I can't sleep. When that joyful morning arrives, I'm usually up before dawn, caught up in the magic of this time of year. If you're like me, I know you're looking forward to it too, and you've probably guessed that I'm not speaking of the joy of Christmas morning. The most wonderful time of the year for me and most of my light tackle friends is the opening of catch & release season. It started last week in the Maryland waters of the Chesapeake Bay.
Gone are the fair-weather boaters with their blaring boom boxes. No more trollers claiming quarter-mile planer board right-of-ways, or obnoxious VHF broadcasters insulting everyone within 50 miles.  Catch & release season is the time of year when the one-man-one-rod concept reigns supreme.  It's when you can run on-plane for miles in the wide-open Bay and never see another fishing boat.  A time when there's very little competition for prime fishing spots, and a small but tight fraternity of hard-core fishermen brave the elements to jig the cold-weather hotspots.  Now that I think about it, it's better than Christmas!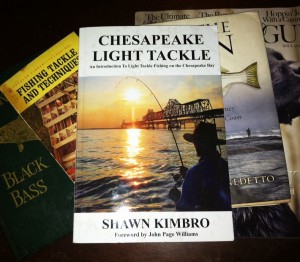 On December 6, I will unofficially release my book, Chesapeake Light Tackle – A Introduction to Light Tackle Fishing on the Chesapeake Bay.  I'm very excited.  The challenge, of course, will be selling it. Since many brick and mortar bookstores are closing, and big national chains like Borders are going under, you may be wondering why in the world anyone would want to put words down on real paper pages.  I've been asking myself that question, especially since it's a whole lot easier to relay my fishing stories and technique tips via this website.  When you think about it, the medium doesn't really matter too much as long as the information is up-to-date and reliable.  So, why a book?
There's just something about a printed paper book that I like.  Even after the invention of electronic books, I still buy the paper kind, especially for non-fiction.  I can make notes, underline, highlight, mark my place, and carry a paper book with me anywhere I go.  I'm also a collector.  I think most fishermen are.  We like to gather fishing lures, rods, reels, electronic equipment, magazines, and especially books.  I don't know of a single serious fisherman who doesn't have a few fishing books and magazines around the house. I like paper books. Read More!