Click the Book Covers Below to Buy the Books

Current Moon Phase




Waning Crescent Moon




The moon is 26 days old


Distance: 61 earth radii
Ecliptic latitude: -1 degrees
Ecliptic longitude: 213 degrees


Recommendations

Good Information

Wind Weather & Tides

Meta
christmas
Currently browsing articles with a topic of "christmas".
Hey guys, it won't be long before Santa soars over the Chesapeake Bay in his reindeer-powered center console. Let's face it, most of us still have some shopping to do for that special lady on our list. While most Internet gift guides will suggest you buy her bracelets, earrings, or pretty clothes for Christmas, I've collected some fishing-related stocking stuffers that are guaranteed to please.*  Included are useful links so you can buy them online right away!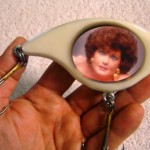 10.  
Personalized Fishing Lure
:  Nothing says Merry Christmas like your best girl's face on a crank bait. You don't even have to give it to her, just tell her you'll be thinking about her when you fish with it. After all, what fish could resist her charming smile and sexy pose? If you decide not to risk breaking it off or hanging it up, just keep it in the top tray of your tackle box so you'll be reminded of her on those long days on the water. This can also serve as a conversation piece for your fishing buddies.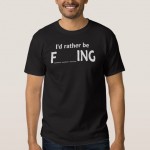 9. I'd Rather Be F___ING t-shirt:  Comes in men's and ladies' sizes, perfect for those early mornings when you wake up five minutes before the alarm goes off and need to signal your intentions before you head off to the lake. Comes with a dry erase marker for added versatility. Trust me, chicks dig shirts like this one.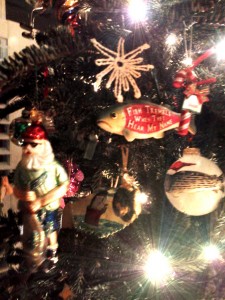 December brings my favorite day of the year. A day I look forward to so much that I can't sleep. When that joyful morning arrives, I'm usually up before dawn, caught up in the magic of this time of year. If you're like me, I know you're looking forward to it too, and you've probably guessed that I'm not speaking of the joy of Christmas morning. The most wonderful time of the year for me and most of my light tackle friends is the opening of catch & release season. It started last week in the Maryland waters of the Chesapeake Bay.
Gone are the fair-weather boaters with their blaring boom boxes. No more trollers claiming quarter-mile planer board right-of-ways, or obnoxious VHF broadcasters insulting everyone within 50 miles.  Catch & release season is the time of year when the one-man-one-rod concept reigns supreme.  It's when you can run on-plane for miles in the wide-open Bay and never see another fishing boat.  A time when there's very little competition for prime fishing spots, and a small but tight fraternity of hard-core fishermen brave the elements to jig the cold-weather hotspots.  Now that I think about it, it's better than Christmas!