Click the Book Covers Below to Buy the Books

Current Moon Phase




Waning Crescent Moon




The moon is 26 days old


Distance: 61 earth radii
Ecliptic latitude: -1 degrees
Ecliptic longitude: 213 degrees


Recommendations

Good Information

Wind Weather & Tides

Meta
fifty pound rockfish
Currently browsing articles with a topic of "fifty pound rockfish".
"It's the worst winter ever." Those words might sound surprising coming from Jamie Clough, a fisherman who has caught more forty-inch-plus rockfish in the last three months than most people will catch in a lifetime, but he's right. It's been tough. I'm on record for predicting that 2016 will be the best year in recent history for light-tackle striper casting on the Chesapeake Bay. I'm not taking it back, but after the first three months, I feel like I have some explaining to do.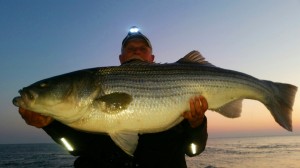 In past years, January, February, and March have been wide-open for fishing in the warm water discharges of the Patapsco and Potomac Rivers and around the power plants of the Mid-Bay. In February 2014, my fishing partners and I enjoyed the best day I've ever heard of, going forty over forty. Yes, that's forty huge stripers over forty-inches long, all caught in one morning. The fishing was so good we were trying to glue two ten-inch Bass Kandy Delights together so we could pull out the biggest of the big fish. In years like that, you can make a lot of mistakes and still catch fish. While I've seen some good days since then, nothing like that happened this year. To catch big fish this winter, we had to pull out all the stops. Read More!