Click the Book Covers Below to Buy the Books

Current Moon Phase




Full Moon




The moon is 15 days old


Distance: 60 earth radii
Ecliptic latitude: 3 degrees
Ecliptic longitude: 79 degrees


Recommendations

Good Information

Wind Weather & Tides

Meta
francis
Currently browsing articles with a topic of "francis".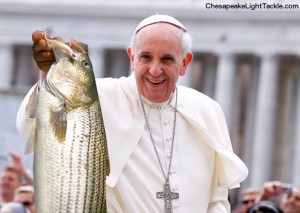 The Pope doesn't call me very often, so when he does, I usually pick up.  "Whas' up, Kimbro?"  Thank God he wasn't speaking Latin this time.  "You know I'm gonna be in DC next week, so we're fishing, right?"
"Yeah, everything's slow at work what with all the festivities." I replied. "How about we meet Wednesday morning at Kent Narrows."
I looked at the wind forecast, and things didn't look good, but fortunately there wasn't a breeze stirring when I woke up.  I've had some problems with the lights on my boat trailer, but somehow they were working fine as I pulled out of my driveway and headed down Route 50.  I'd overslept a little and I don't like being late, so I decided not to stop for gas.  When I got to the ramp, the gas gauge was pegged way past full. Read More!