Click the Book Covers Below to Buy the Books

Current Moon Phase




Waning Crescent Moon




The moon is 26 days old


Distance: 61 earth radii
Ecliptic latitude: -1 degrees
Ecliptic longitude: 213 degrees


Recommendations

Good Information

Wind Weather & Tides

Meta
herbert maxwell
Currently browsing articles with a topic of "herbert maxwell".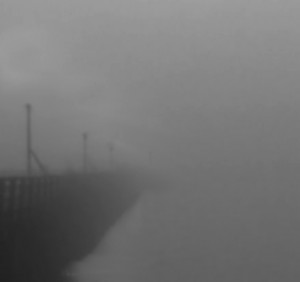 I awoke that rainy morning to the rumbles of thunder. From my upstairs bedroom on Kent Island, I could hear the long low blasts of foghorns as big ships passed beneath the Chesapeake Bay Bridge. They sounded eerily closer than usual this morning at 4:00 AM. I listened to the ships until it was apparent that I wouldn't go back to sleep. I haven't been fishing as much as I like to. My only opportunities have been in the early mornings before work, and often in less than optimum conditions.
This morning, despite the dreadful weather, I decided to make the best of the time I had available. I call my boat Thunder Road. The name is homage to the 1950's song and movie by Robert Mitchum, but also because the Eastern Shore-built Judge 27CC is well suited to difficult weather conditions just like this mornings. I grabbed my phone, put on some rain gear, and backed the boat out of the driveway.
It was pitch black when I arrived at the Matapeake boat ramp. Oddly, the lights were out on the pier. It wasn't windy, and a dense fog had set in. I launched into the dark water and idled slowly toward the mouth of the inlet without the lights of my sonar or GPS so I wouldn't destroy what little night vision I had. The fog was so thick I could barely see past the front of my boat. I wiped my glasses and breathed a sigh of relief as I slipped between the end of the wooden pilings and the rock jetty. I was surprised to look up and see the shadow of a lone figure standing at the end of the pier. Another hardcore fisherman I thought, but then I noticed he didn't have a fishing rod. My wave wasn't returned as I continued out into the murky open waters of the Chesapeake. There was a cold chill in the air, so I pulled up my hood and swung the bow north into a strong outgoing tide.