Click the Book Covers Below to Buy the Books

Current Moon Phase




Waning Crescent Moon




The moon is 26 days old


Distance: 61 earth radii
Ecliptic latitude: -1 degrees
Ecliptic longitude: 213 degrees


Recommendations

Good Information

Wind Weather & Tides

Meta
lowrance
Currently browsing articles with a topic of "lowrance".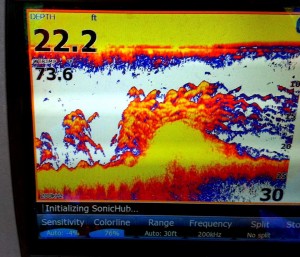 "There they are. Get 'em!"
There's nothing more exciting than drifting over an underwater hump and seeing the fishfinder light up with returns from big fish. I was a twinkle in my father's eye in 1959 when Carl Lowrance and his sons revolutionized fishing with their Little Green Box. Things have changed a lot since then. There's no doubt that a good fishfinder is an essential tool for successful fishing.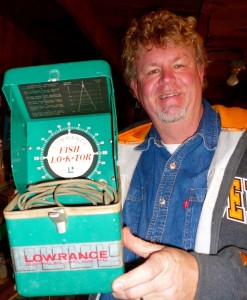 Just like with all fishing equipment there are many options to consider when it comes to choosing the right electronics for your angling arsenal. There's been a lot written about the best units for off-shore fishing, and even more about fresh-water fishfinders, but I haven't seen too much about the electronics that work best for light tackle fishing in the shallow, brackish waters of the Chesapeake Bay. Nothing beats experience in figuring out the essential bells and whistles of a good sonar unit. You can't go wrong by hiring a guide and watching the way he or she uses her electronics. Since we're in the business of shortening learning curves, here are ten tips to help you select the best light-tackle fishfinder for the Chesapeake Bay. Read More!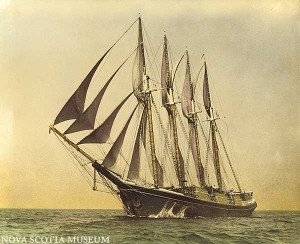 At 7:00 PM on the evening of March 15th, 1912, the four-masted schooner Herbert D. Maxwell left her anchorage near the mouth of the Magothy River and sailed southeast across the Chesapeake Bay toward Kent Island. Built in Maine and designed to haul lumber, the 186 foot cargo ship carried 1150 tons of fertilizer from Baltimore bound for Wilmington, North Carolina.  At her helm was her captain and master, William Quillan accompanied by his brother Elay and first mate J.C. Scott. She carried an additional crew of six deck hands. Since winds were mostly calm, it had been slow going down the Chesapeake.  After a drowsy sail to just south of Sandy Point, the wind completely died causing Captain Quillan to drop anchor once again.  The crew slept until roused by a building northeast breeze at 3:00 AM.  Quillan gave the order to the mate to get underway. After pulling anchor and setting sail, The Maxwell ran under clear skies before a 15-knot wind for about 40 minutes when her lookout made an ominous call, "Lights of a steamer, dead-on ahead!"  Three minutes later, at 4:44 AM on March 16th, the wooden schooner was ripped apart by the 3200-ton northbound steamship S.S. Gloucester.  She sank quickly carrying the first mate and three other crew members to their deaths.  Read More!