Click the Book Covers Below to Buy the Books

Current Moon Phase




Waning Crescent Moon




The moon is 26 days old


Distance: 61 earth radii
Ecliptic latitude: -1 degrees
Ecliptic longitude: 213 degrees


Recommendations

Good Information

Wind Weather & Tides

Meta
osprey nest
Currently browsing articles with a topic of "osprey nest".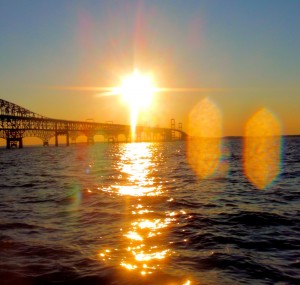 We interrupt this hurricane blog to bring you a fishing report.  Yes, this IS a website dedicated to light tackle fishing, and on most Sunday evenings, that's what I do.  I spent most of the day singing the lumberjack song with chainsaw in hand, cutting up the trees and limbs that fell in our yard.  After seeing all the trees down around Kent Island today, I'm surprised that we didn't have more damage than we did.  We are also fortunate that the only complete tree that was uprooted in our yard fell harmlessly instead of taking out our picket fence or part of the church next door.  We worked on the house and yard most of the afternoon, finishing about 5:00 PM.  That left just enough time to go fishing.
I launched Thunder Road at Matapeake and ran north to the Bay Bridge.  Winds were about 12 knots out of the west when I started, but came down to near zero as the evening wore on.  The water was stained, but not as much as I expected.  Water temperature and air temperature were exactly the same at 76 degrees. That's significant because the water has been well into the 80s.  It means there was a lot of top-to-bottom mixing due to the storm. I did expect the fish to be freaked out and hunkered down, and they were.  I gave the Bay Bridge a good shot, but only caught one little rockfish.  I thought the fish might be deep, so I started my fishing trip looking for more of a winter pattern.  I marked a few fish deep, but I couldn't get them to bite.  I moved to the shallow pilings and there wasn't anything going on there either.  Read More!