Click the Book Covers Below to Buy the Books

Current Moon Phase




Waning Crescent Moon




The moon is 26 days old


Distance: 61 earth radii
Ecliptic latitude: -1 degrees
Ecliptic longitude: 213 degrees


Recommendations

Good Information

Wind Weather & Tides

Meta
redfish video
Currently browsing articles with a topic of "redfish video".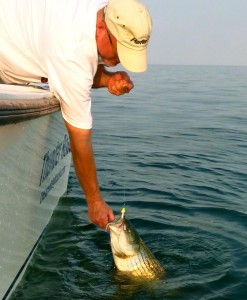 You've probably heard by now that the bottom is dropping out of striper fishing.  The latest Atlantic States Fisheries Commission (ASMFC) stock assessment shows a population in decline.  Don't be fooled by the first few lines of the report when it says, "Stripers are not overfished and overfishing is not occurring."  They've been saying that for years while fishermen all up and down the Atlantic coast have been warning of a crash.  Now we have proof.  Using the current fishing mortality threshold, we have been overfishing for striped bass five out of the last eight years.  If we keep catching at the rate we are now, the fishery will decline rapidly.  Concerned fishermen up and down the Atlantic coast agree that harvest reductions should be implemented quickly.  Check out this article from Captain John McMurray in New York.
Since striped bass is a highly-sought-after species with big money involved on both the commercial and recreational sides, any reductions will be controversial. I get the sense that there may be some within the ASMFC who believe that the commercial striped bass fishing industry has already sacrificed enough.  If that perception spreads, recreational fishing could take the brunt of the reductions.  I won't flesh out the arguments pro and con here, but suffice it to say that I believe cuts are overdue and necessary and should be equal across both sectors.
Commercial fishing aside, disagreements are sure to follow within the recreational community.  They will be especially apparent here in the Chesapeake Bay, where the charter boat industry and some fishing clubs rely heavily on fishing revenues from spawning-class stripers during times of the year when they are easiest to catch.  It's sure to get interesting, and I expect blood letting on all sides. Read More!