Click the Book Covers Below to Buy the Books

Current Moon Phase




Full Moon




The moon is 16 days old


Distance: 61 earth radii
Ecliptic latitude: 4 degrees
Ecliptic longitude: 92 degrees


Recommendations

Good Information

Wind Weather & Tides

Meta
smoked bluefish
Currently browsing articles with a topic of "smoked bluefish".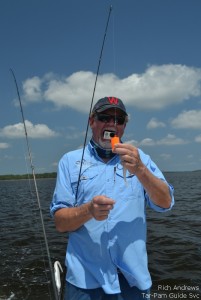 If you've noticed that I haven't been blogging as frequently, you're right.  I'm still getting my time in fishing, but I'm also concentrating on some new projects including a new video channel on YouTube.  I believe internet-based TV is the wave of the future.  I can't remember the last time I sat down and watched an hour-long TV show.  On the other hand, I look at videos on social media sites every day.  I'm having a great time producing short flix that I hope will provide another avenue to illustrate my fishing trips and techniques.  I've recently hooked up with the crew at The Hooked Up Network.   Hooked Up is YouTube's first ever network that is solely dedicated to fishing.  They're helping me promote my videos.  I currently have over a quarter of a million views and I'm hoping to reach a million by this time next year.  This week, I've turned out a couple of clips including a "How-To" segment about smoking bluefish, and a report on a recent roadtrip to North Carolina where we caught some truly giant redfish on artificial lures using popping corks.  I'll still be blogging and posting fishing reports here on ChesapeakeLightTackle.com, but to get the first look at my video reports as soon as they go live, subscribe to www.youtube.com/user/Trailzzone  (Trailzzone is the name of my publishing company.)  You might also want to check out some of the other videos on The Hooked Up Network.  There's new material going up daily.  It's all absolutely free and I'll do my best to keep the content fresh and interesting.  As always, I'll include some environmental and conservation tips from time to time.  You've heard me say, a picture saves a thousand fish. Well, maybe with video, we can make it a million!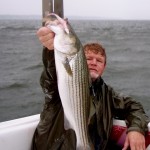 I thought I'd never get on the water today. Even if tropical storm Danny wasn't offshore, a rainy day in August is hard to come by. Chesapeake Bay fishing is always at its best when skies are gray and there are big storms nearby. I lost sleep last night thinking about it. I had to work, but thought I might make the D.C. turn-around in time to get a half-day at least on the water. For a zillion reasons, that didn't happen.  Nevertheless, I managed to get three quality hours in the rain at the Bridge.
The Bay was deserted. I never saw another fishing boat all evening; not one. It looked like January out there. Even the Matapeake Pier was empty. Instead of the usual Latino girls calling out "boat ride, boat ride," I had to put up with these ugly dudes. I think they've been following me since that buzzard feather thing. Still, you know it's going to be good fishing when you can see working gulls from from the boat ramp. Read More!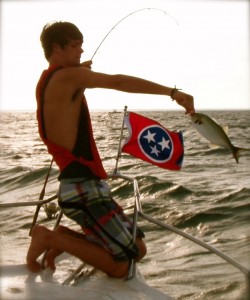 The bluefish blitzkrieg in the mid & upper Bay is full force with thousands of snapper blues in the 15-20 inch class invading all the usual rockfish hotspots.  Blues are among the most aggressive fish in the world.  They're known to kill other fish just for the sake of killing and they will occasionally attack humans.   Pound for pound, only the piranha can match bluefish in terms of raw fury.  They're voracious predators that will even eat each other at times.  To prevent cannibalism, they're known to travel in similarly sized schools.  Their aggressive behavior makes them great fun to catch and their oily meat can be delicious.
When blues are actively feeding they'll eagerly hit almost any lure.  They especially like lures with a lot of flash. In 1993 a woman who was swimming at a New Jersey Beach had both her ears bitten off when a bluefish attacked her silver ear rings.  Once hooked, they're known for strong runs and acrobatic leaps that can make landing them on light tackle very Read More!