Click the Book Covers Below to Buy the Books

Current Moon Phase




Waning Crescent Moon




The moon is 26 days old


Distance: 61 earth radii
Ecliptic latitude: -1 degrees
Ecliptic longitude: 213 degrees


Recommendations

Good Information

Wind Weather & Tides

Meta
spinning gear
Currently browsing articles with a topic of "spinning gear".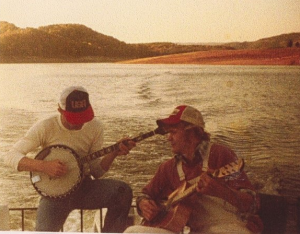 In my book, fishing and music go together like blue crabs and Old Bay seasoning.  It's hard for me to imagine one without the other. I've been singing, playing, and writing music for as long as I've been fishing. Here's a shot of me with my best friend Curtis Seals from back around 1979 picking and grinning on the deck of the houseboat I called home.  You can't tell it, but Curtis is steering the outboard with his left foot while he picks his banjo. That takes talent!
Many of the songs I've penned relate to the water in one way or another.  My songwriting has slowed in the past few years because, in my opinion, a good song needs a firm sense of place.  After moving away from my home in the Appalachian Mountains to this Chesapeake Bay country, I needed to thoroughly steep myself in the culture before trying to translate local images into songs. A few verses have been showing up in my head lately though, and my old Martin D-18 guitar is coming off the stand a little more frequently than it used to.  My son Daniel has a gift for immediately capturing the spirit of the places he visits. He recently turned out a chilling ballad about the ghost of a barge captain who haunts the waters around Cape Charles, Virginia. I'm excited about the song because it's laced with images of hurricanes, lighthouses, oyster bars, diving gannets, and blitzing rockfish. I hope he'll record it soon. Read More!