Click the Book Covers Below to Buy the Books

Current Moon Phase




Waning Crescent Moon




The moon is 26 days old


Distance: 61 earth radii
Ecliptic latitude: -1 degrees
Ecliptic longitude: 213 degrees


Recommendations

Good Information

Wind Weather & Tides

Meta
take me fishing
Currently browsing articles with a topic of "take me fishing".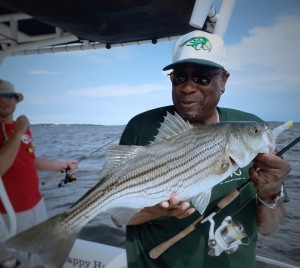 I got to fish with Dusty Baker. If the name doesn't mean anything to you then you must be living with the sea bass underneath the reef balls off Tilghman Island. Dusty Baker is nothing short of baseball royalty. He's the manager of the Washington Nationals, former manager of both the Chicago Cubs and San Francisco Giants, and All Star outfielder for the Atlanta Braves and Los Angeles Dodgers. I couldn't hope to list all his accomplishments but the most important statistic relative to Chesapeake Bay fishing is that he's caught thousands of striped bass and other species. Dusty has fished all his life, on both U.S. coasts and all over the Caribbean as well as in other parts of the world. He's a pro with a fly rod, a spinning outfit, and a baitcaster.
We caught a lot of fish while he was staying in St. Michael's, Maryland over the All-Star break, but my most memorable few minutes came while we were sitting in the back of Chuck Castle's Whaler and reminiscing about fishing with our fathers. Dusty and I found that we have a lot in common in that both of our dads were very active in fundamentalist Christian congregations (his father a Baptist deacon and mine a Church of Christ minister), and that they both loved to fish. As we swapped stories about our younger days, the conversation eventually came around to our fathers' favorite fish. "Shellcrackers," we said at the same time. If you know anything about southern fishing and those hard-fighting redear sunfish, that coincidence won't surprise you at all. Read More!