Click the Book Covers Below to Buy the Books

Current Moon Phase




Full Moon




The moon is 15 days old


Distance: 60 earth radii
Ecliptic latitude: 3 degrees
Ecliptic longitude: 79 degrees


Recommendations

Good Information

Wind Weather & Tides

Meta
warm water discharge
Currently browsing articles with a topic of "warm water discharge".
"It's the worst winter ever." Those words might sound surprising coming from Jamie Clough, a fisherman who has caught more forty-inch-plus rockfish in the last three months than most people will catch in a lifetime, but he's right. It's been tough. I'm on record for predicting that 2016 will be the best year in recent history for light-tackle striper casting on the Chesapeake Bay. I'm not taking it back, but after the first three months, I feel like I have some explaining to do.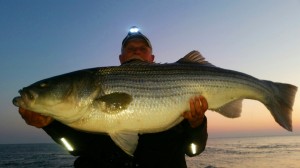 In past years, January, February, and March have been wide-open for fishing in the warm water discharges of the Patapsco and Potomac Rivers and around the power plants of the Mid-Bay. In February 2014, my fishing partners and I enjoyed the best day I've ever heard of, going forty over forty. Yes, that's forty huge stripers over forty-inches long, all caught in one morning. The fishing was so good we were trying to glue two ten-inch Bass Kandy Delights together so we could pull out the biggest of the big fish. In years like that, you can make a lot of mistakes and still catch fish. While I've seen some good days since then, nothing like that happened this year. To catch big fish this winter, we had to pull out all the stops. Read More!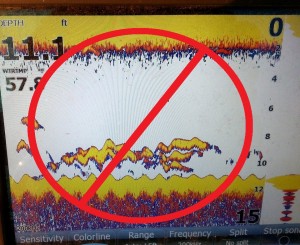 Have you ever belly-crawled through the tall grass beside a mountain stream hoping to sneak up on your favorite fishing spot? Most freshwater anglers understand how important it is to be quiet and sneaky but I've noticed that some Chesapeake Bay fishermen don't fully appreciate the concept of stealth. It won't be long until the weather breaks and fishermen who are looking to overcome cabin-fever will pack into some of the better-known fishing spots like the warm water discharges, the Susquehanna Flats, and the mouths of Upper Bay rivers. When fish are thick and hungry, you can stomp beer cans in the bottom of your boat and still catch them, but when they're finicky, stealth becomes a lot more important.
Spring on the Chesapeake Bay is the best time of year to catch the fish of a lifetime, but don't forget that big fish get that way by being smart. While you might luck into a forty-inch-plus fish once in a while no matter what, your chances increase dramatically when you improve your noise discipline. Here are some tips and tactics that are guaranteed to increase your odds of catching trophy stripers on light tackle: Read More!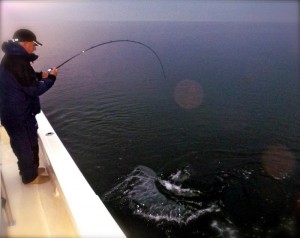 It's January on the Chesapeake Bay. It's freezing. It's windy. It's snowy-sleety-foggy-and-rainy-miserable. It's a fine time to stay home in front of a comfortable fire and dream of warmer seasons. On the other hand, these are perfect conditions to catch & release trophy striped bass in Maryland. To get 'em, you gotta want 'em.  And I mean, really want 'em.
When it comes to winter fishing, you have to be motivated enough to put up with some misery. One of the definitions for dedication in Webster's Online Dictionary is, a solemn commitment of your life or your time to some cherished purpose or goal. Everyone I know who is good at anything got that way because of their dedication. Simply put, the key to success in any endeavor is an extreme level of commitment. Now, let's talk rockfish.
It's miserable out there. It's striped bass weather. If catching and releasing big fish is your cherished goal, why aren't you fishing?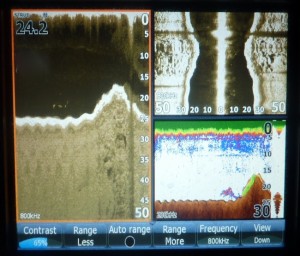 Back when I was a kid tramping through the woods of East Tennessee, I looked for the underground dens of rabbits, chipmunks and woodchucks.  Now days, I'm stalking fish instead of varmints, but I'm still hunting for hidey-holes.  It's the time of year when Chesapeake Bay striped bass hunker down in deep, warm-water hideouts.  It takes patience and persistence to catch them but if you aggravate them long enough, you can sometimes get them to bite. The trollers are still picking off a few big cows around the channels, but it's tough to get isolated fish on a jig.  From now until the first of the year I'll be fishing around the bridges and in the deeper water around other submerged structure looking for holed-up rockfish. Read More!