Click the Book Covers Below to Buy the Books

Current Moon Phase




Waning Crescent Moon




The moon is 26 days old


Distance: 61 earth radii
Ecliptic latitude: -1 degrees
Ecliptic longitude: 213 degrees


Recommendations

Good Information

Wind Weather & Tides

Meta
windows catering
Currently browsing articles with a topic of "windows catering".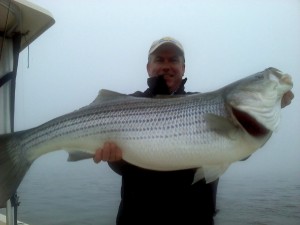 "I only write when I'm inspired," wrote William Faulkner.  I'd find that statement comforting if he hadn't followed it with, "and I'm inspired every morning at 9:00 AM."  Lately, my every-morning-at-9:00 AM-ritual hasn't included much writing. Oh, I've had plenty to write about, it's just that I've over-committed myself (again) so that every spare waking minute seems filled with obligation. When I have a spare hour, I usually go fishing. Since I bet you'd much rather hear about the fishing than the excuses, I'll dive right in.
There's nothing more inspiring than a big fish. That's Uncle Phill Anderson in the cover shot holding up a nice light-tackle fish he jigged up on a recent foggy morning in the mid-Bay.  (Shhh, don't tell the meat-fleet we're picking off fish of this class with light tackle. It might catch on!) When I left off a month ago, I was smack in the middle of a series about strike triggers.  I'm discussing why striped bass attack a lure, and how they are attracted to their prey. As previously mentioned, almost any lure or technique will work on hunger-feeding fish. Unfortunately, most of us don't have the time or resources to always go fishing at the places where hungry fish are most abundant. We have to fish in the limited time we have available, and usually very close to home. While we may occasionally encounter groups of ravenous fish, most of the stripers in our neighborhoods are pretty hard to catch. In order to be consistently successful, we have to provoke strikes from fish that may not be inclined to bite by appealing to their five senses.  I've written about sight, sound, and feel. This entry completes the strike triggers series with a look at smell and taste. Read More!