cca maryland
Currently browsing articles with a topic of "cca maryland".
Thanks to everyone who made it to the re-creation of the Annapolis chapter of the Coastal Conservation Association (CCA) at the Boatyard Bar & Grill last night. There was a big turnout and we had a lot of fun. As I was driving to the meeting, I considered the concept of re-creating something as significant as a major chapter in a national conservation group.  It's obviously an important event, so I decided to collect my thoughts on the concept of re-creating.  I looked up the word recreation and found that it simply means to create something anew.  I suppose almost everyone who reads this website considers themselves recreational fishermen.  The time we spend on and around the water helps us wind down and relax. So by fishing, we're essentially restoring ourselves to a state-of-mind that makes it easier to face the daily challenges life throws our way. Read More!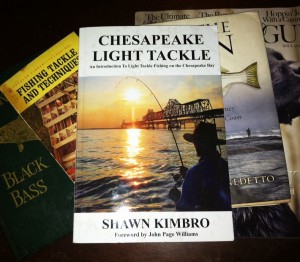 On December 6, I will unofficially release my book, Chesapeake Light Tackle – A Introduction to Light Tackle Fishing on the Chesapeake Bay.  I'm very excited.  The challenge, of course, will be selling it. Since many brick and mortar bookstores are closing, and big national chains like Borders are going under, you may be wondering why in the world anyone would want to put words down on real paper pages.  I've been asking myself that question, especially since it's a whole lot easier to relay my fishing stories and technique tips via this website.  When you think about it, the medium doesn't really matter too much as long as the information is up-to-date and reliable.  So, why a book?
There's just something about a printed paper book that I like.  Even after the invention of electronic books, I still buy the paper kind, especially for non-fiction.  I can make notes, underline, highlight, mark my place, and carry a paper book with me anywhere I go.  I'm also a collector.  I think most fishermen are.  We like to gather fishing lures, rods, reels, electronic equipment, magazines, and especially books.  I don't know of a single serious fisherman who doesn't have a few fishing books and magazines around the house. I like paper books. Read More!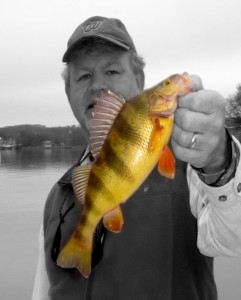 Ring perch, that's what my fishing buddy Rich calls them, but considering the impact they're having on the economy of the upper Chesapeake Bay, they might as well be called gold fish. If ever there was a Chesapeake fisheries management success story it's what we are experiencing right now with yellow perch. As fishermen pour in from all over, posting one successful fishing report after another, it's obvious that Maryland can proudly boast one of the best perch fisheries in the United States. I don't know about you, but I consider that one heck of an accomplishment, and the Maryland Department of Natural Resources (DNR) should be proud.  Unfortunately, it wasn't always this way.  For the past couple of decades yellow perch fishing has been a shadow of what it could be.  As of 2005 there were few limits on the commercial harvest of yellow perch.  Netters could set their traps almost wherever and whenever they wanted taking as many fish as they could catch.  Almost all our Maryland fish were sold outside the state.  The only benefit to our economy was in lining the pockets of a few commercial fishermen. In 2008, that all changed. Read More!