Click the Book Covers Below to Buy the Books

Current Moon Phase




Waxing Gibbous Moon




The moon is 12 days old


Distance: 56 earth radii
Ecliptic latitude: -3 degrees
Ecliptic longitude: 336 degrees


Recommendations

Good Information

Wind Weather & Tides

Meta
Thanks to everyone who made it to the re-creation of the Annapolis chapter of the Coastal Conservation Association (CCA) at the Boatyard Bar & Grill last night. There was a big turnout and we had a lot of fun. As I was driving to the meeting, I considered the concept of re-creating something as significant as a major chapter in a national conservation group.  It's obviously an important event, so I decided to collect my thoughts on the concept of re-creating.  I looked up the word recreation and found that it simply means to create something anew.  I suppose almost everyone who reads this website considers themselves recreational fishermen.  The time we spend on and around the water helps us wind down and relax. So by fishing, we're essentially restoring ourselves to a state-of-mind that makes it easier to face the daily challenges life throws our way.
The craft of conservation is also about re-creating.  Groups like CCA seek to create  a culture that protects the fish we like to catch.  This fish first approach means that we want the species we target to reproduce and thrive so their populations are continually re-creating themselves.  When the re-creation process is healthy, we can be relatively assured that future generations of fishermen will have enough fish around to experience this sport we enjoy so much. Simply put; if there are fish, our sport will be safe.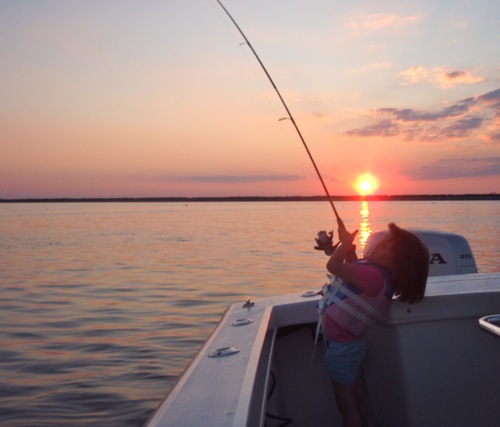 Unfortunately, there are times when our interests as fishermen conflict with our interests as conservationists.  We all want to go out on fishing trips and catch fish, and I don't know of a single fisherman who doesn't want to catch BIG fish.  December is the time of year when we have huge cow rockfish in the Chesapeake Bay and anglers have a chance to catch the fish of a lifetime.  There's nothing more thrilling than landing a 30- or 40-pound striper.  Some lucky anglers will even catch 50-pound-plus fish this fall.  Now that's something to brag about.  Ancient Chinese Proverb: "Bragging may not bring happiness, but no man having caught a large fish goes home through an alley."  I couldn't agree more.  When I catch a big fish, I'm usually shouting about it to the high heavens!
This year we are seeing a very encouraging trend on the Chesapeake as more and more anglers are releasing the big cows they catch.  Even some tournament fishermen are keeping their fish alive and releasing them after they are weighed. My hat is off to those guys. Harvesting big female rockfish can be especially detrimental to the population. A 30-pound striper can produce 1.5 million more eggs than a 10-pounder. Big migrating stripers don't taste as good as smaller fish, and they probably shouldn't be eaten.  According to a recent advisory posted by state agencies up and down the Atlantic seaboard including the Maryland Department of the Environment, coastal striped bass contain high levels of PCBs, mercury, and other toxic substances.  Pregnant women, women of childbearing age, nursing mothers, and children 6 and younger should avoid the fish altogether.  Yet, fishermen routinely kill the big fish and take them home to feed to their families.
An option to catching and killing trophy fish is to take pictures.  It's said that a picture is worth a thousand words.  In the case of a carefully-handled and released migratory rockfish, a picture is also worth a thousand fish, or more.  A digital photograph is excellent proof of a successful catch.  Trust me, you can brag all you want when you have a good picture of a big fish.  It's also all you need – along with a couple of measurements for length and girth – to create a lifelike fiberglass wall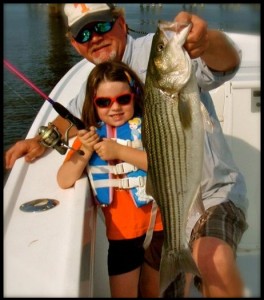 mount.  These replicas often look better and last longer than traditional taxidermy, and come with the added satisfaction of knowing that your trophy fish is still repopulating the Bay.
It's incredibly fulfilling to catch and release a trophy striper. Part of that fulfillment is the knowledge that we are preserving and re-creating our valuable natural resources and contributing to the sustainability of the species we catch.  Releasing a beautiful fish to live and swim away freely is the pinnacle of sportsmanship and one of the most satisfying experiences of life. If we put the fish first it's more likely that our children and grandchildren will be catching them for years to come.  I don't know about you, but in my book, preserving and protecting the sport we love is what truly makes a fisherman recreational.
—
Stay tuned.  I'm recovering from my book-releasing responsibilities and I'll be back with a Chesapeake Bay fishing report in just a few days!

Responses to "Re-Creational Fishermen"