Click the Book Covers Below to Buy the Books

Current Moon Phase




Waning Gibbous Moon




The moon is 17 days old


Distance: 61 earth radii
Ecliptic latitude: 4 degrees
Ecliptic longitude: 104 degrees


Recommendations

Good Information

Wind Weather & Tides

Meta
conservation
Currently browsing articles with a topic of "conservation".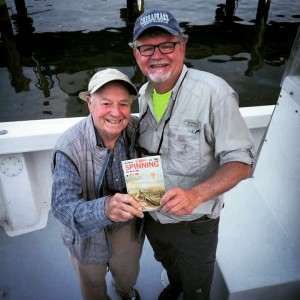 A lot has been written about the art in fly fishing. There is grace and beauty in a perfect fly cast. What is more satisfying than watching a colorful trout rise from a crystal clear pool to take a hand-tied floating fly? I just returned from Colorado where I had ample time to fly fish in the cold streams of the Gunnison National Forest. I don't get to fly fish for trout much, but when I do, I'm always struck by the similarities to light tackle casting for rockfish on the Chesapeake Bay. One of the most important aspects of fly fishing is the ability to read the water and cast to where the fish are. Another is presenting the lure naturally so that it moves at the exact same speed as the current. While we don't hear about it as much, there is comparable art in light tackle casting, even when it's done with a spinning outfit or a baitcaster.
In my years of fishing both fresh and saltwater, I've had opportunities to observe the skills and artistry of some of the finest anglers in the world. As a teenager, I guided some of the best-known bass pros in the country when they practiced for tournaments in my home lakes in Tennessee. I've been fortunate enough to wade the pristine streams of the Smoky Mountains with the most knowledgeable anglers in the business, and I've fished for bonefish and pompano with the legendary guide families of the Bahamas. Most recently, I was joined on my boat Thunder Road by one of the best-known anglers in the world: the legendary Lefty Kreh. Lefty has been fishing for almost a half century longer than I've been alive. He's forgotten more in his 92 years than I can ever hope to learn.
We caught all the fish we wanted that day, and enjoyed several hours of inspiring conversation. Lefty's fly casting skills are legendary, but his prowess with a spinning outfit is less well-known. Between hooksets, we talked about casting and jigging techniques as well as patterns and the best ways to approach fishing spots. At one point, the conversation turned to the art in fishing. I'm happy to say that after listening to Lefty's jokes, advice, and aphorisms refined over his long life of fishing, I came away a better fisherman and, hopefully, a better person.
Here are some of the thoughts I've collected about the art in light tackle casting: Read More!
In January of last year I predicted on the HookedUp Fishing Forum that 2015 would be the best year for light tackle fishing in recent memory.
It was.
Thanks to the robust 2011 year class, there was enough striped bass in the Chesapeake Bay to produce great fishing for light tackle anglers of any skill level. Better yet, most of us caught fish way bigger than those 17-21 inch 2011 fish. That's because when there are more fish in the Bay, the older and bigger fish have to mix it up with the little guys to compete for food. Thirty-inch stripers in July near the Chesapeake Bay Bridge were not unusual last year, and late-fall fishing in Southern Maryland was (and still is) the best it's been in over a decade. That's something to celebrate. Since 2015 was also a successful spawning year, we can hope for continued good striped bass fishing in the future. I'm especially looking forward to  2018. By that time, most of this year's baby fish will be 18-inches or longer. At the same time, the 2011 fish will be approaching the 30-inch mark. Now that should be fun! If fisheries managers make the right choices, we should enjoy good striped bass fishing in the Chesapeake Bay for at least the next decade.
About seven years ago, as I was enjoying a happy hour at the Boatyard Bar & Grill, someone asked me what motivated me to promote light tackle fishing. It seems like a losing proposition, they surmised, because the more people you turn on to your kind of fishing, the more crowded your fishing spots will become. That prophecy has been fulfilled, but I have no regrets. My answer is the same now as it was then. I believe that, as more people take up light tackle casting, more anglers will become conservationists and join the struggle to protect and preserve the fish we love to catch. That means more fish for everyone. Light tackle casting by its very nature puts the experience of fishing above killing fish for meat. Oh, most of us will keep fish from time to time, but we don't have to in order to have a great time. We understand that every fish we release is a payment forward toward the future of fishing.
If you enjoyed the fishing of 2015, this would be a great time for a New Year's resolution. A very good one would be to give something back to the fish in order to repay a little of that enjoyment. If you've read my books, you know I believe that the majority of light tackle anglers are conservationists at heart and that we are naturally positioned to lead because others want to share our fishing success. I was tremendously encouraged in 2015 when I saw lots more young light-tackle anglers joining fisheries conservation efforts. A great example is CCA Central Region's Living Reef Action Campaign. If you haven't seen it already, take a few minutes to watch this video about the work of Brett Hackett, Summer Miles, and the rest of the Central Region gang.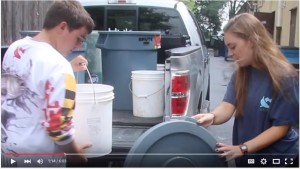 There's a lot of work to do. Habitat for fish, crabs, and other aquatic species in the Chesapeake Bay is under attack. Just as I am writing I am hearing that the Department of Natural Resources intends to begin destructive dredging on the historic Man-O-War Shoals oyster reef in the upper bay. At the same time, they're suspending oyster restoration efforts near the Little Choptank river. There's even a movement afoot to open the oyster sanctuaries to harvest. The intentional destruction of a living reef is illegal in almost every other part of the world. There are even places where you can be fined for dropping an anchor on a live reef. It's a shame that the very department we trust to protect Maryland's natural resources is so willing to put the financial interests of one group above those of everyone else in the state.
So get involved if you can. Groups like CCA Maryland need your help. Giving back can be as simple as setting a personal example or by sending a letter or email to a local politician in hopes of swaying their votes on key issues. If you've received a little enjoyment from this beautiful Chesapeake region, then please give back a little of your time and resources. If you've received a lot, then I hope you'll give back as much as you can to make sure the enjoyment you've received is passed along to your children and grandchildren. We simply cannot take the amazing resources in our beautiful region for granted. Yes, 2015 was a great year for light tackle fishing and hopefully there will be many more to come. Watching out for the continued well-being of the fish and the habitat they live in is the right stuff for keeping the Chesapeake healthy and our sport strong. Happy new year from Chesapeake Light Tackle!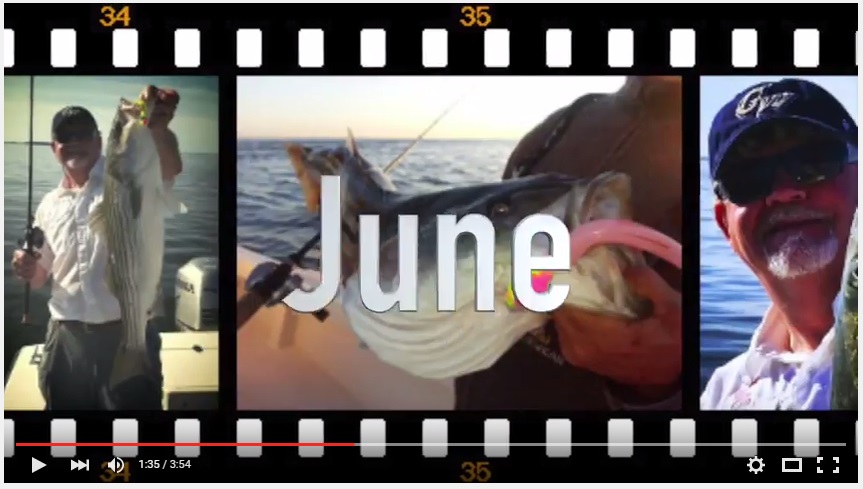 "We're number eight!  We're number eight!"
That's not a cheer you're likely to hear at any NFL game this fall, but after several years of disappointment, striped bass anglers are slapping fives all over the East Coast about the news that Maryland's Young of the Year (YOY) index came in the eighth highest ever. I'm not surprised since I've seen thousands of fingerling-sized rockfish feeding in the shallows through the summer. Many of my fishing buddies have also noticed all the baby fish. About a month ago, I penned a Hooked Up forum post about all the tiny rockfish. You can read my comments and those of other anglers here:  Hooked Up – Zillions of Tiny Rockfish. 
Count me as one of those joining the celebration. Back in 2011 we also had a good spawn. If you've been fishing on the Bay recently, you know that it's relatively easy to find schools of breaking rockfish in the 15-20 inch range. Many of these are 2011-class fish. Now that we've had another successful spawning year, we can hope for continued good striped bass fishing. By 2018, most of this year's baby fish will be 18-inches or longer.  At the same time, the 2011 fish will be approaching the 30-inch mark. Now that should be fun! If fisheries managers make the right choices, we should enjoy good striped bass fishing in the Chesapeake Bay for at least the next decade.  Read More!
My year in review video:
Most of the anglers I know caught rockfish last year. Some of us here in Maryland had a pretty good year. One of the reasons we caught well in 2014 is because we had a lot of fish very close to home. I don't like to kick off a new year on a down note, but I'm not too excited about our catching last year. Our area is one of the few places in the country where striped bass fishing was decent in 2014. Did we have a good year, or have we lowered our expectations? Read More!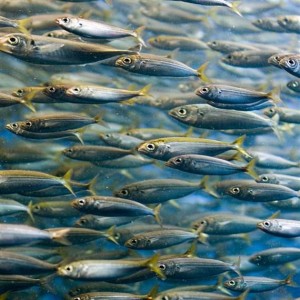 Next Monday, December 8th, the Mid-Atlantic Fisheries Management Council (MAFMC) meets in Baltimore to discuss an ecosystem approach to fisheries management. This meeting will include a session to consider potential action to protect unmanaged forage fish in areas outside the territorial three-mile line. This is the area where they are most likely to be harvested. When we think of forage fish, we usually think of menhaden. That's because most fishermen are aware of steep declines in their numbers, but forage fish also includes other bait species like glass minnows, bay anchovies, silversides, grass shrimp, river herring, white shad, hickory shad, sand eels, and hundreds of others. While a few of these species are managed, albeit poorly, the overwhelming majority are not managed at all. As a result, they are being decimated by commercial fishing fleets.
Every good fisherman I know is a conservationist at heart. About a year ago, my friend Trent Zivkovich gave me a copy of A Sand County Almanac by the father of wildlife ecology, Aldo Leopold. This book is considered by many to be the 20th century's literary landmark for conservation writing. In it, Leopold proposed the "love of sport" as a primary motivation for environmental stewardship. I know from experience that he's right. It is experience on the water that drives anglers with the right stuff to protect the waters we love and the fish and other animals that live in and around them. Read More!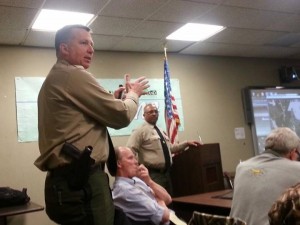 Would you believe in an advanced Doplar-based marine radar system that can detect a 3-foot-square object from 7 miles away?  Well, you better because it might just be zoomed in on you next time you're fishing on the Chesapeake Bay. Last night, I attended a presentation by the Maryland Natural Resources Police (NRP) about a new law enforcement tool called MLEIN. That stands for the Marine Law Enforcement Information Network.  It's a mobile command center consisting of radar monitoring, video surveillance, and advanced software that allows the NRP to keep a very close watch on what's happening on the water.  I was invited to the presentation by Candy Thomson.  Yes, the former Baltimore Sun Outdoors Girl has skipped across College creek to a new position in Annapolis as the Public Information Officer for the NRP.  I first heard about MLEIN a couple of years ago in one of her articles in the Sun Paper.  You can read it here.  http://articles.baltimoresun.com/2010-12-14/sports/bs-sp-chesapeake-security-system-20101214_1_radar-units-mlein-cameras
That article reveals a little more than DNR Special Projects Manager Tim Bowman gave away in his presentation last night.  Nevertheless, his updates for 2014 were extremely informative.  The twenty-something people in attendance – including 8 guys from CCA Maryland – were glued to their seats as Bowman showed real-life examples of how the system worked. Read More!