Click the Book Covers Below to Buy the Books

Current Moon Phase




Third Quarter Moon




The moon is 20 days old


Distance: 63 earth radii
Ecliptic latitude: 4 degrees
Ecliptic longitude: 141 degrees


Recommendations

Good Information

Wind Weather & Tides

Meta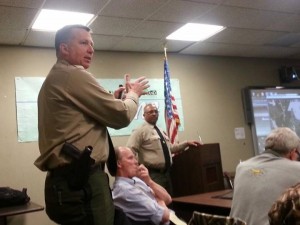 Would you believe in an advanced Doplar-based marine radar system that can detect a 3-foot-square object from 7 miles away?  Well, you better because it might just be zoomed in on you next time you're fishing on the Chesapeake Bay. Last night, I attended a presentation by the Maryland Natural Resources Police (NRP) about a new law enforcement tool called MLEIN. That stands for the Marine Law Enforcement Information Network.  It's a mobile command center consisting of radar monitoring, video surveillance, and advanced software that allows the NRP to keep a very close watch on what's happening on the water.  I was invited to the presentation by Candy Thomson.  Yes, the former Baltimore Sun Outdoors Girl has skipped across College creek to a new position in Annapolis as the Public Information Officer for the NRP.  I first heard about MLEIN a couple of years ago in one of her articles in the Sun Paper.  You can read it here.  http://articles.baltimoresun.com/2010-12-14/sports/bs-sp-chesapeake-security-system-20101214_1_radar-units-mlein-cameras
That article reveals a little more than DNR Special Projects Manager Tim Bowman gave away in his presentation last night.  Nevertheless, his updates for 2014 were extremely informative.  The twenty-something people in attendance – including 8 guys from CCA Maryland – were glued to their seats as Bowman showed real-life examples of how the system worked.
On one of his first screens he displayed a live nighttime shot of the Matapeake Pier.  It was cold and windy and no one was fishing at the time, but if they were, I bet we would've seen what they were using for bait.  On another slide he demonstrated a technique called geofencing.  I've never heard of geofencing before, but I probably won't forget it.  It's a method of outlining specific areas, say a protected oyster sanctuary or an off-limits line in a spawning river, and establishing an electronic "fence" around it on a computer screen.  Whenever a vessel crosses the fence, an alarm goes off and officers can zoom in to monitor the behavior from "beyond the horizon".  In other words, they can see exactly what you are doing a long time before you'll ever see them.  Here's an example:
Bowman showed us a slide of an actual poaching incident when a dredge boat crossed the line into a sanctuary to poach oysters.  The screen showed exact grid coordinates that established probable cause for a search and can be used in court to help get a conviction.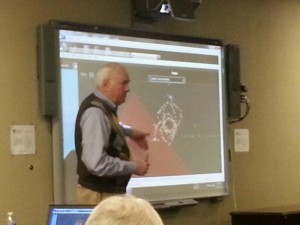 According to a press release by VIDSYS, the company that provides the software for the system, MLEIN enables DNR to integrate and manage all of the data from its disparate security systems and devices, as well as data from collaborating agencies and private organizations with interest in Maryland's maritime safety and security, to provide center operators with one common operating picture of activity in the Chesapeake Bay.  The software also allows operators to effectively monitor vessels moving near critical infrastructure and easily distribute information that pertains to potential homeland security situations, search and rescue efforts, and illegal fishing and poaching to decision makers in the Coast Guard and other Maryland agencies.  The result is a more effective, efficient and coordinated response.
The command center for the MLEIN network is in Annapolis near the Bay Bridge, but the cameras and radar units are all over the Bay.  Bowman wouldn't say exactly where, but I hear folks on Tilghman Island are casting leery glances up at a tower near Black Walnut Point. Bowman told us the Choptank was "very well covered." There are apparently many stations just like that one on Tilghman with more advanced radar stations in areas where poaching is known to be more frequent.  When a CCA member asked him how closely they would watch winter gill netting, the room got sort of quiet.  Finally, one of the NRP officers in the room stood up to say, "We have no intentions of giving away our playbook."
Indeed, they should not.
I tweeted highlights of the meeting last night.  You don't have to be on Twitter to see my comments.  Just go to this link https://twitter.com/ShawnKimbro, scroll down to where the meeting starts, and read up.
Now, count me among those that are always a little wary of privacy infringements and too much government interference in our daily lives, but I can't help but be excited about about the MLEIN network.  One of the biggest issues facing management of both striped bass and oysters is the uncertainties brought on by poaching.  The MLEIN system won't stop poaching, but it just might put a dent in it.  It's also going to save lives.  In fact, it may already have because officers have responded to at least 4 emergency situations they identified via the network in the past year.  A good chunk of the financing is provided by the federal government, so the program should be relatively safe from the fund-raiding we've seen to  previous NRP efforts like aerial surveillance.  Hopefully, it is here for good and will continue to improve.  It needs to, because as Maryland DNR's 14% Turkey Day Surprise shows, they are moving closer and closer to managing our beloved resources on the edge of conservation.  Anything that reduces the many vast management uncertainties helps at this point, especially better enforcement of our natural resource laws.
Stay tuned – I'll have a fishing report next week.  Baby, it's cold outside, but there are still fish to be caught!
Responses to "Bad Boys Beware – MLEIN is Watching"