Click the Book Covers Below to Buy the Books

Current Moon Phase




Full Moon




The moon is 16 days old


Distance: 61 earth radii
Ecliptic latitude: 4 degrees
Ecliptic longitude: 92 degrees


Recommendations

Good Information

Wind Weather & Tides

Meta
hurricane sandy
Currently browsing articles with a topic of "hurricane sandy".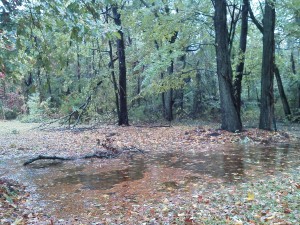 Hurricane Sandy was easy on us here on Kent Island.  Some of my neighbors to the east weren't so lucky.  I've seen several pictures of trees down and houses damaged this morning. Our biggest issue now is flooding due to rain and post storm surging. Most of the creeks are out of their banks and into the roads. There has been some coastal flooding farther down the Bay including in the Taylors Island area and the Choptank River.  High tide at Matapeake was at 5:49 AM and water did over-top some of the local docks.  There hasn't been much outgoing so we'll have to wait and see what we get when the tide peaks again at 6:38 PM.  My guess is that it will be high, but not so much that we get major flooding.  The storm moved through much more quickly than expected so we didn't get a lot of south winds on the back side.
My early assessment of the impact on the Bay and fishing is that Sandy will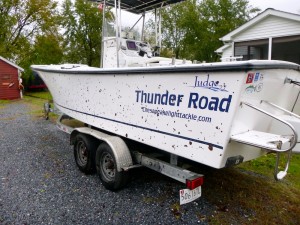 have a punch, but not as serious as the storms we had last year.  We'll get a lot of bad water and debris down from the Susquehanna and other rivers, so the Upper Bay is probably done until late November.  On the other hand, I think we'll be back in action in Eastern Bay and the tributaries in less than a week.  We'll see how that prediction holds up. I'm off to wash the leaves off my boat. Good luck to those who are cleaning up today and let's all send good thoughts and prayers to our friends and neighbors farther north and on the coast who really bore the brunt of Hurricane Sandy.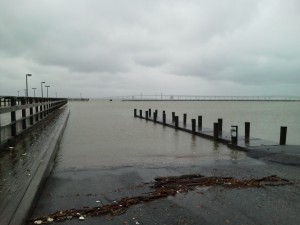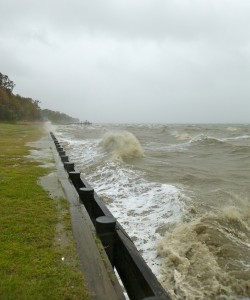 Hurricane Sandy has sped up and will make landfall sooner than expected.  I suspect that's good since she will hopefully move through more quickly.  Unfortunately, the center of the storm has turned slightly southwest, and is now projected to track a few miles north of us. The Bay Bridge is closed after recording three gusts over 55 MPH within 10 minutes.  I'm hearing a few limbs cracking in the woods behind our house and I noticed some trees down when I visited Matapeake a few minutes ago. 
We've seen 8 inches of rain so far and it's coming down harder than ever now. There's been a lot of damage due to storm surge on the ocean side of Delmarva including Ocean City, Maryland, but we still aren't seeing a storm surge this far north on the Chesapeake side.  There is a surge lower in the Bay on the east side and I just heard Crisfield, Maryland has been evacuated with 3-5 feet of Bay water in the streets. Power is still on over most of Kent Island.  Here's a video I just shot at the Matapeake pier.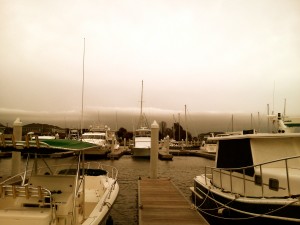 Last year I entertained myself during Hurricane Irene by blogging about the storm, so I thought I'd do it again with Sandy.  While some storm tracks have Kent Island directly in the path of the storm, it looks more likely that it will come ashore about 60 miles north of us.  That's too close for comfort with a storm this big.  As of 3:00 PM Sunday, we are just starting to see the first bands of the hurricane.  It's raining lightly and winds are from the northeast sustained at 29 knots at Thomas Point Light on the Chesapeake Bay. If the storm stays north as projected, I don't expect a strong storm surge. Tides were pretty high last night, but the northeast wind will actually push water out of the Bay.  We might even seen record low water, so I'm standing by with my relic hunting gear just in case some of the colonial sites and shipwrecks are exposed.  Our biggest concern is trees and limbs coming down and flooding from the expected heavy rains. Since this is a fishing site, I'll also report that fishing was not particularly good yesterday although we did catch a few on topwater in the Eastern Bay shallows. Stay tuned and I'll do my best to keep you in the loop about the storm.