Click the Book Covers Below to Buy the Books

Current Moon Phase




Full Moon




The moon is 16 days old


Distance: 61 earth radii
Ecliptic latitude: 4 degrees
Ecliptic longitude: 92 degrees


Recommendations

Good Information

Wind Weather & Tides

Meta
oyster
Currently browsing articles with a topic of "oyster".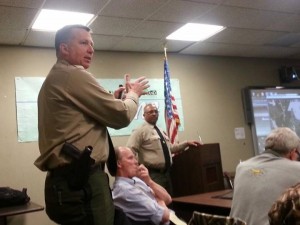 Would you believe in an advanced Doplar-based marine radar system that can detect a 3-foot-square object from 7 miles away?  Well, you better because it might just be zoomed in on you next time you're fishing on the Chesapeake Bay. Last night, I attended a presentation by the Maryland Natural Resources Police (NRP) about a new law enforcement tool called MLEIN. That stands for the Marine Law Enforcement Information Network.  It's a mobile command center consisting of radar monitoring, video surveillance, and advanced software that allows the NRP to keep a very close watch on what's happening on the water.  I was invited to the presentation by Candy Thomson.  Yes, the former Baltimore Sun Outdoors Girl has skipped across College creek to a new position in Annapolis as the Public Information Officer for the NRP.  I first heard about MLEIN a couple of years ago in one of her articles in the Sun Paper.  You can read it here.  http://articles.baltimoresun.com/2010-12-14/sports/bs-sp-chesapeake-security-system-20101214_1_radar-units-mlein-cameras
That article reveals a little more than DNR Special Projects Manager Tim Bowman gave away in his presentation last night.  Nevertheless, his updates for 2014 were extremely informative.  The twenty-something people in attendance – including 8 guys from CCA Maryland – were glued to their seats as Bowman showed real-life examples of how the system worked. Read More!