Click the Book Covers Below to Buy the Books

Current Moon Phase




Waxing Crescent Moon




The moon is 4 days old


Distance: 63 earth radii
Ecliptic latitude: 0 degrees
Ecliptic longitude: 73 degrees


Recommendations

Good Information

Wind Weather & Tides

Meta
yellow perch
Currently browsing articles with a topic of "yellow perch".
Being a good fisherman has always been about being smart enough, and humble enough to learn when given a chance.  -Anthony Bourdain
Actually, Bourdain never said that.  Well, he did, but it was about cooking, not fishing.  Some of the best fishermen I know like to cook.  I guess that's because there are a lot of similarities.  I've recently had the opportunity to spend time with some very talented up-and-coming striper fishermen.  What impresses me most is their willingness to open their minds and learn.  As a result, they're enjoying some of the best fishing experiences of their lives. That willingness to learn is a trait I'm including in a book I'm working on called, The Right Stuff.
According to the website Cookingschools.com, there are ten top qualities of a great culinary professional.  As I read through them, I found it interesting how each of those qualities apply just as easily to great fishing.  I hope they won't mind if I parody their list a little by substituting fishing terms. Take a look to see if you have the recipe for a quality fishing experience.  The few words I substituted are in italics.
Creativity: A great angler must be very creative and always willing to try something new. Creativity inspires a lure's presentation, which is very important to the overall fishing experience.
Passion: A great angler has a tremendous passion for fish and fishing. They enjoy the process of selecting gear, preparing for trips, and creating lures. Read More!
In the fifty years or so I've had to observe the behavior of fishermen, I've noticed a few trends. While collecting thoughts for my next book, I'm forming a list of traits that I think good fishermen have in common. In the book, I'll concentrate primarily on gear and tackle but I also want to spend some time examining habits and attitudes that successful anglers share. You know, the right stuff. One penchant stands out above all the rest – good fishermen like to release fish. Not only do they like to let them go, but they look for ways to insure they survive once they swim away. Accomplished anglers find satisfaction in returning a fish to the water and they enjoy the thought that other fishermen will also have the opportunity to experience the thrill of a trophy catch.
I love to eat fish. I just returned from a week-long fishing trip to the Abacos Islands where my sons and I ate the fish we caught every day. I don't begrudge anyone the opportunity to eat their catch, but every angler has to release fish from time to time. Better anglers can't possibly eat all the fish they catch, nor do they want to. I've written about this in the past, so instead of going into a step-by-step breakdown of best-practices, I thought I'd try to make it a little more fun by turning it into a quiz. Think you have a good handle on how to take care of the fish you plan to release? Check it out: Read More!
"There are no more deserts. There are no more islands. Yet there is a need for them. In order to understand the world, one has to turn away from it on occasion; in order to serve men better, one has to hold them at a distance for a time. But where can one find the solitude necessary to vigor, the deep breath in which the mind collects itself and courage gauges its strength? There remain big cities."  -ALBERT CAMUS from THE MINOTAUR.
I must apologize for the lack of fishing reports lately.  I've required some time to concentrate on other interests, dance for a while to the songs in my head, and step back to reassess some priorities after over-extending a little.  I'm currently writing from a boat off the Florida Keys. I've been here for the past ten days or so.  It's been relaxing, rejuvenating actually, and I've enjoyed some successful fishing.  My time for tuning out is about over, so next week I'll be back working in the big city, and perhaps more importantly, back in the swing of the Chesapeake fishing scene.  On August 20th I'll speak to the Broadneck/Magothy MSSA chapter about Strike Triggers and Catch & Release techniques. The following night, August 21st, I'll travel to the Essex/Middle River chapter to present a similar talk.  On August 25th and 26th I'll have a book-signing table and also give a couple of talks at the 6th Annual Maryland Buck Wild Outdoors Expo.  Look for me all day Saturday and Sunday. Read More!
Most fishermen do their best to keep up with creel limits, size restrictions, slot ranges, and gear limitations. It's often very complicated to follow specific regulations, but true sportsmen pride themselves on knowing exactly how they can legally fish and what kinds of fish they are allowed to keep. It's especially important to know the rules this time of year, since many species are spawning. That's why it's so surprising that one of the most prized and delicious fish in the Chesapeake Bay is completely unrestricted – no limits, no size restrictions, and no rules as to how they can be caught.
This past weekend I had the good fortune to fish for crappie with light tackle/fly-fishing guide Kevin Josenhans in the tidal Pocamoke River near Snow Hill, Maryland.  As fishing guides go, Captain Kevin is nothing short of Chesapeake royalty. He's been fishing the Bay for over 40 years. In addition to guiding for the past 20 years, he's spent three decades working for the Maryland Department of Natural Resources including time as a ranger at Janes Island State Park.  He knows the lower Maryland Chesapeake region like the back of his hand.  His successful late summer speckled trout trips in the Tangier Sound are legendary.  I've wanted to get out with him for one of those Tangier trips for several years, but I was surprised last week when my buddy Mark invited me along on a trip he had planned with Captain Kevin for crappie and chain pickerel. I jumped at the opportunity. Read More!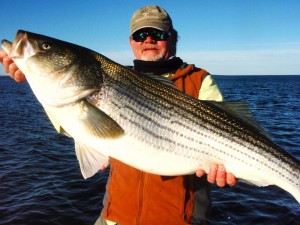 If the next 51 weeks of 2012 go as well as the first one, this promises to be a very good year for light tackle fishing on the Chesapeake Bay. I've fished four times and caught a Diamond Jim qualifying citation fish on each trip including three rockfish in the mid 40-inch range. I'm chalking it up to a little experience, some insider information, and a lot of luck.  My son, "Big Fish Cory" has been visiting. Although he didn't catch any trophies this time around, he still brought along his lucky horseshoe.  Chesapeake striped bass fishermen have two basic winter options.  One is to fish deep holes – either in the main stem of the Bay or up in the outside bends of the rivers – and the other is to work the warm water discharges. Since we've had a very mild winter so far, the warm water discharges have been inconsistent.  I decided to split the difference and fish the last four days close to home off Kent Island.
One of the best places I know of to jig up deep water rockfish is the Bay Bridge.  Two- and three-year-old-stripers and white perch survive the cold winter by stacking up around the Bay Bridge rock piles. They'll stay there until the spring freshet washes out their warm water comfort zones. Even though they are readily apparent on a fish finder, they aren't always easy to catch. To coax a strike out of deep-water stripers you just have to aggravate them until they bite.  You can jig for hours and not get a single strike, then, snap – the fish will turn on and you're catching every cast. Read More!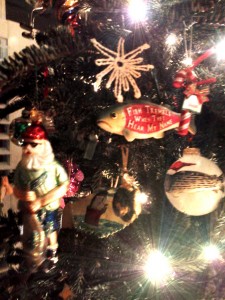 December brings my favorite day of the year. A day I look forward to so much that I can't sleep. When that joyful morning arrives, I'm usually up before dawn, caught up in the magic of this time of year. If you're like me, I know you're looking forward to it too, and you've probably guessed that I'm not speaking of the joy of Christmas morning. The most wonderful time of the year for me and most of my light tackle friends is the opening of catch & release season. It started last week in the Maryland waters of the Chesapeake Bay.
Gone are the fair-weather boaters with their blaring boom boxes. No more trollers claiming quarter-mile planer board right-of-ways, or obnoxious VHF broadcasters insulting everyone within 50 miles.  Catch & release season is the time of year when the one-man-one-rod concept reigns supreme.  It's when you can run on-plane for miles in the wide-open Bay and never see another fishing boat.  A time when there's very little competition for prime fishing spots, and a small but tight fraternity of hard-core fishermen brave the elements to jig the cold-weather hotspots.  Now that I think about it, it's better than Christmas!