Click the Book Covers Below to Buy the Books

Current Moon Phase




Waxing Gibbous Moon




The moon is 11 days old


Distance: 56 earth radii
Ecliptic latitude: -4 degrees
Ecliptic longitude: 321 degrees


Recommendations

Good Information

Wind Weather & Tides

Meta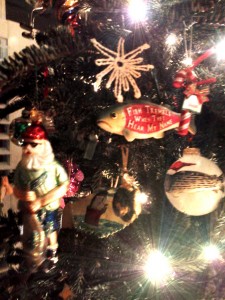 December brings my favorite day of the year. A day I look forward to so much that I can't sleep. When that joyful morning arrives, I'm usually up before dawn, caught up in the magic of this time of year. If you're like me, I know you're looking forward to it too, and you've probably guessed that I'm not speaking of the joy of Christmas morning. The most wonderful time of the year for me and most of my light tackle friends is the opening of catch & release season. It started last week in the Maryland waters of the Chesapeake Bay.
Gone are the fair-weather boaters with their blaring boom boxes. No more trollers claiming quarter-mile planer board right-of-ways, or obnoxious VHF broadcasters insulting everyone within 50 miles.  Catch & release season is the time of year when the one-man-one-rod concept reigns supreme.  It's when you can run on-plane for miles in the wide-open Bay and never see another fishing boat.  A time when there's very little competition for prime fishing spots, and a small but tight fraternity of hard-core fishermen brave the elements to jig the cold-weather hotspots.  Now that I think about it, it's better than Christmas!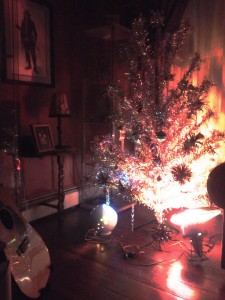 The start of this year's catch & release season has been hectic for me since I have to balance my work responsibilities with the release of my book.  Distribution has been early morning or late night affairs.  We've pulled a few all-nighters, but thanks to the help of my wife and some good friends, we've managed to get about a thousand pre-release copies out. We haven't flooded the market by any means, but I kept my 2011 New Year's resolution, and Chesapeake Light Tackle – The Book is now available.
My goal for December is to provide high quality editions of the book to my fishing friends, and to those who keep up with my reports on the internet.  As advertised, our pre-release editions have included about 20 color photos along with higher quality paper and a thick durable cover.  We sell the majority of books through the Buy It Now link here on Chesapeakelighttackle.com, but we've also managed to get a few in some local tackle stores and bait shops.  My favorite way of selling the book has been right off my front porch.
Once this batch is gone, we will switch over to the release edition. Books are expensive to print, and the online booksellers and brick-and-mortar stores usually need 50 or 60% off the retail price in order to cover their overhead. In o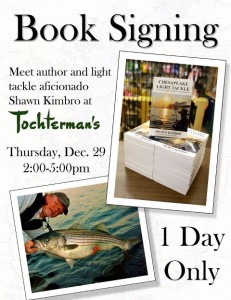 rder to meet that need, we have to reduce our costs. The biggest difference is that the official release version contains all high-resolution gray scale photos – same stories, same tips, same exact word count.  I still have enough pre-release books to last for a while. If you want one, you might want to order in the next week or so. I also need help with distribution, so please drop me a line if you know of some tackle stores, bait shops, or book stores that might want to carry it.
If you'd rather buy a pre-release edition of the book from a local retailer, you have some options.  Marty's Bait & Tackle in Edgewater has them.  So does AllTackle in Annapolis and Tochterman's in Baltimore.  I'll be at Tochterman's on December 29th to sign some books and hopefully catch up with some old friends and make some new ones.  I'm also looking forward to catching up with Tony, Dee, and Rich and seeing their new fly tying department.  Plans are in the works for other stores as well.
Fishing? Ah yes – it's one thing to write about it, but something else entirely to do it.  Since water temperatures are holding around 50-degrees in the Bay, there are still multiple op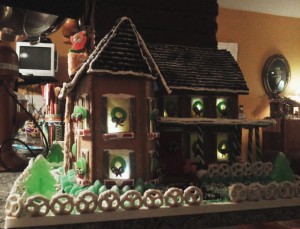 portunities for catching stripers.  A few anglers are fishing the mouth of the Choptank River and catching on the deeper ledges.  There are even some reports of breaking fish between Sharps and James Islands, and more breakers on the ledges on both the Bay and Tangier sides of Smith Island.  The Bay Bridge remains productive and there are a few bigger fish at the Kent Island Sewer Pipe for those who are patient enough to stay with them. The bridges on the back side of Kent Island are holding fish as well, and there are reports of stripers in some of the upper Bay rivers.  A few fishermen have started working the warm water discharges, but there are plenty of fish in easier-to-get-to places.
If you're up for traveling, I've heard good reports of big schooling fish all up and down the Delmarva coast.  Some of the big-fish-schools are just o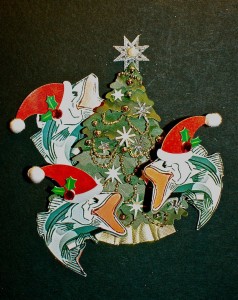 ff the beaches. The Chesapeake Bay Bridge Tunnel is better now than it's been yet, and it promises to keep improving as more migrating fish flood in.
My buddy Joe Yack has been testing the waters around the mouth of the Susquehanna River for yellow perch and turning up a few on minnows.  He tells me it's just a matter of time before artificial lures will out-produce live bait. If you missed the yellow perch fun last winter I hope you can get in on it this year. I'm hoping to make a run up that way next week, and I might manage another trip to the bridge tunnel if things go well.
In addition to good fishing, the holidays also provide us with time to spend with friends and family. I'll be enjoying a lot of that over the next couple of weeks, and I hope you will too. I also hope you get some time in on the water this catch & release season.  Here's a light tackle clink of the glass to all my friends and fishing partners with my best wishes for many sugar plum trophies in 2012.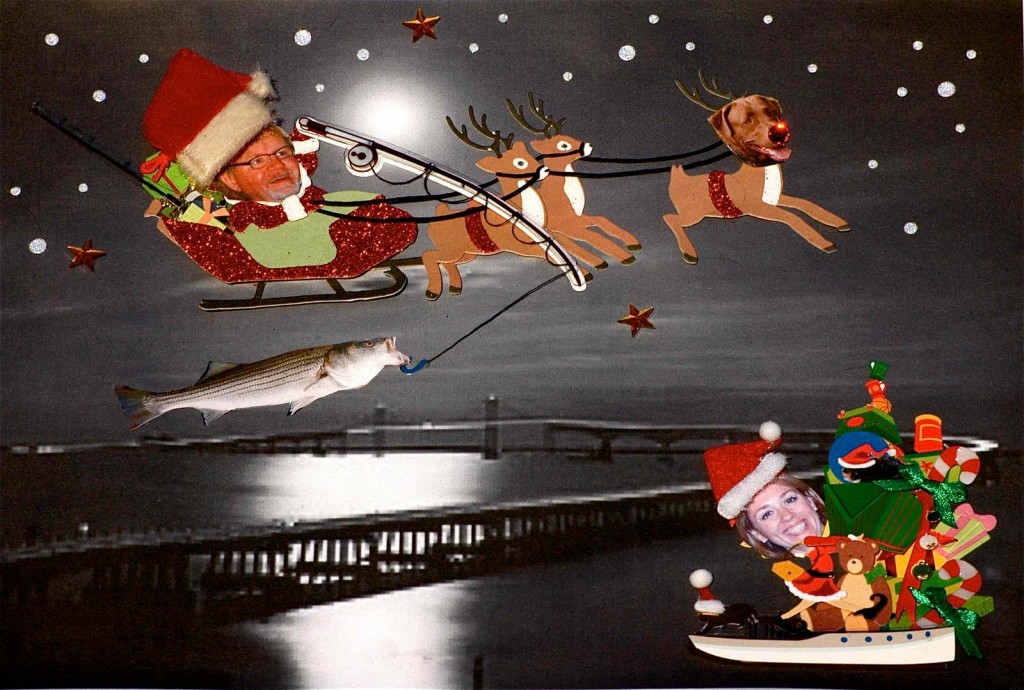 Responses to "Visions of Sugar Plums"