Click the Book Covers Below to Buy the Books

Current Moon Phase




First Quarter Moon




The moon is 7 days old


Distance: 59 earth radii
Ecliptic latitude: -4 degrees
Ecliptic longitude: 264 degrees


Recommendations

Good Information

Wind Weather & Tides

Meta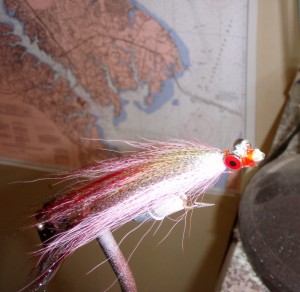 I fished off both sides of Kent Island yesterday and today, getting out in the late afternoons. Yesterday, I launched from the E. Bay side into a slack tide and had a tough time finding fish. I had a game plan but it wasn't working out so well. Last week I lost my fly rod when I inadvertently left a fly in the water and took off. I looked back to see it going over the stern. I picked up another one over the weekend and wanted to try it out along with some new flies I tied up.
I pretty much suck at both fly tying and casting, but the fish have been active lately, so much so that even I can catch 'em with a long-rod. I finally found fish breaking in shallow water with no birds around to tip them off. Fortunately, they were a good class of fish and I was able to sneak right up on them and drift through as they were breaking. Here's my nut and the blind squirrel that caught it. This is my first 30 inch class fish on a fly.
It calmed down beautifully at sunset so I couldn't resist a couple of pics, including one that I thought turned out interesting which I shot while motoring past one of the pound net.  The picture was an accident.  I turned the flash off on the camera so I could catch the colors of the sunset better, but left the shutter speed on an automatic setting. The movement of the boat created the double exposure and the colors turned out great.  Here's also a version of the picture with a faster shutter speed.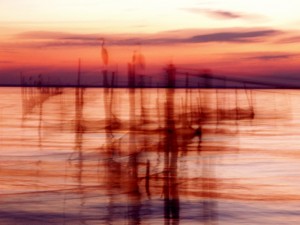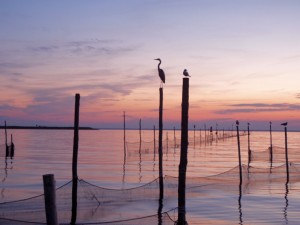 Tonight I launched off Matapeake where I picked up a fishing partner on the way out. Since I use that ramp frequently, I've made some friends among the regular pier fishermen there. Matapeake gets a bad rap from some people in this area because of the large number of immigrants and other minorities that fish there.  I frequently hear bad comments about the area. I don't get it. Most of the recreational fishermen I've met have been good people, and I actually enjoy the diversity and the differences in fishing techniques I see there. I hope the people who don't like Matapeake stay away.  Their loss is my gain.
Last summer I got into some perch and brought a few back to share. Now, I frequently hear "Mr Keembro" when I come and go. One of the guys saw me putting t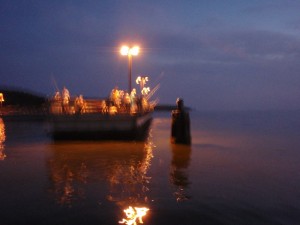 he boat in tonight and sheepishly asked if I was going out by myself. I invited him to join me but warned I'd be jigging. Pete said he'd give it a try but wasn't so sure, so he brought along his bait just in case. He didn't need it. He got a nice fish right off the bat and another light tackle
convert was born. We had a respectable bite until the outgoing waned about 8:00 PM and the fish shut down. He told me on the way back to the ramp that it was the first time he'd ever been in a boat on the Bay. He seemed very happy with his limit of rockfish.