Click the Book Covers Below to Buy the Books

Current Moon Phase




First Quarter Moon




The moon is 7 days old


Distance: 59 earth radii
Ecliptic latitude: -4 degrees
Ecliptic longitude: 264 degrees


Recommendations

Good Information

Wind Weather & Tides

Meta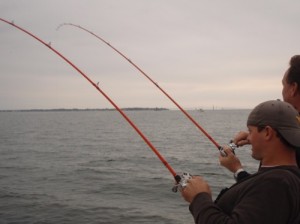 I got off work in time Friday for a few hours of Halloween eve fishing.   Just as I arrived home, my buddy Dave called to say he was heading out of Sandy Point with my good friend Paul.   Since it was getting a little windy, I invited them to join me on Crockett's Reel.  They met me at the Kent Narrows ramp and we blasted off in search of angling tricks and treats.  We found the fun quickly.  Paul hooked up on his first cast, fighting a stout 28 inch rockfish in for a boat-side release.  From there it was GAME ON with nice fish on virtually every cast.   We had several in the 30 inch class, but since we were releasing our fish, we only took one out of the water long enough to measure it, a top-water fish that went 31 and a half inches caught on a red and gold Super Spook.  Interestingly, Paul and Dave were fishing with similar outfits.  Dave used a BPS left hand retrieve Pro-Qualifier baitcaster attached to a Medium power/fast action orange and black Carrot Stix rod.  Paul was using the same reel but with a right hand retrieve and the Medium-Heavy version of the Carrot Stix.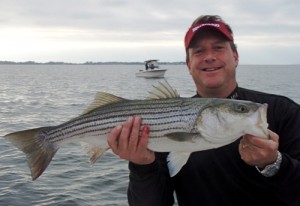 I like that pairing.  Even though I don't own one, I've been a fan of the E-21 Carrot Stix line since they were first introduced.  I think they're among the most sensitive rods on the market.  So far, it looks like they're measuring up in the durability category as well.  Check out this article for more information about selecting the right rod for light tackle striper fishing.
I also like those Pro-Qualifier reels.  I have the version with the 7:1 retrieve and like it almost as well as my ABU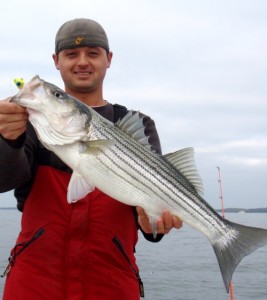 Revo series reels.  To be honest, I bought mine mostly for the off-the-shelf-replacement warranty.  I currently have three reels in the shop, all with the same problem; stripped handle nuts.  My jigging technique is to palm the reel with my fingers of my right hand on the blank in front of the reel.  That allows me to tune-in as strikes are transmitted from the braided line through the rod to my fingers.  Unfortunately, it also puts a lot of pressure on the reel handle, causing it to work loose as I snap the jig, and eventually strips the nut.
Yesterday, I got back out with Dave as we fished the Severn River Rod & Keg Club vs Upper Bay Bad Boys fall tournament.  This is just a good time tournament over bragging rights between the two clubs.  Participating anglers chip in a few bucks to enter, and the winning club takes home the trophy.  Despite all the fine fishing on Friday evening, Dave and I couldn't find a single rockfish on Saturday that was over 24 inches.  I bet we pulled off twenty pods of birds over blitzing fish, but they were all tricks;  just small fish.  I guess that's why the call it fishing instead of catching.  The day wasn't without some success though.  There is also a perch category which we won.  Here's Dave's description of how it happened: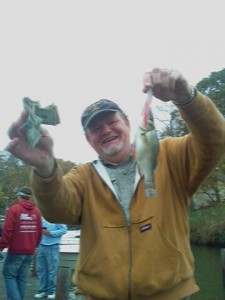 Shawn and I launched yesterday morning and saw some marks under the bridge near the light line so we started jigging up dink rock and then I snagged a perch. We both looked at each other, disapointed the marks didn't turn out to be bigger fish. I threw my perch back and Shawn reminded me of a perch division in the tournament. We didn't think a fish that size would win anyway. We kept fishing hoping to catch a bigger rock but it didn't pan out. We switched to stingsilvers for a few casts and Shawn catches the perch pictured below (8.5 inches). We looked at each other and Shawn asked…."throw him in the cooler…?" I laughed and we joked about how it would be funny if a fish like that won the perch category so we iced the perch. Sure enough nobody came in with anything for the perch division. $150 later….
It's been a fun Halloween
weekend full of fishing treats.  I'm hoping to get back out for a little while this evening in the wind and rain.  I'll let you know how it goes.
———————————————————
Sunday, November 1 update:
Here's the update from tonight.  Wouldn't you know it, the fish were right there in the same general area where we fished so hard yesterday but couldn't find them.   Here's tonight's big fish, a 36 incher that jumped head first out of the water like a largemouth.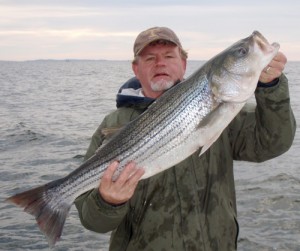 Response to "Tricks & Treats!"