Click the Book Covers Below to Buy the Books

Current Moon Phase




First Quarter Moon




The moon is 7 days old


Distance: 59 earth radii
Ecliptic latitude: -4 degrees
Ecliptic longitude: 264 degrees


Recommendations

Good Information

Wind Weather & Tides

Meta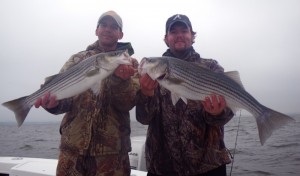 I'm smack in the middle of an intense ten-day fishing stretch with just a little time for a quick report this morning before heading back out on the water.  My son Daniel flew in from Tennessee to fish last weekend, and my brother Creig is here until Saturday.  I took most of the week off. We've been fishing up and down the Bay, wherever the fish are biting or the weather conditions allow.  Last weekend, we fished a sixty-four hour window on five and a half hours sleep.  Whew!  Saturday and Sunday we launched out of Betterton on Maryland's Eastern Shore. The ramp is narrow and shallow but we managed to unload Thunder Road in the wind and make the 5 mile run north passing the Catch & Release buoys off Aberdeen Proving Ground's Sandy Point about 6:00 AM.  
We caught a lot of fish Saturday, but nothing real big, maybe just one over 30 inches.  Sunday was a better day.  Despite rain, fog,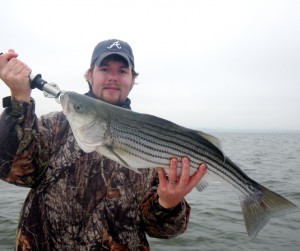 and wind we found some bigger fish holding in an underwater trench that dropped from four feet down to nine.  We started with slash baits with the hottest lure being a chartreuse number 18 Rapala X-Rap.  The fish eventually moved closer to the bottom so we changed over to jigs.
With 35 knot northwest winds yesterday, we decided to forego the flats in favor of some mid Bay spots where we hoped to find shelter in the lee of the western shore cliffs.  It was still very windy, but we managed to identify a pattern and landed some nice fish including some that were over 40 inches long.  The fish came in waves, with periods of hot and heavy action then long stretches when we couldn't buy a bite.  Some fish had sea lice, a sure sign that they are just coming in from the ocean. There were even some three pound bluefish in the mix.
I tried out a new lure that I've decided is a winner for big fish when they are feeding on herring.  It's a ten inch  Fin-S Fish made by Lunker City.  It's very similar in size and action to herring, and the big fish loved it.  Because of its width and length, the smaller ones left it alone.  I didn't land a single fish with it less than thirty five inches long.  We also caught nice fish on ten inch Bass Kandy Delights (BKDs) and seven inch Bass Assassins.  White and chartreuse were the best colors.  Since the fish were on the bottom and the wind was so strong, we had to use 2 ounce jig heads.
Water temperatures on the Susquehanna Flats are in the low 60s.   At both the Flats and the Mid-Bay we looked for areas where the temperature was just one or two degrees warmer.  It's a full moon so we have very good current.  I'll have more details if we survive our week of lots of fishing and very little sleep.
Responses to "Chesapeake Staycation"