Click the Book Covers Below to Buy the Books

Current Moon Phase




Third Quarter Moon




The moon is 20 days old


Distance: 63 earth radii
Ecliptic latitude: 4 degrees
Ecliptic longitude: 141 degrees


Recommendations

Good Information

Wind Weather & Tides

Meta
Chesapeake Light Tackle readers are sure to recognize the striper techniques I recommend as little more than modified methods for catching freshwater bass.  I have little use for the heavy trolling gear or live bait most Chesapeake Bay fishermen feel they need to be successful. A bass is a bass and it's a lot easier to land a 40 pound striper in the unobstructed open water of the Bay than it is to land a 5 pound smallmouth in heavy cover.  Since I've concentrated so intently on striper fishing over the past four years, I've felt like I might be getting a little behind the freshwater bass fishing curve.  Let's just say my street cred has been slipping with the freshwater bass crowd.  So, when my wife offered me a week-long opportunity to fish anywhere I wanted as a birthday gift, my choice of venues came easy.  Instead of marlin fishing in the mid-Atlantic, trout casting in the northwest, or redfish chasing in Florida, I chose large and smallmouth bass fishing near my old haunts in the Tennessee Valley.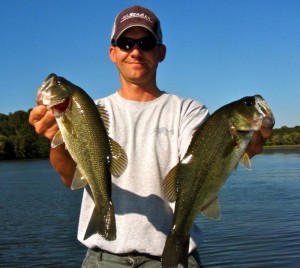 After a couple of calls to my brother, we set our plans to fish the Guntersville and Tims Ford Reservoirs in northern Alabama and south central Tennessee.  Creig, who is a fisheries biologist by training, works as a University of Tennessee extension agent and lives up on the Cumberland Plateau near Tracey City, Tennessee.  He has a great place near a rocky bluff overlooking the Tennessee River Valley. He's lived in the area long enough to have a pretty good grasp of the fishing patterns in the nearby private and public reservoirs.  We fished mostly in the Guntersville Reservoir.  The lake is an impoundment of the Tennessee River where it makes a giant U down into Alabama before flowing back north into the Volunteer state.   It is 76 miles long with almost 900 miles of shoreline.  Clear water, abundant aquatic grasses, and a beautiful setting in the Appalachian foothills make Guntersville one on the most attractive bass fishing lakes in the country.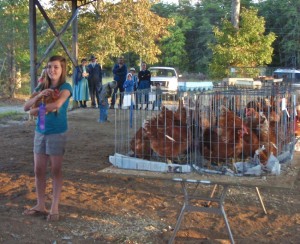 We fished three days on Guntersville catching smallmouth, largemouth, spotted bass, rockfish, catfish, and crappie.  Unfortunately, the weather made things difficult.  We saw everything from bluebird skies to heavy fog and pouring rain. Temperatures ranged from the 40s in the early mornings to low 80s during the warmest days. We took time out one afternoon to help with a chicken judging contest. I enjoyed the contest very much. The 4-H kids took the task of producing the best laying hens in Grundy County very seriously.  It was a welcome change of pace from the rat-race of Washington DC.  I couldn't resist a few pictures including this one of the grand champion with her prized hen.
On our last day we fished Tims Ford Reservoir on the Elk River.  Tims Ford is known for big smallmouth bass and is also a well-known crappie lake.  We caught plenty of fish everywhere we went, but the changing weather made it tough to stick with any one pattern.  One day we fished the tail-race of Nickajack Dam.  I was anxious to try some of my fast water striper techniques there.  Unfortunately, we didn't find any big rockfish there although our hotrodded 10 inch bass kandy delights produced freshwater drum, small stripers, and catfish.  When the fish migrate up to the dam, I think there is a potential for a state record striper there with large soft plastics.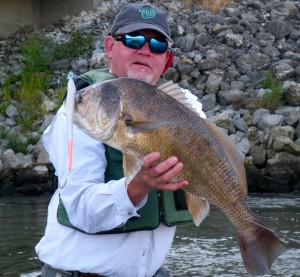 Most of our fish were caught on various top-water techniques.  We threw frogs, flukes, spooks, and buzzbaits.  I learned very quickly that my ten pound test braid and medium power rods were insufficient for this kind of fishing.  It wasn't that the fish were so big, but the grass, moss, and brush made it impossible to muscle the fish into the boat with the thin rods.  Additionally, the braid just wouldn't stand up to the violent hook-sets necessary for flukes and frogs.  I had to up-size my gear.
Working through some malfunctions with my video equipment, I managed to put together a video/photo montage of some of the fish and scenery of my back-to-basics week in the hills.  It sounds like we've had lots of wind and rain in the Mid-Atlantic region this past week, so I'm not sure what to expect in the coming days for Chesapeake Bay striper fishing.  My plan is to start working the upper Bay since this is the time last year when bigger fish started showing up above the bridge.  I'll let you know how it goes.
Responses to "Back To Bass-ics"