Click the Book Covers Below to Buy the Books

Current Moon Phase




Waxing Gibbous Moon




The moon is 12 days old


Distance: 56 earth radii
Ecliptic latitude: -3 degrees
Ecliptic longitude: 336 degrees


Recommendations

Good Information

Wind Weather & Tides

Meta
Most fishermen do their best to keep up with creel limits, size restrictions, slot ranges, and gear limitations. It's often very complicated to follow specific regulations, but true sportsmen pride themselves on knowing exactly how they can legally fish and what kinds of fish they are allowed to keep. It's especially important to know the rules this time of year, since many species are spawning. That's why it's so surprising that one of the most prized and delicious fish in the Chesapeake Bay is completely unrestricted – no limits, no size restrictions, and no rules as to how they can be caught.
This past weekend I had the good fortune to fish for crappie with light tackle/fly-fishing guide Kevin Josenhans in the tidal Pocamoke River near Snow Hill, Maryland.  As fishing guides go, Captain Kevin is nothing short of Chesapeake royalty. He's been fishing the Bay for over 40 years. In addition to guiding for the past 20 years, he's spent three decades working for the Maryland Department of Natural Resources including time as a ranger at Janes Island State Park.  He knows the lower Maryland Chesapeake region like the back of his hand.  His successful late summer speckled trout trips in the Tangier Sound are legendary.  I've wanted to get out with him for one of those Tangier trips for several years, but I was surprised last week when my buddy Mark invited me along on a trip he had planned with Captain Kevin for crappie and chain pickerel. I jumped at the opportunity.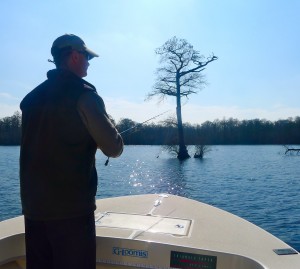 We loaded into Captain Kevin's 20′ Jones Brothers Cape Fishermen at 9:00 AM sharp.  By 9:15, we were on the fish.  Since Mark and I are fishing in the CCA Tidal Chain Pickerel Championship, we were using only artificial lures.  Mark threw a white fox-tail spinner and I rigged up a tandem set of chartreuse feather flies tied by my friend Woody of Maryland Tackle.  I tipped my flies with a small triangular piece of felt soaked in oil of anise, and jigged them beneath a tiny green-capped bobber. Since the fish were near the bottom and at least 12-feet deep and I had so much line below my float, I had to stand on the bow of the boat in order to cast.  The crappie ate us up, sometimes hitting two at a time, and it didn't take long to load the cooler with a nice mess of tasty speckled perch.
Since there are no limits, I guess we could've caught crappie all day, but we pulled off in search of pickerel. As we were drifting along the shoreline, Mark got hot on la
rgemouth bass. Captain Kevin showed us a photo of a largemouth he had caught recently that had black splotches on its body and fins.  He told us he had sent the picture to a fisheries biologists who had described it as a pigment disorder. Mark caught three bass on his spinner and they were also all very dark with stark contrasting colors. I suspect it has a lot to do with the color of the water. Part of the northernmost Cypress swamp in the United States, the water in this section of the Pocomoke is stained like coffee or tea thanks to acidic tannins leeching out of decaying leaves on the bottom of the river.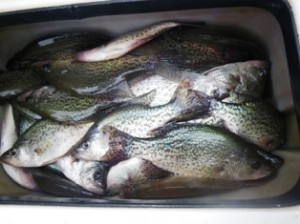 Not long after we moved south near the mouth of Nassawango creek, I hooked into a very nice pickerel. Unfortunately, it jumped and threw my lure before I got it to Captain Kevin's waiting net. Kevin caught another pickerel a little later on up in the creek.  We finished the evening with more crappie back where we found them before. I had a blast fishing the Pocomoke River, and learned a lot about this beautiful area of Maryland's Eastern Shore.  I'm really looking forward to fishing with Captain Kevin again this year, hopefully in late September or early October when the big speckled trout move into the islands of the Tangier Sound.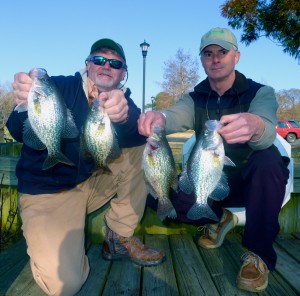 This weekend, I've spent some time researching how tidal crappie are managed in Maryland and in our neighboring states.  What I learned is that they aren't managed at all. While the regulations for freshwater crappie are very specific, I was surprised to learn that tidal crappie can be harvested by virtually any method in Maryland.  This includes fyke nets, pound nets, gill nets, and traps. I guess you could even go after them with a shotgun if you wanted to. While there aren't many commercial fishermen who target crappie specifically, there is still an average of 3700 pounds harvested annually.  Despite their high-regard among recreational anglers, Maryland has no fisheries management plan and there are no management measures in place.  That's a shame.
In other fishing news, yellow perch are red hot in the upper reaches of the Bay and in the most of the Western tributaries.  Unfortunately, perch fishing is still very slow on the eastern shore creeks and rivers.  I can't help but wonder if it has something to do with increased efforts toward commercial harvests and they're getting intercepted by nets before they can reach their spawning grounds.  Many eastern shore recreational fishermen are crossing the Bay or driving north to find yellow perch.
Pickerel fishing is slow but steady with most of the bigger fish coming from slower water near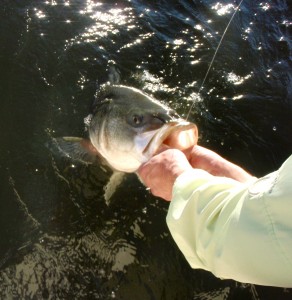 the mouths of the major rivers.  Striped bass catch-&-release fishing is still steady at the Bay Bridge with consistent two- and three-year-old fish in depths of 30- to 45-feet.  Striped bass fishing has been slow and inconsistent at the warm water discharges, although it's possible to turn up a big fish every now and then.
This weekend I'll be speaking at the Maryland Salt Water Fishing Expo and Seminar Series in Annapolis.  I'll also have a table at this event where I'll be selling and signing copies of my book, Chesapeake Light Tackle – An Introduction to Light Tackle Fishing on the Chesapeake Bay.  I'll be introducing a brand new power point presentation entitled, "Light Tackle Strike Triggers – Provoking Reaction Strikes from Trophy Stripers."  I hope to see you there!
Responses to "Crappie Management"