Click the Book Covers Below to Buy the Books

Current Moon Phase




Third Quarter Moon




The moon is 20 days old


Distance: 63 earth radii
Ecliptic latitude: 4 degrees
Ecliptic longitude: 141 degrees


Recommendations

Good Information

Wind Weather & Tides

Meta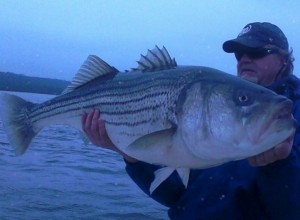 By all accounts, 2012 was an unusual year for fishing.  For me, it was absolutely strange at times. I jigged up my biggest striper of the year on the first day of the year, a 49-incher that might have pushed 50-pounds. It was the only fish I caught.  A few days later I got another 47-incher and another one about that size on the next day. Each time it was only one fish per day.  Is one fish worth five hours or more of casting?  When they're that size, I think so!  Those were some of my biggest fish of 2012, but I've been lucky enough to jig up a few more mid-40s class fish since then including this pretty 45-incher I caught in the snow this week.  Warm water discharge (WWD) fishing was good last spring, but we really had to pick our days.  Our most successful times were early-morning windy weekdays when it was raining or snowing.  The WWD big fish bite is always very specific.  I explain how to get the trophies in my book, Chesapeake Light Tackle, An Introduction to Light Tackle Fishing on the Chesapeake Bay. 
There are several  WWD locations within easy reach of Kent Island.  These include locations around the Bay Bridge, in the Patapsco River, the Potomac River, and in the Mid-Chesapeake Region.  Any place water is discharged into the Bay in the winter is probably a WWD.  These include treated sewage water outflows and discharges by industrial sources and power plants.
I didn't fish the Susquehanna Flats as much this past spring as I have in the past. While there were a few good fishing days in the area, I found flats fishing to be below par this year, especially for big fish.  By the time the Flats started heating up, we were already able to catch a few fish in Eastern Bay and around the Bay Bridge, so I didn't see much point in burning the gas to go up that way.  All in all, I found spring fishing on the Chesapeake to be below average in 2012.
Summer was a different story.  Thanks mostly to low-rainfall, water quality was very good in the Upper Bay this past summer.  As a result, resident stripers that usually migrate farther south, stayed in the area.  We had very good fishing from the mouth of the Severn River all the way up to the knolls around Tolchester.  There were also some fish farther south.  Since water quality was better on the west side of the Bay, that's where most of the bait stayed so also the rockfish.  Those fish were mostly suspended, so you just had to plug away at them in order to get them to bite.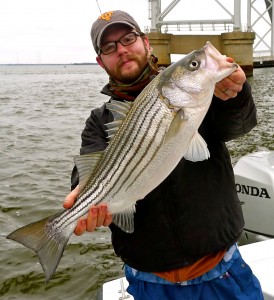 By late summer we saw a slight pattern change with breaking fish in the areabetween Poplar Island and Sharps Island.  This was mostly 16-25 inch-fish, but still fun to catch when they were surface feeding.  In the mean time, the Upper Bay bite hung in there with most fish set up along ambush points near ridges in live oyster bottoms.  The biggest bright spot in the summer of 2012 was the return of redfish and speckled trout to the Chesapeake Bay.  Anglers report puppy drum all the way up in the Susquehanna Flats and speckled trout were caught as far north as Eastern Bay.
Fall striper fishing was poor overall, but there were a few bright spots, particularly around the Bay Bridge.  Breakers on the east side near the Kent Island Sewer Pipe kept most of us busy but there were also some very nice fish being caught off the pilings.  I also did a lot of fishing along the shoreline in Eastern Bay.  There were some fish around, but I thought it was slower than years past.  Although there were some nice fish caught south of the Potomac River, the much anticipated migratory schools of late-fall trophy stripers never materialized in the mid and upper-Bay this year.  I think that was mostly because Hurricane Sandy blew in warm water along the Atlantic Coast and kept the bigger schools farther north than usual.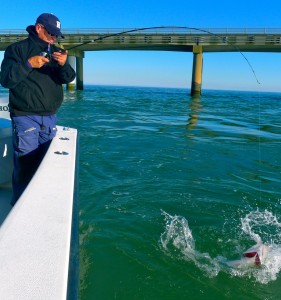 Since my last entry, I've made a few trips to the Chesapeake Bay Bridge Tunnel (CBBT).  This has become an every-year-event for my family.  Just as in years past, we rented a house in Cape Charles and used this as our base for fishing the bridge or the ocean.  Fishing the CBBT and the ocean this December was very tough.  While we found a few fish in the ocean north of Chincoteague, I was never able to locate the big schools we saw last fall.  I've received several reports of big schools here and there, but I don't believe they've been as prevalent as years past.
Now, it's winter again and I'm back in the pattern of fishing the WWDs and the Bay Bridge rock piles. There are fish to be caught if you're brave enough to stand the elements this winter. I may even make another trip or two to the CBBT.  All the pictures in this report are from the past three weeks. Before long, I hope to get in some perch and pickerel fishing in the rivers.
In summary, it was a bad spring, a  relatively good summer, and a bad fall. The winter pattern so far is about the same as last year. Not just based on this year, but in observing past patterns, I can't help but think our striped bass are in decline.  I've fished the Chesapeake Bay for six years now, and I've definitely noticed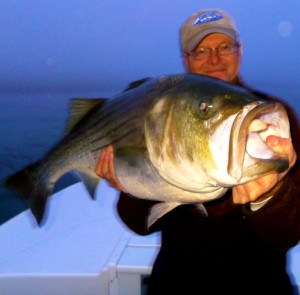 a change in fishing for the worse.  While we're still seeing some nice fish in the 40-inch-plus class, and there are zillions of young fish, what's missing is the mid-20s to mid-30 inch fish.  That's the class of fish that is most important to recreational anglers.
I'm hoping to work harder than ever with other fishermen along with CCA Maryland in 2013 toward getting the decision makers at the ASMFC and at Maryland DNR to realize we have a problem with striped bass and they simply MUST take action to make changes.  We HAVE to protect the big breeding fish so they can reproduce. Spawning stocks are way down and still declining. Let the cows go.  They don't taste as good, and they're full of mercury. Why take the risk of poisoning your family and diminishing the species?  Catch 'em, get a picture, and turn 'em lose.
By the same token, recreational fishermen need to let the little fish grow.  I cringe regularly when I read the Internet mailing lists and see fishermen and sometimes even guides bragging about catching upwards of a hundred baby fish.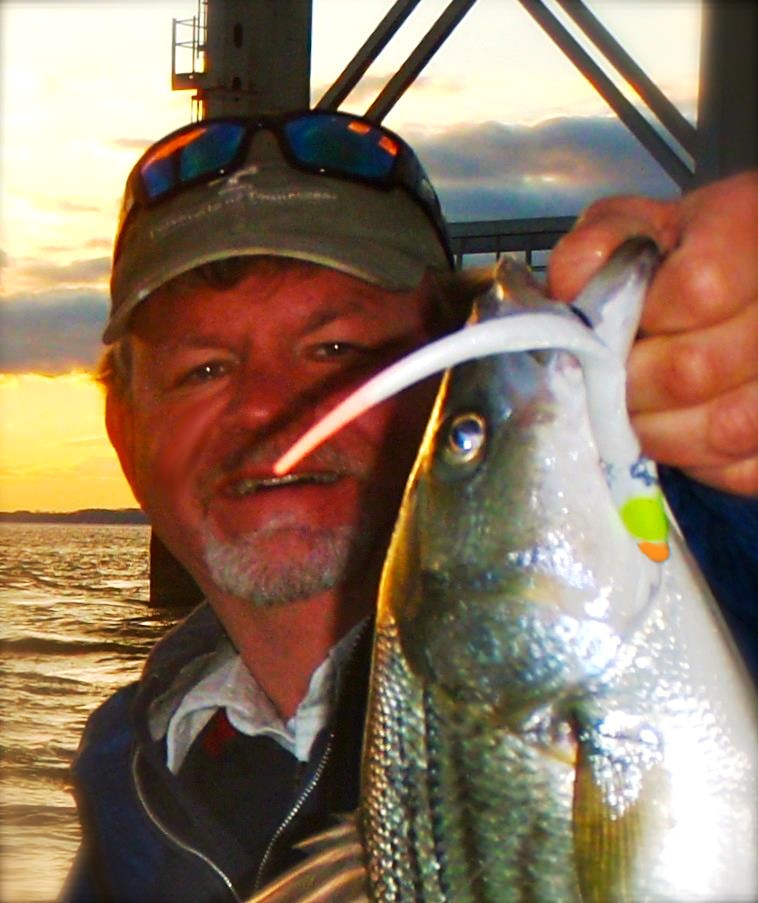 The chances of catching a big striper our of a school of dink rockfish is ZERO. If you keep trying, you're just going to kill more fish. Let's leave those baby rockfish alone.
Here's to flat seas and tight lines in 2013.  Cheers from Chesapeake Light Tackle!
Responses to "Looking Back & Moving Forward"