Click the Book Covers Below to Buy the Books

Current Moon Phase




Full Moon




The moon is 16 days old


Distance: 61 earth radii
Ecliptic latitude: 4 degrees
Ecliptic longitude: 92 degrees


Recommendations

Good Information

Wind Weather & Tides

Meta

It's winter: it's cold, it's wet, and it's snowy.  A lot of the ramps are iced in.  It's a great time of year to sit inside by the fire and read a book or watch a fishing video.  I don't know about you, but that keeps me entertained for about 15 minutes, then I gotta float a boat or something.  Fortunately, winter is also a great time to catch and release striped bass.  Rockfish are a lot more likely to survive when they're released in cold weather.  Science proves water and air temperatures greatly influence striped bass mortality.  In a seminal catch & release study taken on the Susquehanna Flats in 1999, fisheries biologists Rudy Lukacovic and Ben Florence found that 98.4% of released rockfish live when they are turned loose in water temperatures of 57 to 59 degrees Fahrenheit.  Stripers become more vulnerable as the weather warms and water temperatures rise, but their mortality percentage is still less than 4% in water temperatures of 62 degrees and less.  Proper handling, good catch-and-release practices, and fishing in higher salinity waters can further improve catch-and-release mortality so that it's possible to reduce the number of fish we kill to less than 1%.  That makes winter a pretty awesome time to fish for those of us who are in it for the experience and not the meat.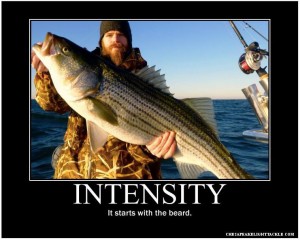 I love winter fishing.  Gone are the fair-weather boaters with their blaring stereos.  No more planer-board trollers claiming 300-foot right-of-ways, or obnoxious broadcasters insulting everyone with a VHF radio within 50 miles.  Catch-and-release season is the time of year when the one-man-one-rod concept reigns supreme.  It's when you can run on plane for miles in the wide-open Bay and never see another fishing boat.  A time when there's very little competition for prime fishing spots, and a small but tight fraternity of hard-core fishermen brave the elements to jig the cold-weather hotspots for huge stripers.
Before you go, it's worthwhile to take a few minutes to review best practices for catching and releasing stripers.  Since most fishermen are out in the summer, we usually concentrate on release tips during that time of year.  You can read what the latest science recommends here on the Careful Catch website.  There's another good summary in this report from New Jersey.  Winter, however, brings a different set of circumstances and conditions.  It's not a good idea to bait fish in the winter when you have to release the fish.  There is plenty of scientific evidence in the reports I referenced above to back up that statement:  striped bass caught on bait are a lot more likely to be deep hooked.  The number one factor influencing striped bass mortality is deep hooking.  Circle hooks help tremendously, but there are a lot of variables to consider, even with circles.  Some hooks that are labeled as circles on the package are actually just modified J hooks.  You can read more about that topic in an article I put together last year called Circle Hook Confusion.  Your best bet in Maryland, where you must release fish in the winter, is to use single hook artificial lures with the barbs removed or mashed flat.
One of the most important practices for cold weather fishing is to be prepared for quick releases.  I don't know a single fisherman who doesn't want a picture of a big fish when he catches one.  There's nothing wrong with that.  It's a driving factor for our sport because it allows us to relive the memory of the catch and show others our accomplishment.  Since we know ahead of time that we will want a picture, it's a good idea to have the camera out, open, and ready to pick up.  It should only take a few seconds to snap a picture and put the fish back in the water.  Even better, there is a host of new video technology that allows hands-free documentation of our trophy catches.  A GoPro or similar style camera, when mounted strategically and left running, can produce incredibly entertaining documentaries of our fishing experiences.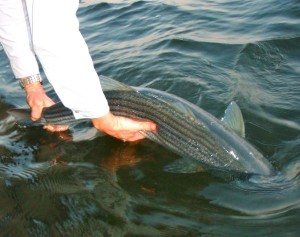 Speaking of video, I'm excited about a catch-and-release video contest being sponsored by TechnicalFisherman.com.  The brainchild of Chris Nosher, the contest promises to be a fantastic way to educate fishermen and the general public about good catch-and-release practices.  You can expect anglers to be very creative and careful with their fish when they know they are submitting video for competition. I look forward to their productions.  Stay tuned for more news about this event in the coming weeks.
Striped bass thrive in relatively cold climates, but their gills and eyes can still freeze when it's very cold.  From personal observation, I believe the best practice is to keep fish in the water when you're fishing in temperatures below 25 degrees.  If you bring them out for a picture in extremely cold weather, it's important to make it quick – less than 30 seconds if possible.  Freezing of the gills and eyes isn't such a concern when temperatures are higher, but a sudden thermal shock can have an impact on survival.  60-degree days aren't unheard of in January and February in Maryland, so bringing fish out of 40-degree water into the warm air can be hard on them.  A boat-side release is the best practice under these conditions.
I've managed to get out a few times in the past couple of weeks.  I bet you're getting tired of hearing the term "polar vortex," but the arctic air has certainly chilled fishing at the Bay Bridge rock piles.   The primary factors there right now are snow and ice melt and very high water levels as a result of runoff and wind-influenced tides.  The water is stained and dirty.  Thermal layers have narrowed, or in some cases been washed away entirely, so fish have moved to the deeper holes.  I motored over to deep water in the old barge channel on the eastern side of the Bridge last week and marked literally thousands of fish. Getting them to bite was tough though. I think as conditions improve, there should still be some rockfish and perch in that area in the next couple of weeks.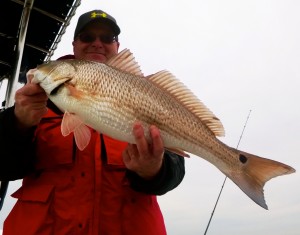 Warm water discharge (WWD) fishing for stripers is also slow.  There are some nice fish here-and-there at the discharges, but they are few and far between.  It's too early for consistency at the WWDs.  Your chances there will improve in March or April.  I am hearing of some nice fish off the coast between Ocean City and the Bridge Tunnel.  Most reports put them way outside of legal fishing limits, but some anglers have found intermittent and intense feeding frenzies closer to the beach.  While I haven't been down that way recently, I fished out of Ocean City a couple of times over the holidays.  My son Cory and I fished with Jighead James Sloat one day and we found a few fish, but the next time I went out in my boat, they had moved either too far off shore, or too far south.  We got lucky on the way back in when my crew got into a nice school of redfish on a 25-foot-deep hump just outside the inlet.  It's great to see red drum in Maryland this time of year.  We owe this great fishing to hard work by CCA and other conservation groups in states to our south.  I have really enjoyed fishing for reds in 2013 and look forward to 2014 being even better.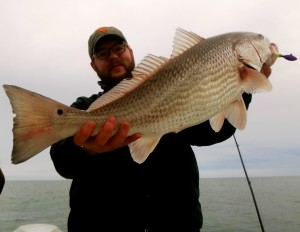 The cold weather has moved yellow perch into deep holes as they stage for the spring spawn.  Fishermen in the upper bay rivers report mostly smaller males, but a few are scratching out limits of legal-size neds on minnows or soft-plastic jigs.  Ice is closing out many of the better-known bank-fishing places right now, but this weekend's warm up should open a few spots.  Yellow perch fishing can be a lot of fun, but keep in mind that when fish are deep, they can be especially vulnerable to barotrauma (injury as a result of rapid pressure change).  For a discussion of best practices for releasing undersized yellow perch, check out this CLT report called Slow Perch Fizz? and read-up on Rudy Lukacovic's catch-and-release research here.
Chain pickerel fishing is pretty good right now with the best reports coming from the western shore rivers.  I worked in a short trip to a tidal creek on the Eastern Shore last week and only landed one link-sider. To catch pickerel, cast smaller soft plastics or small spinners toward the dark water along deeper shorelines and points. They will chase bait in open water, but they prefer cover like
downed trees and rip-rap. Blue and green herons can help you find good fishing spots because pickerel chase the same bait they do. Your chances are best on a high and falling tide. Best practices for catch-and-release of pickerel are similar to other Chesapeake species.  They're a tough fish, but their teeth and snout are fragile. Single hook, artificial lures are the safest.  Don't forget to take along some needle-nose pliars!
Not only is it important that the fish we release live to fight again, it's pretty darn important that we do too!  Safety precautions are crucial if you get out to fish in cold weather.  It can be seriously dangerous.  The water in the Chesapeake Bay right now is every bit as cold and deadly as it is in the crab grounds of the Bering Sea. Always wear a PFD and don't fish alone.  Make sure you have some dry clothes onboard and keep your deck clear of ice and snow.  Safety first – but the precautions are worth it, according to the few sportsmen who experience the pleasures of cold-weather Chesapeake fishing.  Even when the fish don't bite, sights of winter wildlife and the overall solitude of the Bay are well worth the trip.  Even though striped bass fishing is barely a shadow of what it once was, I strongly suggest you gear-up and get out.  Or you can sit on the couch and read books and watch videos.  Here's a clip of a gannet show just north of Ocean City a while back.  That's Casey Driessen on fiddle.  If this doesn't make you want to float a boat, nothing will!
Responses to "Winter Catch & Release"