Click the Book Covers Below to Buy the Books

Current Moon Phase




Waxing Gibbous Moon




The moon is 12 days old


Distance: 56 earth radii
Ecliptic latitude: -3 degrees
Ecliptic longitude: 336 degrees


Recommendations

Good Information

Wind Weather & Tides

Meta
Official release date:  Jan 1, 2015
Preview release:  Dec. 19, 2014
Paperback, perfect bound 330 pages, black & white photos and illustrations. Pre-orders are now accepted.  We expect to mail all orders received on or before Dec. 19  by USPS Priority Mail by Dec 21. with predicted delivery before Christmas.
Exclusive CCA Maryland Hardcover Edition:  
A limited number of signed and numbered,
hard-cover, color photo editions
featuring the CCA Maryland logo on the front cover will be made available after January 1, 2015.  A portion of the proceeds from these editions will be donated to the ongoing conservation efforts of CCA Maryland.  Details will be released later.
Here's a sneak preview:
"Anyone can get lucky and catch a winning or trophy fish. What separates the men from the boys is consistency." – Bill Burton
The best anglers I know have a solid grasp of three basic elements. The first is a willingness to learn and change behaviors or techniques when necessary. That means incorporating the latest technologies and staying on top of the best research. It also includes sorting through the folklore to pick out the very best practices and discarding the nonproductive tactics that bog us down. Someone once said that the definition of insanity is doing the same thing over and over again and expecting different results. If you're not happy with the results you're getting, it's time to change. There are not many fishermen who have perfected their skills to the point where they are successful every time. The handful who have could teach us all something.  These are the guys who need to write a book.  I know I'd buy it. Fishermen with the right stuff are continually seeking opportunities to learn – to step outside of tried-and-proven comfort zones to find what works.
The second element is enthusiasm. Good fishermen eat, drink, smoke, and chew fishing. When they aren't fishing, they're thinking about fishing, and they're probably planning their next fishing trip (or two). They seek out new information and pour over every tidbit of data they can find that might improve their skills. They surround themselves with like-minded people who share their passion for the sport. They also work to conserve the species they enthusiastically pursue.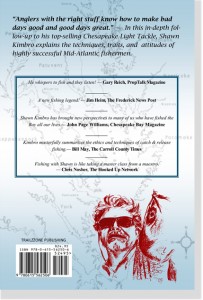 The third element is just pure old basic instinct. There's no doubt that some people are drawn to fishing because it's in their blood. I believe there is a genetic predisposition to stalk prey. Maybe you've heard the adage "good fishermen think like a fish." I think there's something to that. Successful anglers seem to possess an innate ability to make good decisions about where to find and catch fish. If you're reading this, you were probably born a fisherman. My guess is that you already recognize your compulsion to fish. I bet you understand the drive to get out on the water in search of the strike. I believe those good instincts you already possess can be honed to a fine edge. I've seen a lot of good fishermen become great fishermen by sharpening their inherent talents and learning to trust their good instincts.
Instinct, enthusiasm, and a willingness to learn: In this book, I hope to examine all three of those elements and apply them to the gear and tackle we use for fishing the Chesapeake Bay and the surrounding Mid-Atlantic region.
When anyone writes a fishing book, I believe they should have something new to contribute to the vast body of information that is already available in print and on the Internet. I'm no exception. I've been very pleased with the reception that my first book,Chesapeake Light Tackle: An Introduction to Light Tackle Fishing on the Chesapeake Bay, has received. Before I put this book together, I sat down and reread that book again. Conditions change and fish behaviors vary, but I believe Chesapeake Light Tackle is still a solid and definitive introduction to light tackle fishing. I proudly stand behind everything I wrote in it. It's been extremely satisfying to document the many things I've learned since I moved to the mid-Atlantic region nearly a decade ago. I especially appreciate the hundreds of notes of thanks from fishermen who, as a result of my writing, have adopted casting as a productive big-fish-catching technique. There's nothing wrong with trolling, but you don't have to pull two-dozen broomsticks behind a boat to catch a trophy fish. This book is intended as both a companion volume, and to expound upon the principles I wrote about in Chesapeake Light Tackle.  It's not so much a how-to manual as it is a collection of tips and tricks to help you apply those techniques. I believe it will stand on its own as a helpful reference for light tackle casting.
Because of the success of Chesapeake Light Tackle, I've had the pleasure of meeting and speaking with thousands of fishermen at clubs, seminars, and book signings throughout the Mid-Atlantic. I'm amazed, and frequently surprised, at the vast body of fishing knowledge out there, and wonder if it might be possible to compile all of that collective knowledge into a single publication. If you could, I bet all that information would fill a stack of books so long it would stretch from Havre de Grace to the Chesapeake Bay Bridge Tunnel. I can't possibly hope to document it all, but there's no doubt that, as a result of meeting many fishermen and hearing their stories, I've gained an incredible amount of knowledge that I want to share.
One of my favorite quotes from the Bible comes from the book of Luke. It reads, "To whom much is given, much is required."  I believe that verse can apply to almost every walk of life, and certainly to fishing. Frankly, I've been blessed. Since I've met so many knowledgeable fishermen, I feel indebted and somewhat obligated to share some of the gems I've learned. This book is a collection of many of those discoveries, along with a few tips I've acquired on my own after 50-plus years of fishing.         ….Continued….
Responses to "The Right Stuff – A New Book by Shawn Kimbro"