Click the Book Covers Below to Buy the Books

Current Moon Phase




Waning Crescent Moon




The moon is 26 days old


Distance: 61 earth radii
Ecliptic latitude: -1 degrees
Ecliptic longitude: 213 degrees


Recommendations

Good Information

Wind Weather & Tides

Meta
chesapeake light tackle
Currently browsing articles with a topic of "chesapeake light tackle".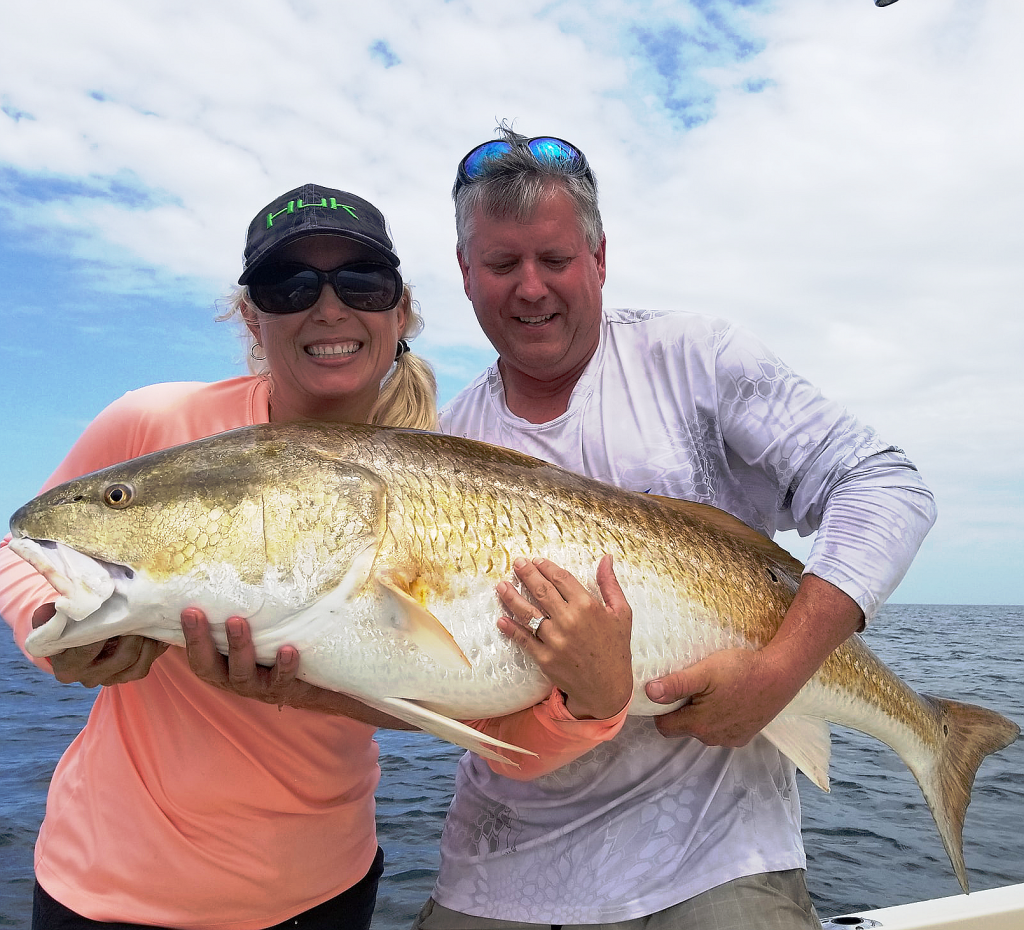 As the Chesapeake summer slowly slips into fall, many anglers are looking forward to the upcoming rockfish run. But don't wave goodbye to summer fishing patterns just yet. Unless you've been hiding under a bridge, you've probably heard about the incredible bull red drum catches south of Poplar Island. We seem to get more redfish every year in Maryland, and this has been the best season in recent memory.
At one time redfish, or channel bass as they are sometimes called, were so prolific that anglers caught them by the boatloads. Fishing pressure increased every year until the early-1980s when stock assessments showed big problems. Regulators stepped in and eventually declared a complete moratorium on the harvest of redfish greater than 27 inches on the East Coast. It is taking the species a long time to recover. Red drum have an estimated 30 year lifespan and some can live up to 60 years. Removing any spawning-age fish from the overall population has implications. Bigger and older fish can drop as many as forty-million eggs per season. That's ten times as many eggs as younger ones. Killing a single bull red can impact the health of the species.
Read More!
"It's the worst winter ever." Those words might sound surprising coming from Jamie Clough, a fisherman who has caught more forty-inch-plus rockfish in the last three months than most people will catch in a lifetime, but he's right. It's been tough. I'm on record for predicting that 2016 will be the best year in recent history for light-tackle striper casting on the Chesapeake Bay. I'm not taking it back, but after the first three months, I feel like I have some explaining to do.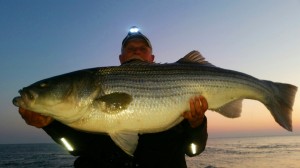 In past years, January, February, and March have been wide-open for fishing in the warm water discharges of the Patapsco and Potomac Rivers and around the power plants of the Mid-Bay. In February 2014, my fishing partners and I enjoyed the best day I've ever heard of, going forty over forty. Yes, that's forty huge stripers over forty-inches long, all caught in one morning. The fishing was so good we were trying to glue two ten-inch Bass Kandy Delights together so we could pull out the biggest of the big fish. In years like that, you can make a lot of mistakes and still catch fish. While I've seen some good days since then, nothing like that happened this year. To catch big fish this winter, we had to pull out all the stops. Read More!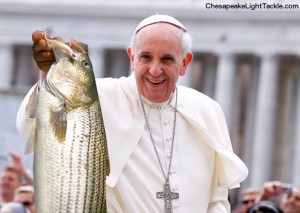 The Pope doesn't call me very often, so when he does, I usually pick up.  "Whas' up, Kimbro?"  Thank God he wasn't speaking Latin this time.  "You know I'm gonna be in DC next week, so we're fishing, right?"
"Yeah, everything's slow at work what with all the festivities." I replied. "How about we meet Wednesday morning at Kent Narrows."
I looked at the wind forecast, and things didn't look good, but fortunately there wasn't a breeze stirring when I woke up.  I've had some problems with the lights on my boat trailer, but somehow they were working fine as I pulled out of my driveway and headed down Route 50.  I'd overslept a little and I don't like being late, so I decided not to stop for gas.  When I got to the ramp, the gas gauge was pegged way past full. Read More!
Official release date:  Jan 1, 2015
Preview release:  Dec. 19, 2014
Paperback, perfect bound 330 pages, black & white photos and illustrations. Pre-orders are now accepted.  We expect to mail all orders received on or before Dec. 19  by USPS Priority Mail by Dec 21. with predicted delivery before Christmas.
Exclusive CCA Maryland Hardcover Edition:  
A limited number of signed and numbered,
hard-cover, color photo editions
featuring the CCA Maryland logo on the front cover will be made available after January 1, 2015.  A portion of the proceeds from these editions will be donated to the ongoing conservation efforts of CCA Maryland.  Details will be released later.
Here's a sneak preview:
"Anyone can get lucky and catch a winning or trophy fish. What separates the men from the boys is consistency." – Bill Burton
The best anglers I know have a solid grasp of three basic elements. The first is a willingness to learn and change behaviors or techniques when necessary. That means incorporating the latest technologies and staying on top of the best research. It also includes sorting through the folklore to pick out the very best practices and discarding the nonproductive tactics that bog us down. Someone once said that the definition of insanity is doing the same thing over and over again and expecting different results. If you're not happy with the results you're getting, it's time to change. There are not many fishermen who have perfected their skills to the point where they are successful every time. The handful who have could teach us all something.  These are the guys who need to write a book.  I know I'd buy it. Fishermen with the right stuff are continually seeking opportunities to learn – to step outside of tried-and-proven comfort zones to find what works.
The second element is enthusiasm. Good fishermen eat, drink, smoke, and chew fishing. When they aren't fishing, they're thinking about fishing, and they're probably planning their next fishing trip (or two). They seek out new information and pour over every tidbit of data they can find that might improve their skills. They surround themselves with like-minded people who share their passion for the sport. They also work to conserve the species they enthusiastically pursue. Read More!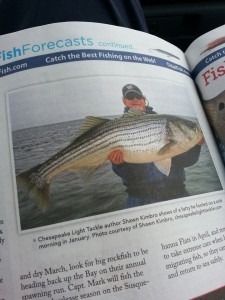 As much for my benefit as anyone's, I'm listing my speaking schedule for the next few months. I'll have books to sign at each event. At some, I'll be presenting a new Power Point slide show called "The Right Stuff – Gear, Accessories, & Attitudes for Successful Light Tackle Fishing." Good luck fishing this spring!
Feb 23rd – Annapolis Saltwater Fishing Expo – The SALTWATER FISHING EXPO will be held on Saturday Feb. 23rd from 8 AM to 3 PM at the Annapolis Elks Lodge. This event has grown into one of the most popular winter fishing shows in this area featuring expert seminar speakers, top quality tackle dealers and local charter captains and guides.  I won't be speaking this year, but I'll have a table with books and hopefully plenty of opportunities to talk and answer questions.
March 2 – CCA Northern Virginia Banquet & Auction – Thirteenth Annual Dinner and Auction taking place on Saturday, March 2nd, 2013 at 6:00 pm.  This year's event will be at The Shriner's Kena Temple in Fairfax, VA.  The Northern Virginia guys have been working very hard with their donors and supporters in gathering a wide array of Auction items that are sure to impress – They have over $20,000.00 in live and silent auction items.  This is a little different event for me in that I'll have a microphone and my guitar and I'll be accompanied by my buddy Joe Evans while performing some original songs about fishing and living in our region. Read More!