Click the Book Covers Below to Buy the Books

Current Moon Phase




Full Moon




The moon is 16 days old


Distance: 61 earth radii
Ecliptic latitude: 4 degrees
Ecliptic longitude: 92 degrees


Recommendations

Good Information

Wind Weather & Tides

Meta
crappie
Currently browsing articles with a topic of "crappie".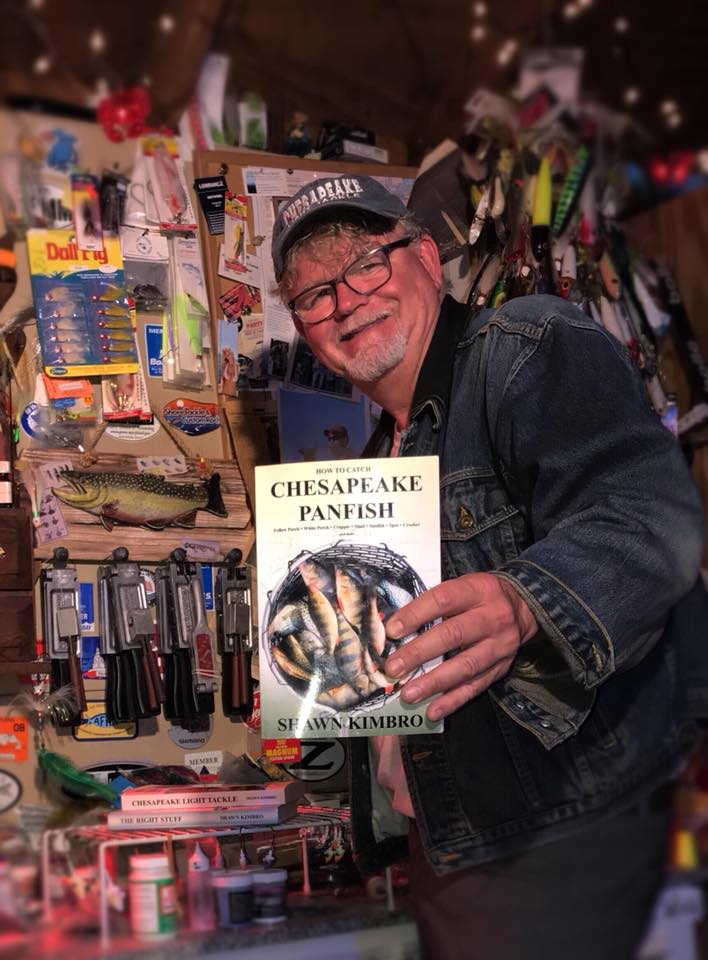 UPDATE 10/7/2018: Books have arrived and we are now shipping!
Good news! My new book is now available for pre-order. You can select either a limited edition hard cover or a first edition soft cover by clicking on the book pictures on the right side of this page. We expect books to arrive anytime and we will begin shipping as soon as we get them. All pre-ordered books are guaranteed to arrive before the official release date of October 15, 2018. After October 15, books will also be available in tackle shops in both Maryland and Virginia, at Amazon.com, and at other online outlets such as JigTheBay.com. Both the hard cover and soft cover contains 340 pages of which 43 are printed in color. There are over 100 photos and illustrations. Soft covers are $24.95 + shipping and hard covers are $39.95.
From the back cover:
Whether you fish from a boat, kayak, or the bank, there is nothing more fun than catching panfish in the Chesapeake Bay. Digging deep into his bag of panfishing tricks, lifelong angler Shawn Kimbro lays out the best year-round strategies for catching perch, crappie, bluegill, shad, and other species in the tidal waters of the Chesapeake Bay. Featuring the locations of prime fishing spots in Maryland and Virginia along with the history of some of the region's most popular lures, you'll find details about the best baits, rigs, lines, rods, reels, and other tackle. Enhanced with entertaining fish tales and illustrated by Eva Nichols' artful sketches, this book is perfect for both beginning anglers and seasoned panfish pros.
I'm super excited about this new release and very happy to have the opportunity to share my knowledge and research with you my friends and fellow anglers. I hope you enjoy reading it as much as I loved writing it. I look forward to seeing you on the creeks and rivers this fall and winter!
–Shawn
I quit rockfish. Yes I did. Well, at least for a while. I haven't fished for striped bass since December 6, 2017. That was the day we landed three huge stripers including a 50-incher just below Poplar Island. It seemed like a good stopping point.
Now, don't get me wrong, I haven't quit fishing, nor have I given up rockfish for good. In fact, I'll be back on them next week. I just decided to spend the winter/spring of 2017-2018 fishing for perch, crappie, and shad.
You know what? I've had a blast!
I can't resist the call of the creeks. I dearly love striper fishing, but the hours I've put in polishing my rockfish techniques add up to only a fraction of the time I've spent in my life-long pursuit of panfish. They are my first love. After over fifty years of fishing, my favorite fish remain bluegill, crappie, perch, and shad.
The longer I live and the more I fish, the more I long for simplicity. To me, panfishing is therapy; a welcome counter to the competitive and frequently fast-paced world of run-and-gun striper fishing. I can stand on the creek bank for hours casting for perch or crappie. It makes me feel like I'm connected to nature, not only as an observer, but as a participant. When I'm panfishing, I never think I'm wasting a minute. In return, panfishing has enhanced my striper fishing skills. The pursuit of perch has made me a better rockfisherman.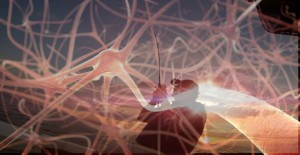 So far the winter of 2017 has been a mild one. Let's hope it stays that way. We're already catching lots of big stripers along with limits of yellow perch in the Chesapeake Bay and its tributaries. While you won't hear much on the Internet from me about trophy winter striper fishing, (Don't worry, it'll come out, just wait!) I'm happy to share information about how to catch the big ones at my upcoming seminars. In addition to the local and regional fishing shows, you can catch up with me at the Baltimore Boat Show's Chesapeake Bay Magazine Seminar Series and at Bass Pro Shops Crappie Madness and Spring Fishing Classic.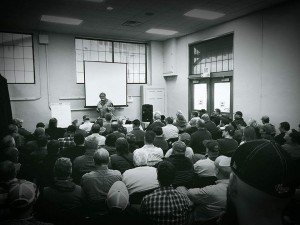 This year, in addition to a few talks designed to introduce anglers to light tackle fishing, I've added a brand new, more advanced presentation called "Amplitudes & Frequencies – New Technologies & Innovative Techniques for Trophy Light Tackle Stripers." It's all about choosing the right lures, line, rods, reels, and mastering specific techniques so you can think down the line and catch those finicky big fish that are so hard to come by. Don't worry, it's not rocket science and anyone can do it. Here's how John Page Williams quotes the concept in a recent issue of Anglers Journal magazine,
Over time, you start to recognize that, whenever your lure contacts something different like a stump, a log, or even a shell, it changes the frequency that's transmitted up the line and through your rod. It eventually becomes something of a sixth sense because you're so tuned in to the expected amplitudes and frequencies of the lure as it contacts the bottom that even the slightest change is registered. In that regard, a strike is very similar to an off note in a song, an out-of tune banjo string, or an epileptic spike in an EEG recording, because it's a vibration that doesn't fit the expected sequence.   – Anglers Journal, Fall 2016
I'm also very exited about my presentation on Saturday, February 4th at the Bass Pro Shops at Arundel Mills Mall. This is the only talk I do all year about Maryland panfish –  fishing for crappie, yellow perch, and white perch in the tidal tributaries to the Chesapeake. I'll even throw in some information about hickory shad since we're expecting another great run this spring in the Potomac River and on the Eastern Shore. Since I both spin and flycast for shad, I'm really looking forward to this year's run. There will be give-aways, deep discounts, and even activities for the kids. Last year's panfish seminar set a record for attendance at this Bass Pro Shops and I'm hoping we can break that record this year!
Coming up in March, I'll be pulling out my old Martin D-18 guitar for the Northern Virginia CCA's annual Banquet and Auction. It's Saturday, March 18. I'll be picking and grinning along to mostly original songs while throwing in a few fishing tales along the way. This has historically been one of the most enjoyable CCA events in the region, so I hope you'll mark your calendars and join the fun!
As always, you can keep up with my schedule here, or on my Amazon Author's Page, and don't forget to follow me on Twitter, Instagram, and Facebook since that's where I'm sharing the most information and posting my fishing reports these days. Good luck fishing in 2017. I hope to see you at the shows or on the water!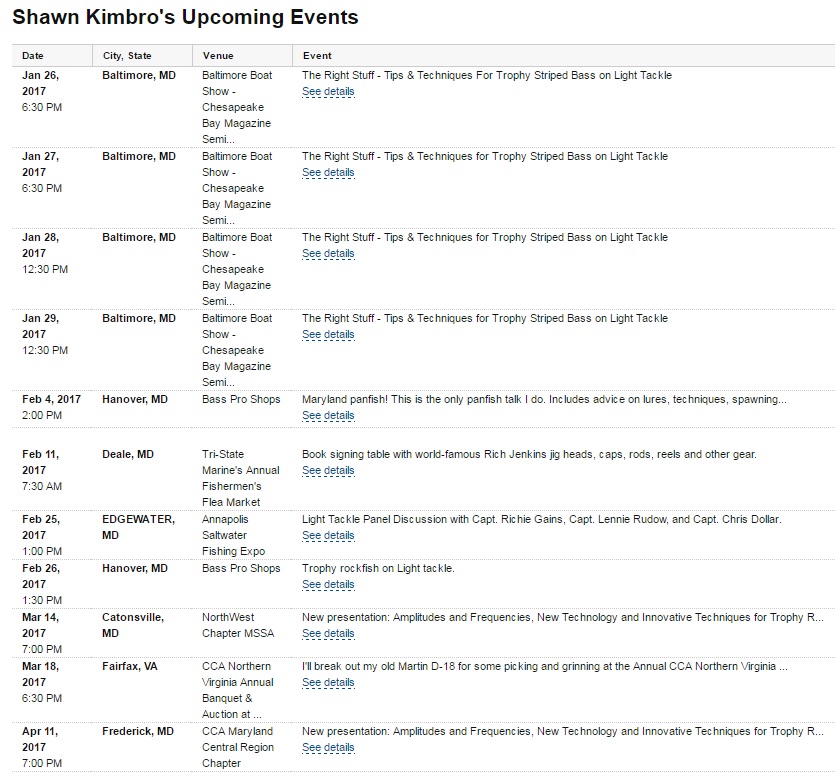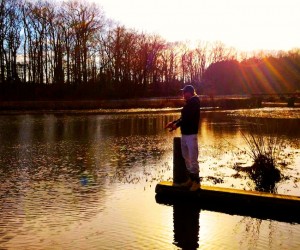 I am haunted by waters.  – Norman Maclean
Why do you fish?
Recently, I put that question to some of the best fishermen I know, anglers with the right stuff who are continually successful.  Their responses might surprise you.  It isn't a love of nature, the quest for solitude, or the thrill of the fight that drives them.  Instead, they look at me with a what-kind-of-crazy-question-is-that glare and answer simply, BECAUSE I HAVE TO.
I get it.  This winter has been hard on Chesapeake Bay anglers.  Because of bad weather, opportunities to fish have been limited.  It's frustrating to the point of resentment.  Take a look at any online discussion forum in the winter and you'll see that some guys (and gals) take their frustrations out on their fellow anglers.  Here's what I think this frustration might look like in the format of a popular television commercial:
When you can't fish, you get angry.  When you get angry, you growl at people and animals.  When you growl at animals, they growl back and you get chased by a bear.  When you get chased by a bear, it shreds your pants and you hide naked in your neighbor's garage.  When you hide naked in your neighbor's garage, her husband comes home and shoots holes in your boat.  Don't get holes shot in your boat.  Go fishing. Read More!
Most fishermen do their best to keep up with creel limits, size restrictions, slot ranges, and gear limitations. It's often very complicated to follow specific regulations, but true sportsmen pride themselves on knowing exactly how they can legally fish and what kinds of fish they are allowed to keep. It's especially important to know the rules this time of year, since many species are spawning. That's why it's so surprising that one of the most prized and delicious fish in the Chesapeake Bay is completely unrestricted – no limits, no size restrictions, and no rules as to how they can be caught.
This past weekend I had the good fortune to fish for crappie with light tackle/fly-fishing guide Kevin Josenhans in the tidal Pocamoke River near Snow Hill, Maryland.  As fishing guides go, Captain Kevin is nothing short of Chesapeake royalty. He's been fishing the Bay for over 40 years. In addition to guiding for the past 20 years, he's spent three decades working for the Maryland Department of Natural Resources including time as a ranger at Janes Island State Park.  He knows the lower Maryland Chesapeake region like the back of his hand.  His successful late summer speckled trout trips in the Tangier Sound are legendary.  I've wanted to get out with him for one of those Tangier trips for several years, but I was surprised last week when my buddy Mark invited me along on a trip he had planned with Captain Kevin for crappie and chain pickerel. I jumped at the opportunity. Read More!