Click the Book Covers Below to Buy the Books

Current Moon Phase




Full Moon




The moon is 15 days old


Distance: 57 earth radii
Ecliptic latitude: 0 degrees
Ecliptic longitude: 20 degrees


Recommendations

Good Information

Wind Weather & Tides

Meta
pycnocline
Currently browsing articles with a topic of "pycnocline".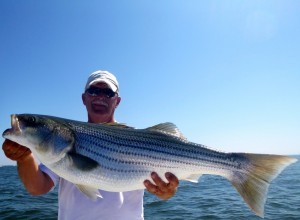 Congratulations to Rich Jenkins, 2013 Champion of the Kent Narrows Light Tackle Catch-&-Release Tournament. Rich fished with Jamie Clough, Jon Griffiths and me onboard my 27 Judge CC Thunder Road and won the tournament with a wide-shouldered 34-inch striper caught about 1:00 PM Saturday afternoon. Coming off the win, I thought it might be helpful to post some recommendations for catching bigger striped bass in Maryland's portion of the Chesapeake Bay in June.
Topwater – Look around high-current points where there is access to deep water. Submerged rocks and other cover are a plus. Set up downstream and fan-cast into the direction of the current starting closest to shore. Look for the rip, that is a change in the waves around the point and work that area hard. On calm days, use a spook. In rougher water, try a big popper. Heddon Super Spooks, Lonely Angler Zipsters, and Stillwater Smackits are great lures for this time of year. Read More!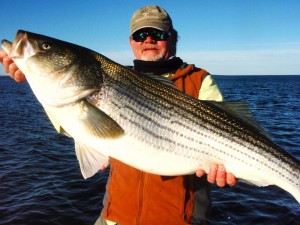 If the next 51 weeks of 2012 go as well as the first one, this promises to be a very good year for light tackle fishing on the Chesapeake Bay. I've fished four times and caught a Diamond Jim qualifying citation fish on each trip including three rockfish in the mid 40-inch range. I'm chalking it up to a little experience, some insider information, and a lot of luck.  My son, "Big Fish Cory" has been visiting. Although he didn't catch any trophies this time around, he still brought along his lucky horseshoe.  Chesapeake striped bass fishermen have two basic winter options.  One is to fish deep holes – either in the main stem of the Bay or up in the outside bends of the rivers – and the other is to work the warm water discharges. Since we've had a very mild winter so far, the warm water discharges have been inconsistent.  I decided to split the difference and fish the last four days close to home off Kent Island.
One of the best places I know of to jig up deep water rockfish is the Bay Bridge.  Two- and three-year-old-stripers and white perch survive the cold winter by stacking up around the Bay Bridge rock piles. They'll stay there until the spring freshet washes out their warm water comfort zones. Even though they are readily apparent on a fish finder, they aren't always easy to catch. To coax a strike out of deep-water stripers you just have to aggravate them until they bite.  You can jig for hours and not get a single strike, then, snap – the fish will turn on and you're catching every cast. Read More!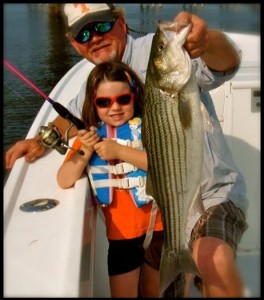 I recently found some old pictures of myself in diapers, standing beside a small wooden boat parked in front of a Tennessee farmhouse. Towering above me was my father, and at my bare feet was a nice stringer of fat largemouth bass.  Did I catch them?  Probably not, but like any good fisherman, I'll happily take the credit.  I might even tell you a tall tale about how – at the ripe old age of two – I tricked them into biting a lure that I hand carved from a boar's tusk with a Bowie knife, and how they pulled harder than a Smoky Mountain mule.
There's no doubt that I owe much of what I know about fishing to my father.  There's nothing better than fishing with family.  All three of my sons have become first-class fishermen. This week I've been fishing with my family's next generation of anglers.  I've had a great time on the water with my son Daniel and my granddaughter Ella. I'm happy to report that Chesapeake Bay salinity levels are finally climbing back toward normal levels (see chart below), although they're still low.  Since conditions are stablizing, striped bass fishing is getting a little more reliable.  That isn't to say some days aren't better than others, but we're at the point where I at least think we can count on a few fish on any given outing.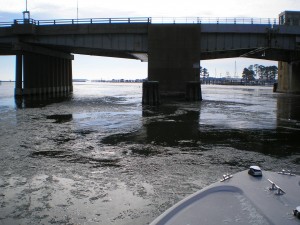 Catching striped bass in winter on the Chesapeake Bay isn't easy.  It's not that the fish aren't around because there are some to be caught.  It's just that it's very hard to get to them. We've had an exceptionally cold December followed by multiple sub-freezing days in January.  It's also been very windy.  The windows of light-tackle opportunity are frosted.  Even on rare days when the weather is fishable it's a challenge to get on the water because the boat launches around Kent Island have been iced in solid.  Fortunately, we got a little warming trend this week, so a few ramps opened up.   Read More!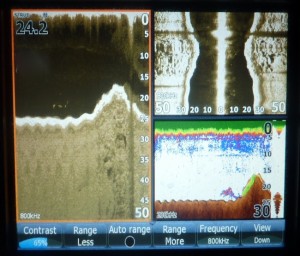 Back when I was a kid tramping through the woods of East Tennessee, I looked for the underground dens of rabbits, chipmunks and woodchucks.  Now days, I'm stalking fish instead of varmints, but I'm still hunting for hidey-holes.  It's the time of year when Chesapeake Bay striped bass hunker down in deep, warm-water hideouts.  It takes patience and persistence to catch them but if you aggravate them long enough, you can sometimes get them to bite. The trollers are still picking off a few big cows around the channels, but it's tough to get isolated fish on a jig.  From now until the first of the year I'll be fishing around the bridges and in the deeper water around other submerged structure looking for holed-up rockfish. Read More!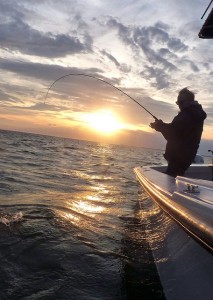 Savvy Chesapeake anglers recognize an event that happens every fall that has significant impact on light tackle fishing. In summer months, the waters in most areas of the Chesapeake Bay stratify so that it is cooler, denser, and saltier down deep, but lighter and fresher near the surface.  In the fall, as temperatures cool and strong cold fronts bring lots of wind, the water is stirred up so that the top layer eventually reaches the same density as it is down deep.  When that happens the surface water sinks so that for a while, temperatures and salinity are about the same top to bottom.  It doesn't happen all over the Bay at the same time, but it's easily recognizable to fishermen because we start noticing that fish are feeding at much deeper depths.  In some parts of the Maryland portion of the Bay, we are currently experiencing the fall turnover.  This can be both good and bad for fishing.