Click the Book Covers Below to Buy the Books

Current Moon Phase




Third Quarter Moon




The moon is 20 days old


Distance: 63 earth radii
Ecliptic latitude: 4 degrees
Ecliptic longitude: 141 degrees


Recommendations

Good Information

Wind Weather & Tides

Meta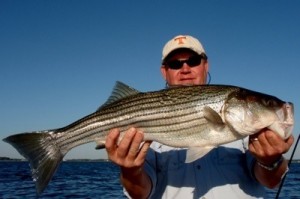 Memorial Day Weekend marks the start of summer for many Chesapeake boaters, but it means a slow-down in fishing for those of us who have been out all along. All the boat traffic on the Bay can put the fish in hiding, but it's a tough time of year no matter what. Many anglers blame the slow fishing on may worms. May worms, also called clam worms, live on the shell bottoms of the bay and swarm during late May. The reddish worms can be up to 5 inches long and develop small swimming fins to propel them up from the bottom when they mate during the dark of the moon. I guess they are a tasty treat for rockfish. Some fish you catch this time of year area actually yellow or red tinged because of all the may worm gorging.
I fished several nights this week mostly in and around Eastern Bay. Most of the area is
closed to catch and keep fishing but rockfish can still be targeted as long as they are released. There are still some fast-moving schools of migratory fish in the area. The best strategy is to drift slowly over steep drop-offs while jigging a 6 or 7 inch soft plastic bait. Unless the fish are surface feeding and you can be tipped off by birds, it's best to just to keep looking at the ledges until you mark bait or fish.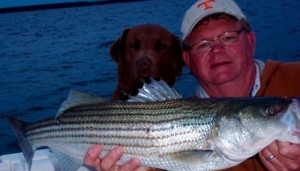 I encountered some nice breakers one evening this week, and the top-water bite at dawn and dusk is very good at locations below the Bay Bridge. As always, look for current, bait, and structure. My favorite top-water spots are submerged rocks or any structure near points with close access to deeper water. I'm throwing spook type lures more than poppers, especially when it's calm, but I did get several fish on Stillwater Smackits one afternoon. I also got out to the Bay Bridge one evening about 7:00 PM and only found small fish around the pilings. The water is still a little cool for top-water around the rocks and pipes near the bridge.
On the bait-fishing front, black drum are biting well near the area known as Stone Rock. Most anglers are fishing gunnel to gunnel with the charter fleet on the channel edges between Poplar Island and Sharps Island light. I'm considering a night trip or early morning outing when the crowds are low to see if I can coax some up on light tackle. Here's a video I shot this week of some early-season breakers south of Kent Point.