Click the Book Covers Below to Buy the Books

Current Moon Phase




Full Moon




The moon is 16 days old


Distance: 61 earth radii
Ecliptic latitude: 4 degrees
Ecliptic longitude: 92 degrees


Recommendations

Good Information

Wind Weather & Tides

Meta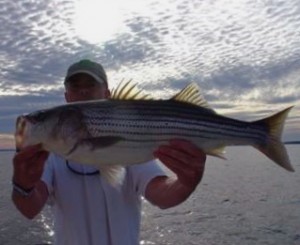 October is a fantastic month to fish in the Chesapeake Bay. Unfortunately, I haven't been out enjoying it much lately.  I'm a few days away from opening a new medical center, so time on the water has been extremely limited.  That hasn't stopped some of my fishing partners from getting out and finding some fish.  Mark has been working the main stem of the Mid-Bay near the rivers.  That's the typical pattern for the late-fall season.  As baitfish school up and move downstream toward warmer water, striped bass wait at ambush points near the river mouths and attack at periods of high current.   This fall we're seeing some pretty nice fish.  There's a few ocean stripers already migrating into the Bay running with the native Chesapeake young-of-the-year class of 2005 and 2006.  That equals fish measuring in the mid to high twenty inch range with a few mid-thirties in the mix.  Here's Mark with a healthy 30 inch plus rockfish caught near the mouth of the West River. 
There's more information about fall fishing patterns and the importance of temperature and salinity to finding fall stripers in this article.   I also received a good report from my friend James who, along with his brother Michael, took his dad out fishing late last week and found plenty of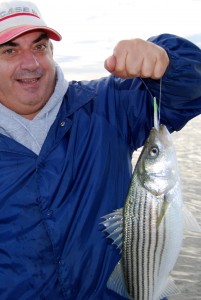 action on both sides of the Bay.  There's still a lot of juvenile fish around the mouth of Eastern Bay and on down and around the channel side of Poplar Island.  After catching their fill, they ran back across to the mouth of the South River and found better fish in 8-12 feet of water on the outgoing tide.  James tells me their father is about to start cancer treatment in a few weeks, but that didn't slow him down from out-fishing his boys.  I thoroughly enjoyed reading the report he sent me.
Tonight, I finally got a break in my work schedule and blasted out of Matapeake about 5:00 PM.  I hit what I call the indicator pilings at the Bay Bridge.  By that I mean bridge columns that I believe are most likely to reveal a bite pattern.  I couldn't find good enough action to make fishing worthwhile in the short time I had available before dark.  Under the gun to identify a pattern quickly, I decided to head north where I found some working birds in the open Bay.  I had a good idea there would be nice fish beneath them because the birds were a mixture of mature seagulls and terns.  Big birds usually mean big fish, and I wasn't disappointed.  I had several stripers over 30 inches with the biggest checking in at 34″.  The fish were moving around fast, but there were enough birds to keep me on top of the schools until dark.  Before pulling up and heading south toward home, I picked up my top-water outfit and landed an over and under on a Heddon Super Spook.  I kept one for dinner and gave the other to a friend who was fishing with his family back at the Matapeake Pier. Unfortunately, I forgot my digital camera so had to settle for a few cell phone shots of my fish.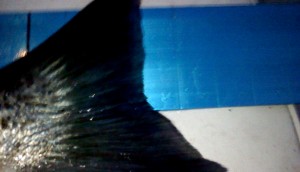 The optimum depth was about 20 feet and the fish were suspended from top to bottom. I was within a few miles of the mouth of one of the Eastern Shore rivers throwing a chartreuse 6″ Manns Hardnose hotrodded with orange garlic dye on a one ounce jig head.  There was a strong outgoing current throughout the evening pushed by a 10 knot north wind.  Water temperatures are in the high 50s and still falling.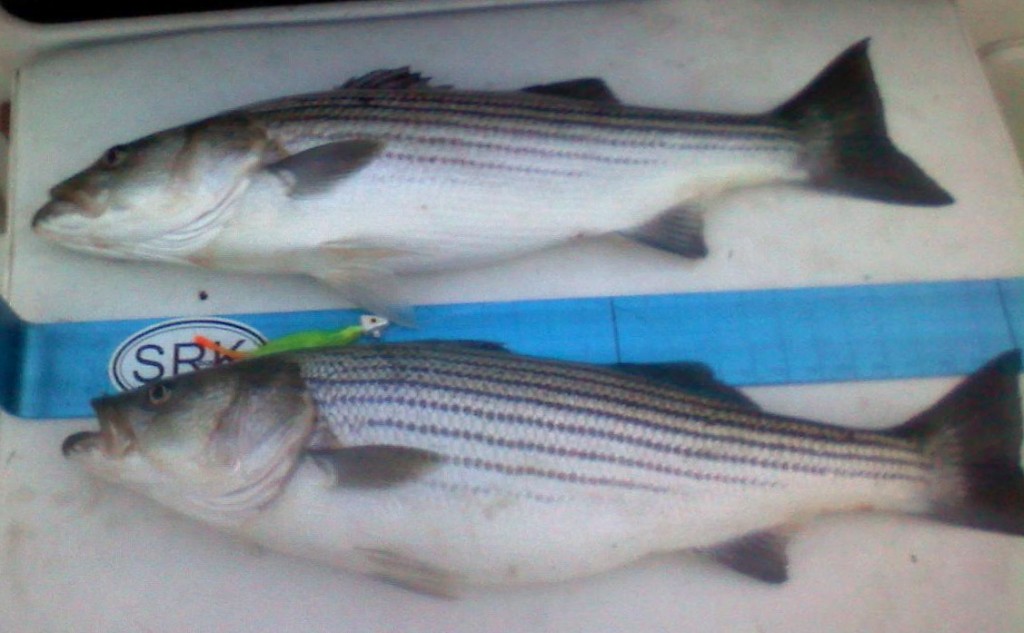 Responses to "Oktoberfest!"