Click the Book Covers Below to Buy the Books

Current Moon Phase




Full Moon




The moon is 16 days old


Distance: 61 earth radii
Ecliptic latitude: 4 degrees
Ecliptic longitude: 92 degrees


Recommendations

Good Information

Wind Weather & Tides

Meta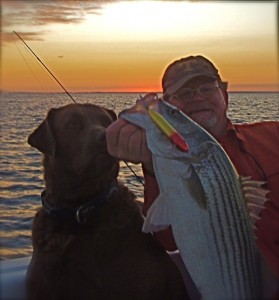 Outdoorsmen are known to brag about their dogs.  Growing up in Tennessee, I heard lots of  stories about super hunting dogs.  Most were told with tongue squarely in-cheek and every tall tale ended with some magnificently exaggerated conquest by the narrator's most accomplished canine. That tradition of boasting is also part of the fabric of the Bay.  In the novel Chesapeake, James Michener spins a yarn about a strong duck dog who rescues his unconscious master after he is knocked into the water by the recoil of an over-sized punt gun.   On the other hand, stories about extraordinary fishing dogs are less frequently heard.  ♣  With only 90 minutes to spare before dark, there wasn't much chance of finding a human fishing partner this evening, but my faithful Chesapeake Bay Retriever Crockett had no problems with the abbreviated trip.  He eagerly bounded from the dock into his usual position on the seat cushion over the engine as we launched off Kent Island in the boat named after him. Tonight our plan was to look for rockfish, but in a different area of the Bay than where we've been finding them recently.  There are surely fish where we left them last night, we just needed a change of scenery.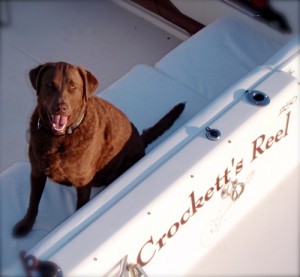 After a short ten-minute run to the mouth of an Eastern Shore river, I noticed birds flying high over a steep underwater drop-off.  High circling seagulls can be an indicator that there are fish feeding deep, so I decided to drop a hotrodded Mann's hard head jig.  Crockett has become somewhat complacent on the boat lately.  Back in his younger days, I trained him to get excited when we'd get close to fish.  As soon as I'd see fish on the sonar, I'd get him going,
"There they are, Crockett. Get 'em boy. Sic sic sic sic. Get the fish!"
He'd start barking, whining, and looking down at the water.  As soon as I caught a fish I'd reward him by giving him a treat from a bag I carried in my tackle box.  When I occasionally caught a white perch on my jig, he got to eat it.  Before long he was pointing fish better than my fish finder.
Chesapeake Bay Retrievers are the official dog of the state of Maryland. They are superb hunters, known for their love of the water.  The story of the breed is steeped in Chesapeake history. In 1807, an English ship wrecked off Maryland's Eastern Shore dumping it's cargo including two Newfoundland puppies named Canton and Sailor.  The dogs were bred with other retriever lines including local Native American dogs, and soon became famous for their skill, stamina, and retrieving ability in working the icy waters of the Bay.
And the big Chesapeake showed what a marvelous breed he was by leaping into the free water, swimming swiftly to the edge of the ice, then breaking a way for himself right to the goose. Clutching the big bird proudly in his jaws, he plunged back into the icy water, pushed aside the frozen chunks and returned to the blind, entering it with a mighty, water-spraying leap. "That's what I call a dog," Jake said proudly.  – James A. Michener, The Watermen, From CHESAPEAKE

I've learned to trust Crockett's instincts above my own.  When he gets excited on the boat, I start fishing no matter what.  There doesn't have to be marks on the sonar or birds in the air.  When he points rockfish, I start catching them.  His success rate is nearly 100 percent, but lately he just hasn't seemed too excited about fishing.
Tonight was different. Crockett just couldn't get settled.  We are smack in the middle of an amazing fall striper run as fish migrate in from the Atlantic ocean to feed on bait coming out of the Bay's creeks and rivers.  I started hooking up right away.  They were pretty good fish too, mid-20s or so with an occasional 27 or 28 incher in the mix.  But Crockett kept whining and pawing the boat and looking away toward the shoreline.  I considered shushing him because I was afraid he might be spooking the fish I was catching, but something told me I should listen.  There's a cardinal rule that a fisherman should never leave fish to find fish, especially not fish of the quality I was catching.  But the voice of my faithful friend was beckoning me to move.  I reluctantly put down my rod, turned the switch, and fired the 383 Mag-stroker blasting off in the direction my dog was pointing.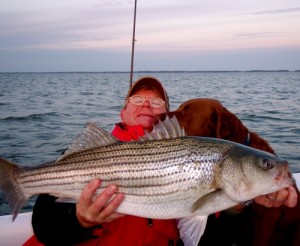 I never made a better decision.  Although there wasn't a seagull in sight, when I brought the boat off plane we found ourselves in the middle of a battle zone.  Huge rockfish were rounding up bait and chasing them up onto a shallow shelf.  Not a full blown striper blitz, just dozens of violent surface explosions spread out across the five acre flat with each one knocking scores of six-inch bunker over a foot in the air.   I wouldn't need my jig here, this was top-water country.  My hands started shaking as I picked up my spinning outfit rigged with a modified red & gold Heddon Super Spook.  Since the fish were all around the boat, I wasn't sure where to cast first.  Just for the fun of it, I launched the plug toward the setting sun, then lowered my rod tip and started the back and forth "walk-the-dog" motion those classic lures are famous for.
Kerploosh!  The water erupted around my plug as if someone had thrown a hand-grenade.  I held my breath and waited for the 14-pound-test monofiliment to come tight, then set the hook squarely into the jaw of a big striped bass.  After a short but furious fight I brought the wide 36 inch fish to the side of the boat and released it without taking it out of the water.   I turned around to cast in the opposite direction and was surprised by a big beautiful harvest moon rising above the Delmarva Peninsula.  I threw the plug toward the bright orange circle. BOOM!  Another boat-rocking concussion and another twenty pound striper.  This one was dripping with sea lice, a clear indicator the fish had just arrived from the ocean.  The pattern kept up until after dark.  At times the big fish seemed to fight each other over my lure.  As one huge striper knocked it out of the water, another would be waiting for it to land.
After about thirty minutes of catching, my arms were completely worn out.  Although it was well past dusk, I could still hear the frenzied fish attacking the hapless bait.  I had the idea of taking the hooks off my spook and had just as much fun watching, or rather listening in the darkness as the fish erupted on the lure.  Sometimes, I even fought them for a while, playing tug of war against an unseen opponent over a hookless plug.  I imagined the fish were laughing as much as I was.
The  violent barrage continued until well after the bright full moon was high in the night sky.  Through it all, Crockett sat stoically on his perch on the back cushion. Early on I let him sniff a couple of the fish I landed.  He responded by giving me a lick on the cheek, but then seemed to lose interest, as if all the reward he needed was the satisfaction of providing his master with what might have been the most intense fishing experience of his life.  The phrase "Man's Best Friend" seems to be an understatement with a dog like Crockett.  I've known some good fishermen, but simply put, when it comes to fish-finding prowess, he's the best. Recognizing that he's the superior species in all aspects of angling with the noted exception of dexterity,  I happily serve as Crockett's Reel.
Responses to "Why it's Crockett's Reel"