Click the Book Covers Below to Buy the Books

Current Moon Phase




Full Moon




The moon is 16 days old


Distance: 61 earth radii
Ecliptic latitude: 4 degrees
Ecliptic longitude: 92 degrees


Recommendations

Good Information

Wind Weather & Tides

Meta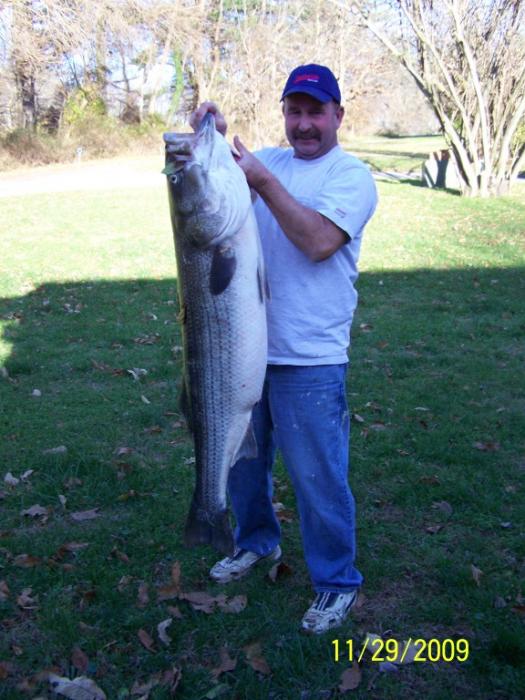 Perhaps not for me, but for some fishermen this has been one of the best Decembers on record.  The mid-Chesapeake Bay has been red hot, especially at some of the more challenging jigging locations such as the Chesapeake Bay Bridge.  Check out this hawg.  According to the report I got, it was jigged up at the bridge on November 29th.  The fish was weighed in at Anglers Bait Shop and officially checked in at 53 inches weighing 63 pounds.  That's only 5 pounds short of the state record and easily the best fish caught on a jig I've heard of at the Bay Bridge.  Unfortunately, like most truly monumental fish, the details are sketchy.  No matter how it was caught, it's obviously a fish of a lifetime for the angler who landed it. There have been some very nice fish caught on eels at the bridge recently, with some fishermen reporting 40 inch plus fish.  They are few and far between with most requiring hours of patience to turn up one or two trophy size stripers.  Due to a frantic work schedule, my fishing trips have been extremely limited, but I managed to get out Sunday afternoon for some light tackle fishing at the well-known location I frequently refer to as "light tackle university."
Met with slack current and high skies, I didn't expect much when we arrived at the bridge at 3:00 PM today. To be honest, it wouldn't have mattered if we didn't catch a single fish, I was just happy to be fishing. Due to a frantic work schedule, I've been off the water for well over a month and it's killing me. After another 14 hour work-day ended at
2:00 AM last night, I got up about noon today and noticed the wind wasn't blowing as hard as predicted. My plan was to put in my 16′ aluminum jon boat and fish the Bay Bridge because Crockett's Reel is still in the shop. Repairs were complete last Tuesday, but I haven't had time to pick it up. Enough whining.
I mentioned to my neighbor Mark that I was thinking of going out and he graciously offered up a trip in his Parker. This is the time of year when I really enjoy fishing the bridge. My first light tackle fishing trip on the Chesapeake Bay was in December at the bridge. I honed my jigging skills over a couple of years there, at first catching mostly small fish but occasionally landing one big enough to reveal the potential of what I consider to be the best structure-fishing location on the Bay. If you've read any of my CLT stuff you know I consider it the ultimate light tackle classroom. Today was a perfect example.
We hit the rock piles first thing finding small fish right where they are supposed to be. They were holding pretty tight in a limited area on the up-current channel side corners, and as obvious on the fish finder as Christmas lights on a tractor tire. We decided to pull off and look elsewhere hoping to increase our chances for bigger fish, especially since there have been reports of some real hawgs caught recently. From our experience at the rock piles, we now knew that fish were holding in depths of 25 to 35 feet, probably because the water is warmer at that depth, so we looked for pilings where we could reach the bottom in that range. That was the ticket. When we hit them we found quality fish up to 37 inches. Hot lures were 7 inch Bass Assassins. I used a Candy Corn jighead with a pearl BA hotrodded in chartreuse/garlic while Mark threw an opening night orange/garlic color with a maroon head. That's not an obvious color combo, but it caught the biggest fish of the night. We stayed with them until almost dark and only saw one other boat working the bridge. Barring some drastic weather changes, I expect we will keep fish at the bridge well into February. Hope the bigger ones stay around!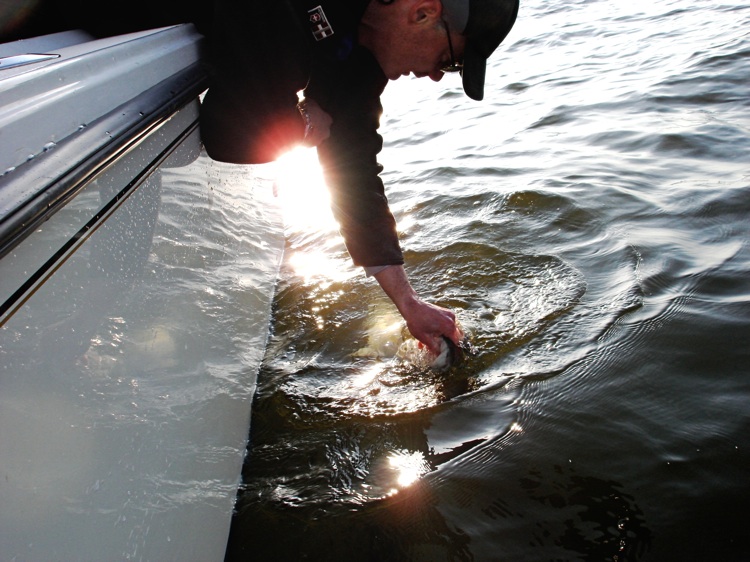 Responses to "A December to Remember?"