Click the Book Covers Below to Buy the Books

Current Moon Phase




Waxing Gibbous Moon




The moon is 11 days old


Distance: 56 earth radii
Ecliptic latitude: -4 degrees
Ecliptic longitude: 321 degrees


Recommendations

Good Information

Wind Weather & Tides

Meta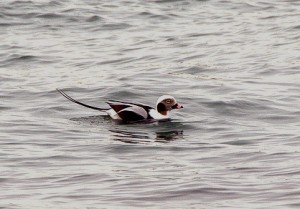 One of my favorite things about cold-weather fishing is seeing the many species of migratory waterfowl in the Chesapeake Bay. Although numbers have fallen in recent years, there are still plenty of sea ducks, tundra swans, and snow geese around.   There seem to be more this year than I've seen in my previous four winters fishing the Bay.  Today I joined my neighbor Mark for an early morning outing onboard his Parker 2520, Fischadler II.  Protected from the sub-freezing temps by the shelter of the pilot house, we launched from Queen Anne Marina on Kent Island and turned south in the direction of Bloody Point Lighthouse. There was no chance to bird-watch in the pre-dawn darkness, so we put that off for later and set our sites on rockfish.  After a little running we managed to find a fishing spot and catch and release some respectable winter stripers.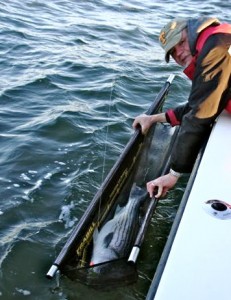 Returning about 10 AM, we encountered snow geese, tundra swans, buffleheads, scoters, canvasbacks, and one huge flush of old squaws.  Now called longtail ducks, these are one of my favorite species because of the drake's striking long tail-feathers and contrasting black and white plumage set off by a bright pink bill band.  They're swift and graceful in flight, but somewhat slow to rise when spooked by a passing boat.
Although most people don't eat them, sea ducks are hunted in the Chesapeake.  I don't really get that, but apparently it's considered sporting enough that there are frequent gunning trips booked by Eastern Shore guides.  I've read some interesting recipes for sea duck breast, so I won't rule out trying it someday.
TIP:  Pay close attention to places where you find big braces of winter sea ducks.  They eat muscles, clams, and other shellfish which are associated with oyster beds.  Sea ducks have no problem diving twenty or thirty feet and can go as deep as sixty. They're almost always rafted together over lively hard bottoms.  Since these are the same places stripers like to feed, mark the location and you'll add a good striper catching area to your arsenal of summer jigging hotspots.
There are an amazing number of rockfish wintering over in the Bay this year.  The Department of Natural Resources had to close down the commercial gill net season for a few weeks due to over-harvest.  We  fished the east side of the Bay Bridge one evening this past week where we marked hundreds of suspended fish on the sonar below 45 feet.  Some of those fish will occasionally venture into the pycnoclines around the rock piles to feed.   Stripers don't eat as frequently during the coldest months of winter because their metabolism slows down.  Most of the time they just lie still near the warmer water close to the bottom.  The trick to catching them is to be at the right place at the right time, and aggravate them with a vertically presented jig.  I prefer 6″ soft-plastics like Bass Kandy Delights  that are hotrodded with lots of color contrast.  This can be an especially effective method in the deep holes in the western rivers where the water is typically warmer in the winter months due to all the industrial discharges.  Fishing after a few warm days in a row can be especially rewarding.  Water temperatures are in the mid 30s. It might seem a little early to be jigging trophy stripers, but since they're here,  who's complaining!