Click the Book Covers Below to Buy the Books

Current Moon Phase




Full Moon




The moon is 16 days old


Distance: 61 earth radii
Ecliptic latitude: 4 degrees
Ecliptic longitude: 92 degrees


Recommendations

Good Information

Wind Weather & Tides

Meta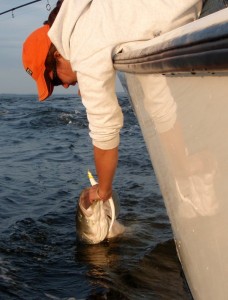 I have a confession to make.  For the past two months I've been participating in a clandestine activity that I've kept entirely to myself.  If word got out, it would certainly mean thousands of anglers descending on one small patch of revered real estate and result in certain chaos.  Once revealed, I would expect half the fishermen to cheer on the activity and the other half to try and ban it. Even though it's already restricted to 40 anglers, I wouldn't be surprised if it was brought up before a Department of Natural Resources advisory commission or if someone submitted an unnecessary compromise to further reduce the effort!  Okay, before there's too much of an uproar, I'll reveal that my secret isn't cold weather catch & release fishing at a warm water discharge in an obscure region of the Chesapeake Bay, I'm referring to the Boat Yard Bar & Grill's Tuesday night movie series called "Angler's Night Out."  The brainchild of Boatyard owner Dick Franyo and maritime media guru Joe Evans, Angler's Night Out was an every-other-Tuesday-evening event that included a get-together followed by a cult-classic fishing flick.  I say "was" because sadly, the series is over for this winter.   Fortunately, our fish are back in force so there are other things to do on a Tuesday night, but it was fun while it lasted.
At this past Tuesdays event, CCA Maryland Chairman Andy Hughes introduced me to Daniel Forster and his daughter Daphne.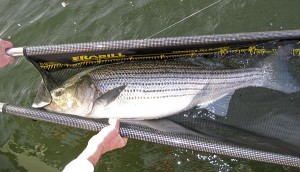 Daniel is a well-known sailing photographer – one of the best in the world – whose photos have appeared in many well-known publications and have been featured on the cover of TIME magazine.   You can check out his work at YachtPhoto.com.  Daphne and I struck up a fishing conversation.  It was immediately obvious she knew her stuff.  Since they had one day left on their visit with Angus Phillips before their return to their home in Rhode Island, and I already had a next-day gannet chasing excursion planned, I invited them to join me.   We met my fishing partner Jamie in Easton.  Jamie and I enjoy a friendly competitiveness, so I started ramping up the pressure early by introducing him as the best fisherman on the Chesapeake Bay.
With the clock ticking and the sun already low over Scientist Cliffs, we blasted out of Taylor's Island in Thunder Road and roared right up on a school of nice-sized stripers. I opened the game by draining a twenty-five pounder on a barbless 2 ounce kandy korn jig.  Daphne followed with four fish from long range in quick succession.  Daniel joined the action with a couple of twin schoolies. Since Jamie still didn't have a fish, I thought my plan to ice him was working.  I was wrong.  It wasn't long before I heard the unmistakable swish of a light-tackle hookset and looked up to see Jaimie's rod tip bouncing like a basketball.  After landing a thirty-five pounder that measured 43 inches in the cradle net, he padded his stats a couple of casts later with another thirty-pound rockfish: March Madness, Chesapeake Bay style.
I've had the pleasure of fishing with quite a few women though t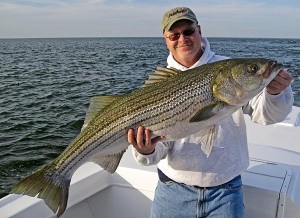 he years, but rarely with an angler, male or female, as skilled as Daphne.  I was impressed from the start when she walked up to my boat, identified one of my outfits, and started up a conversation about the attributes of lesser-known casting rod types.  I brought a spinning outfit for her to use, but she was fine throwing one of my baitcasters.  It's tough to pick up someone else's baitcaster and cast it effectively, so I quizzed her about her fishing experience. It turns out she's mated on charter boats off Cape Cod, chasing stripers at one of the best fishing locations in the world.
She lipped and landed every big fish we caught and blew me away with an amazing move I never would've believed if I hadn't seen it with my own eyes.  After lipping a heavy fish and raising its head out of the water with both hands, she bent down over the edge of the boat and popped out the barbless hook with her mouth.  I've heard a lot of catch & release tips in recent months, but that one beats them all!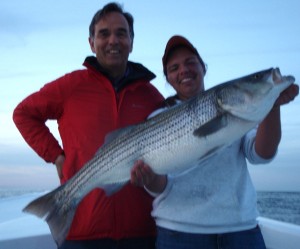 It was an entertaining fishing trip.  We traded stories of  shark fishing off Rhode Island, deer hunting in the Smoky Mountains,  and sail racing in Hong Kong all  while landing big fish until dark.  I hope to fish with Daphne again since she'll be spending some time in the area this summer working for the National Park Service.  I believe Jamie had another jigging trip planned the next morning, and Daniel is off to New Zealand (I think) for more sailing photos.  He was nice enough to send me a few pictures he took on our trip. Thanks to all for a great night, and thanks to Dick, Joe, and the Boatyard Bar & Grill for bringing fishermen together through the cold winter months for good food, cold drinks, and warm conversation.  There's no limit to the fun to be had when anglers get a night out!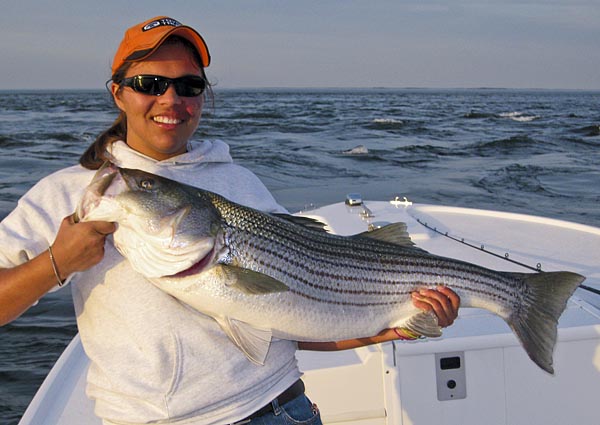 Responses to "Angler's Night Out"